Grandparents' guide to newborns
Becoming a grandparent is an exciting and emotional time. But for some new grandparents, the birth of a grandchild can cause them to feel uncertain, tentative, and bewildered, as they struggle to find their place within their children's new family. They'll want to know how they can get involved in the new baby's life without overstepping boundaries. This special excerpt from the book Teach Yourself Grandparenting is aimed at helping new grandparents to navigate those first months.
Expectant parents are able to exercise more choice and control over how and where their baby will be born than was experienced by previous generations. Grandparents-to-be may themselves remember their own birth plans and attendance at antenatal classes as expectant parents. Some such classes now include an opportunity for a special session for grandparents, which are an excellent opportunity to share in this learning. Many hospitals also offer the chance for a birth partner to be with the mother alongside the partner. In many cases this may be the grandparent. Your family will probably also be reading some books on baby and childcare. A tip to understanding their approach to parenting is to ask which one they are reading and to buy your own copy to study up.
In becoming a parent, your adult child will be taking on what, for many, is a scary responsibility, and baby books, antenatal classes, and advice from friends and family can never fully prepare the new parents. As a grandparent, you too may look back on your own first child for memories of the mixed emotions that can be triggered around this time.

Respect privacy
The dilemma for new grandparents is how they can balance their offers of help and support appropriately at this delicate time. Too much help could be interpreted as taking over and that the grandparent is lacking confidence in the new parents' ability to cope. However, a lack of help or interest, although triggered by a desire not to interfere, could be interpreted as a lack of loving care or interest. Many grandparents recognise this dilemma and if you have friends who are already grandparents, they may be an important source of support for you - particularly if the new parents would prefer a lot of time on their own with their new baby. Many paediatricians and psychologists recognise the importance for some parents to cocoon themselves with their newborn as a very helpful start to a child's life. as a grandparent you must remember, this is just the beginning of a long relationship with a younger generation - a few days' extra wait will not result in long-term exclusion.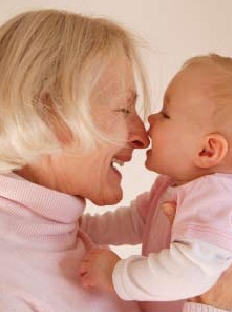 The maternal grandparents
New mothers may show a preference for involving their own parents in the care of their baby at an earlier stage than the father's parents. It is more common, for example, for women to ask their mothers to be present at the birth than the mother of the baby's father. The wise paternal grandparent will not take such a choice in a way that hinders future relationships. It is just natural that a first-time mother feels more comfortable sharing the intimacy of childbirth with her own mother.

Supporting the new parents
A grandparent laying the basis for a supportive role in their grandchild's life will, first and foremost, acknowledge that all key decisions will be taken by the parents and, whatever their own views, they will recognise that the new parents are primarily responsible for their child. Everyday decisions for newborns - breast- or bottle-feeding, using or not using a dummy, or sleeping in bed with parents - are just a few of the topics on which feelings may run high. The primary needs of newborns are for milk, cuddles, warmth, and to be kept clean and safe. Being available 24 hours a day to provide care for a newborn is likely to be all-absorbing for new parents. Other relationships, work, friends, family, and the wider world will temporarily recede.
•  You can help by looking after the parents' own needs, providing encouragement, appetizing food, help with chores and facilitating time to sleep and have a bath or shower.
•  Tiredness, hormones and unfamiliar responsibilities may cause some irritability and tension between you and your child. This is an appropriate time for praise and empathy - tell your family how wonderful they are and how much you admire them.
•  If the parents refuse help, admire their independence - you may put help on offer, but it's up to them whether to accept it.
•  New parents may prefer to be alone with their baby and not to share the early days with anyone but their partner.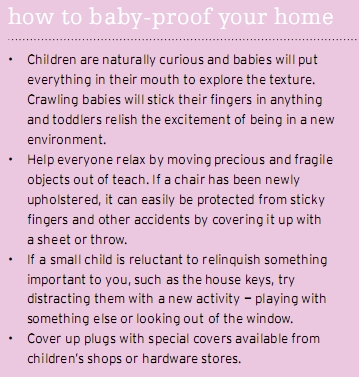 Positive reinforcement
Looking after new parents who are caring for their baby is  a challenge, but if parents accept practical help and emotional support, such help can be an enormous boost to their ability to cope.
•  Be positive and praise their good qualities. Hold back on criticism.
•  Tell them that they are doing well and that they are caring, loving parents.
•  Observe that their baby is content/well nourished/lively/intelligent/loved/ cared for and a lucky baby to have been born into a great home.
•  Reassure them that they have the right priorities (eg baby's needs over housework) and allow them to choose their support from family.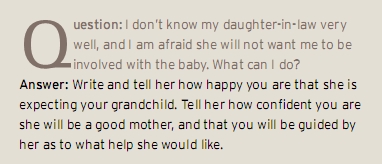 Naming and baby
Many people faced with naming a child are amazed at the complexity of making their decisions. Their first choice of name may meet with opposition from a partner or members of their family. Some cultures and some families may have naming traditions to be followed or broken with and grandparents may have an important role in supporting the choices their children have made. Children with dual heritage may need names to relect both cultures and may need to negotiate whether the child will be formally named within either culture, neither, or both.
      Celebrities have recently set trends for naming their children after the place of conception or a fruit. Such fashions for names change over time and grandparents may be surprised at the choice of names for the newborn. Whatever the name, the baby will come to respond to the sound of their name, and whatever their name, they may or may not be teased in the playground. If the baby is named after a family member or friend, this is a very special compliment. Babies and small children often have their names shortened or acquire nicknames unrelated to their given name. A good start is to stick with the diminutive chosen by the parents.



Final thoughts
Most adults have a great capacity for playing and creating fun. As a grandparent, you can afford to be relaxed with your grandchildren, knowing that you are in a supporting role in their childhood - able to applaud their achievements and congratulate their parents. Your most important contribution is to love and nurture the parent generation, knowing as you do what a dificult task parenting can be. You can help parents by giving them positive feedback on the way their children behave and reassurance that their child is growing up well. Enabling parents to get a break while you look after their precious child will help them cope with the hard job of raising their child.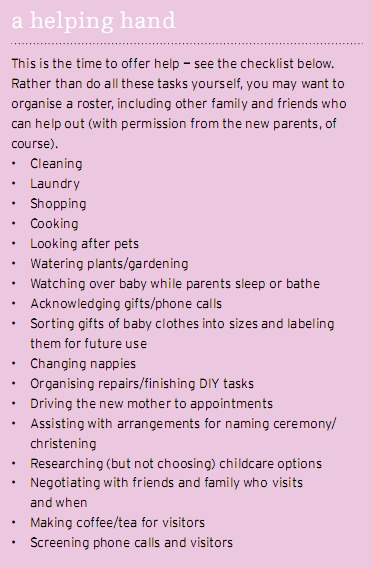 Teach Yourself Grandparenting (Teach Yourself $34.99, distributed in New Zealand by Hachette Livre) is part of the fantastic Teach Yourself series of over 500 books, aimed at providing readers with knowledge about a range of relevant topics, from feeding your baby to single parenting to being a successful step-parent. Visit  www.teachyourself.co.uk to find out more.
As seen in OHbaby! magazine Issue 3: 2008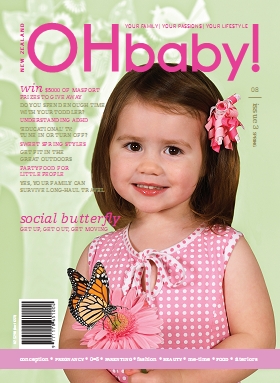 Subscribe to OHbaby! magazine
Purchase Issue 3