Kai Carrier
Sometimes an ingenious product just makes so much sense you wonder why someone hasn't thought of it before. The Kai Carrier is a perfect mix of all the things we love, good nutrition for our kids and a completely practical solution to an age old problem and is completely BPA free!
It's a perfectly simple little food pouch that safely transports your yummy home made baby food. And it's not just us that thinks it's great, the Kai carrier has been picking up awards all over town, including the OHbaby! Top Ten Most Recommended Products that you voted for!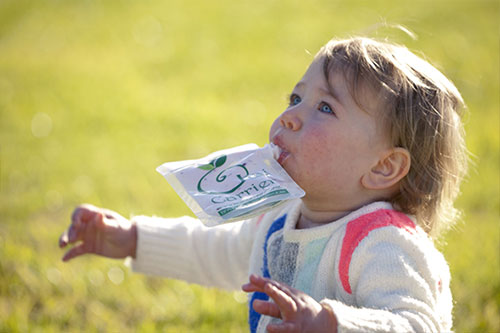 The food is easily inserted through the zip lock top and then sealed tightly.  We've given it a good upside down shake and not a drop was spilled. The easy to open spout on the side is great for little hands and little mouths. The spout makes it very easy for babies and toddlers to feed themselves.
And we wouldn't recommend it unless it fulfilled one of our most important criteria. Easy to clean! Just pop it in the dishwasher and you are done.  Plus it's freezeable so when you are batch cooking you can pop the food straight into the Kai Carrier and then into the freezer.
The Kai Carrier is completely re-usable and eco-friendly, so you can use it time and time again. Although we would say it's not just limited to babies, if your toddler likes a smoothie these make great lunch box fillers.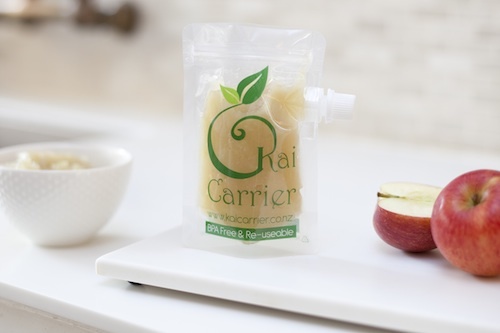 We can think of a million uses for the Kai Carrier once your kids have stopped using them, how about storing pesto or soups? Or transporting cocktails for a summer picnic!
The Kai Carrier is one of the most useful products we have seen in a long time, it has become indispensible in our kitchens.
To have a look at the whole Kai Carrier product range visit www.kaicarrier.co.nz