Mini Cooper S 5-Door
My 2 girls and I recently got the pleasure of enjoying the Mini Cooper S 5-Door for a week.  Excitement was high when we went to the dealership to pick up this shiny beauty.  Red!  Awesome!  We will be seen wherever we go.
I loaded up the kids and their car seats and we were off.  There was a brief moment when I had to work out how to start the car, it's one of those fancy push button starting motors, but I worked it out in the end.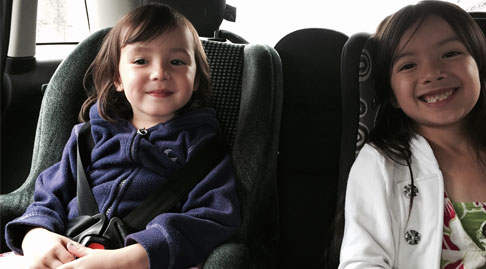 I've always admired the Mini Coopers from afar, but a two door vehicle is really not that practical when you have young children.  This 5 door version was certainly a welcome variation.  Realistically, you would only ever fit two children in car seats in the back, so it would only suit a small family, or a family with older children who can safely sit in the front seat.  The boot space would fit a stroller, but not much else, so you couldn't do the grocery shopping on a stroller day.
It was an awesome car to drive.  Really zippy and compact, and that turbo engine gives you a bit of extra power.  I didn't get a chance to take it out on the open road, but it was great driving around town and such a breeze to park.
My husband was quite excited when I brought it home, he was keen to take it out for a spin and really 'open it up'.  He proceeded to sit in the driveway for 20 minutes while he tried to figure out how to start it.  He was too embarrassed to come in and ask me.  You can tell we are a family with old cars can't you??  Eventually, he gave in and asked me.  His verdict – great!  I had to fight him for driving time after that.
We were sad to say goodbye to this car when we had to give it back, maybe one day we will get one of our own.
The technical details:
Engine: 1,998cc 4-cyl turbo
Transmission: 6-speed manual/6-speed auto, front-wheel drive
Power (hp): 192@4,700-6,000
Torque (lb ft): 206@1,250-4,750 (221lb ft with overboost)
0-100kph: 6.9sec (6.8sec)
Top speed: 233mph (232mph)
Weight: 1,295kg (1,315kg, EU, with driver)
MPG: 47.9 (52.3, NEDC combined)
CO2: 139g/km (128g/km)