Huggies nappies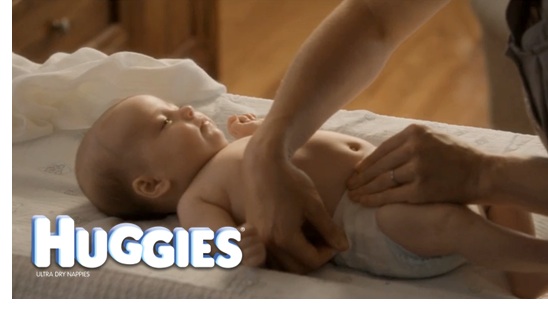 Huggies nappies have the best absorption record in our book, making it easier to clean up a 'code brown', or a 'Number Three' explosion. They have great protection against leaks, including leak guards and leg elastic to protect your baby where it's needed the most, but without leaving red marks. And wow, has nappy technology has come a long way! The Huggies nappies have a layer of small, super-soft bubbles which instantly absorb wetness time and time again, before magically puffing back up to be perfectly dry within seconds. This means baby's skin stays drier for longer, and they're happier for longer, even when the nappy is full. It's worth getting a wet nappy just to see the technology in action!
We've also found that Huggies are the most comfortable nappy. The contoured shape makes for a really good fit around the legs, without leaving nasty red marks, and the wide, all-round waistband  expands when it needs to. Plus, the stretchy do-up tabs always grip - even when baby's kicking legs make it a challenge!
In our experience, nappy rash is often more of a problem in winter when baby is wrapped up more. We've had no nappy rash issues while using Huggies nappies: as well as being super absorbent, Huggies nappies have an all-over breathable cover that allows fresh air to circulate around baby's bottom. We also like that Huggies nappies have absorbency where they need it most: in the front for boys and lower down for girls.
Huggies also have nappies for newborn babies, with special features like a wetness indicator that changes colour when wet to signal change time, and a waistband pocket to guard against those runny explosions up the back (that usually happen when you're out)!
Super-absorbent and super-comfortable - we'd definitely recommend Huggies nappies for your little bundle of joy.
Click here to read what other mums say about Huggies Nappies.