Medela
Are planning to return to work while you're breastfeeding? If you're concerned about the logistics of it all, rest assured: with some advanced planning it is possible to successfully combine work and breastfeeding.
These days more and more employers are taking steps to make it easier to allow breastfeeding women to return to work, whether they're expressing at work, leaving to feed their baby or feeding their baby at work.
You'll need to have a chat to your employer to explain which option suits you best. Remember, the prospect of having you at work and being productive will be a bonus for your employer, so they should be willing to accommodate your needs as best they can.
Make the most of your maternity leave to establish a good milk supply. Once baby is nursing well – usually after about 4-6 weeks – introduce the bottle. Medela has a unique bottle teat called Calma, designed so babies can maintain their natural behaviour learned during breastfeeding. It allows them to pause, breathe and swallow at their own pace.  
Of course, babies associate feeding with mum, so it might be helpful to have someone other than you introduce the bottle to your little one.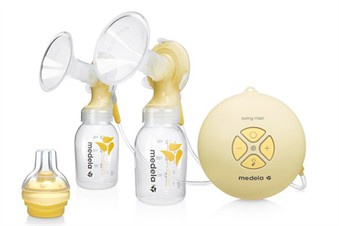 It's definitely worth investing in a quality electric breastpump, for efficiency's sake. Medela's double electric pumps - Swing Maxi and Freestyle – feature technology that mimics babies' feeding rhythms, allowing for faster let-down, increased milk flow and reduced pumping time. They're also double pumping kits, which allow you to express from both breasts simultaneously; most mothers can complete a pumping session in just 10-15 minutes using one, meaning you can easily fit a pumping session into a coffee break or lunch time.
To get into the swing of things before you return, start using the electric pump about one or two weeks before you start at work again. Try to simulate what your schedule at work would be – morning break, lunch, afternoon break.
Perhaps you could start back at work on a Wednesday or Thursday so you only have a few days to get through before the weekend.
Medela offers a number of options for storing breastmilk including Pump and Save breastmilk bags and the soft-sided City Style bag which is not only ideal for carrying your breast pump but includes a cooler carrier with bottles to safely transport your breastmilk.
If your company doesn't make a special room available for mothers who are breastfeeding, find a spot that's private and comfortable as possible. Bringing along a picture of your baby, maybe even a recorded cry may help with letdown. And make sure you have a drink and a snack when you're feeding or expressing. One of the biggest problems working mothers face is emotional and physical fatigue, so prioritise rest and make sure to ask for help when you need it.