New Worlds Little Kitchen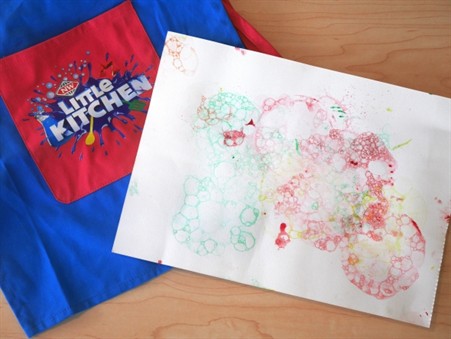 Bubble painting 
A simple grocery shopping trip to New World lead to an exercise in experimental fun for the OHbaby! team this week. Among the latest New World mini collectables was a 'bottle' of Morning Fresh detergent. The accompanying lab notes suggested we try using it to create some bubble art.
Kids are natural experimenters so, naturally, we turned to them to carry out our bubble painting experiment.   
Our willing helpers Johanna (8) and Abigail (4) got busy pouring, squirting, mixing and blowing bubbles in the name of experimental art.
Keeping clean(ish) underneath their New World aprons, the girls squirted a little Morning Fresh detergent into containers, then added a blob of different coloured paint to each. Coloured gloop – yes! But the next step was way more exciting: the girls grabbed a straw each and blew into each glass so the bubbles rose just above the glass top. Cue a giggling frenzy as coloured bubbles overflowed the containers and took over the table.  (Note to self, this would be a great experiment to do outside!)
The girls placed a piece of paper over the glasses so it touched the bubbles, and when they pulled the paper away, there was a pretty print of coloured bubbles. How does it work? The water in the bubble holds the paint and transfers it to the paper, but the bubbles remain clear.
We experimented with different ratios of dishwashing liquid and paint to get varied depths of colour on our prints.
By the way, there are 38 amazing mini collectables this year, all with special effects such as sound, magnet, scratch'n'sniff, and glitter/glow-in-the-dark, wet/cold/warm effects. Cool huh? 
Do try this at home! New World have teamed up with world renowned architects of all things edible, Sam Bompass and Harry Parr, to create some amazing food-based experiments – glow in the dark jelly anyone? To see more from Sam Bompass and Harry Parr or to complete your own Little Kitchen experiment for the chance to win BIG visit www.littlekitchen.co.nz