Playtime ideas for your 0-6 month old
You are your baby's best toy right now! You'll never bore our baby at this age, your face and voice is an amazing thing to her. She is already learning to make social connections so smiling and talking to her is a very important part of the attachment process.  The world is a new place of shapes and colours and smells. Newborns can see objects 8-10 inches away but can't make out details or the full colour spectrum. They follow objects slowly with their eyes over very short distances, and their fists are closed. Engaging toys for newborns include things like wrist rattles, musical mobiles, high-contrast patterns. They enjoy simple things like the movement of trees or washing outside in the breeze, shadows moving, you moving about, you talking and singing.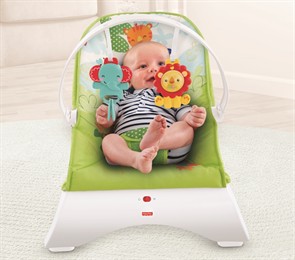 At about 8 weeks, babies are more able to see more clearly and they also be starting to discover hands so you can start to introduce more colourful objects such as the Fisher Price™ Rainforest Friends Comfort Curve™ Bouncer, rattles and mobiles for baby to watch and track and to encourage grasping. It's never too early to read to baby, so that's a great daily activity that encourages social development. Look for books with colourful pictures or textured pages, or soft books that can be played with safely. Introduce songs with actions like Five Little Ducks or Incey Wincey Spider.
Tummy time for a few minutes several time a day will help strengthen his upper body and shoulders and neck muscles. Babies often start to roll from tummy to back by about 4-5 months.
Between 2-3 months babies discover they have hands and often open them more, try to swipe at objects and hold them together across their tummies. They also become more responsive to sound and may reach ahead at and turn their heads to a noise. The Fisher Price™ Rainforest Deluxe Gym  a great toy choice as it has plenty of dangling toys to reach for and swipe at.
At 4-5 months babies are starting to sort out the basics of emotions and communication, such as understanding the link between words, facial expressions and tone, and they may try to start having a babbling conversation by listening to you, then trying to 'reply'. Babies at this age will enjoy exploring more with some toys, reaching out for a rattle, grasping dangling toys.
The Fisher Price™  Play IQ™ website has a great resource for ideas for what you could be doing. The fun Play IQ™ quiz on the website helps you to assess your baby's level of development in physical, cognitive and social and emotional areas and no matter what they are has suggestions for activities that are best suited to their development.