Playtime ideas for your 6-12 month old
At 6 months your baby may be ready to sit up, initially with support then by themselves. They may creep on their tummy (watch out – is your house baby-proof?!)  your baby may start to recognise his name and names of familiar things. To encourage this continue to talk and read to your baby. Make funny noises and sounds when playing with them and sing songs like Old MacDonald and Five Little Ducks that introduce these concepts too.  Your baby will enjoy Peek a boo, and banging the things together.
Baby may be picking up small objects with thumb and index finger, and be exploring toys with both hands. An important stage in your baby's understanding is the development of object permanence – when an object is out of their sight they will look for it. This can create all sorts of opportunities for fun and games. Your baby ma enjoy searching for a toy you have hidden in a box or under a cloth.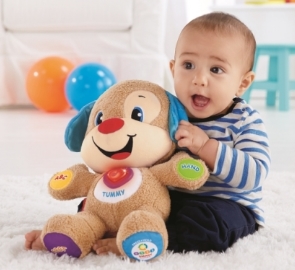 They will also continue to develop their communications skills and babble with vowels first then consonants. Toys such as the Fisher Price™ Laugh and Learn Smart Stages Puppy can be enjoyed at this stage, offering several different modes that are designed to encourage language development.
Your baby's memory is also developing and you may start to see a preference for a favourite toys people and books. Stranger awareness/anxiety often arises at this stage. Your baby will learn to anticipate the surprise such as the pop  in songs like Pop goes the weasel  and will know what to expect from daily routines such as bath time.
Crawling can often start at this stage and some babies may try walking while holding your hands. Babies are more steady sitting up and can reach for a toy without falling over. Balls can be a good toy as they're able to coordinate their movements with their gaze and track movement of the ball and catch it if it's rolled to them. This is also a great opportunity for turn taking and sharing!
Your baby may start to stand unassisted and cruise along furniture. Fisher Price's™ Musical Lion Walker is a great toy to steady those first steps. You baby is also communicating in many way now, pointing, grunting waving clapping and soften trying to talk. They may be able to respond to simple commands such as bring me the ball. Play continues to be vitally important in your baby's development, as this is how they learn about the world. Your baby will inspect things, shake, bang, throw and drop objects to see what happens. They will enjoy playing with you and family members and may bring toys to show you.