It's a wrap with Babu!
Cuddling your baby is a whole lot cosier with Babu's gorgeously soft organic cotton muslin wraps, and thick & thirsty hooded towels. The Babu Double Gauge Muslin Wr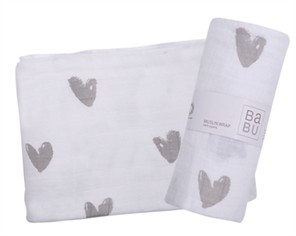 aps (pictured, left) are light, bright and breathable, perfect for those hot summer months. Muslin cotton wraps are versatile and essential for babies in warm climates because of the open weave and breathability.  The Double Gauge Muslin Wrap can be used as a swaddle, buggy rug, baby capsule cover, spare sheet, on the change table or bundled up in the nappy bag just in case. We make them a generous 110cm x 110cm, so you have plenty of material to work with! RRP: $26.90
The Babu thick and thirsty organic cotton baby hooded towel will be a welcome addition to your little one's bathing routine. Babies lose so much heat from their head after bathing, so keep them toasty warm and cosy with this lovely soft towel made from luxurious 100% organic terry towelling. It's a comfortable 75cm x 80cm, just right for wrapping up your little bundle!  You just can't go wrong, especially at just $29.95!