Gadget-guy Oliver Driver test-drives a mountain buggy
I'm a gadget guy, love em. From cameras to phones, robots to drones, I am a self-confessed gadget geek.
Now when I met the love of my life and the bank accounts became just one that she was in charge of, it's fair to say my gadget quota went way down. The i-Pad pro passed me by. New phone? Forget it, nothing wrong with your old one. Coffee machine? No. But then came the baby and bang, gadgets were back and she couldn't say no. Baby monitors, breast pumps, rockers, bouncers and shushers - all of them were required and my gadget fix was once again sated.
Now I'm telling you this entire back-story so that you'll understand when I tell you - the king of the gadgets, as far as a baby is concerned, is the pram. Hoooo boy, the pram or buggy is to baby gadgets what a car is to grown-ups. So let me assure you I did a lot of research. This was going to be the biggest gadget I would be allowed to get till the daughter was 15, so I wanted to make sure I got it right. In the end I chose the Mountain Buggy urban jungle. Yes, sure partly because it had the coolest name but also because I am tall and I wanted one that had height. My partner, however, is less tall (she's gonna read this so that's the best way for me to put it) so we needed the handle to be adjustable and ultimately we wanted a buggy that suited us both.
The urban jungle is available as an 'all terrain travel system' so we made the most of this and also got the protect infant carseat. This capsule, of course, fits on the buggy just as easy as can be. But even better is the base that you can buy to go with the capsule and you install in your car (with ISOfix or BASEfix). This means the putting in and taking out of the capsule - that we seem to do a thousand times a day - is as easy as a click.
Actually, easy is the word I would use to describe the Mountain Buggy urban jungle in general - easy and smart. Things work like you think they should, the handle is where it should be, the straps work like you expect them to work. Many of our friends have various contraptions that require a complicated system of twists and turns, pulls and slides that make me think they are assembling a hang glider rather than going for a walk with the baby.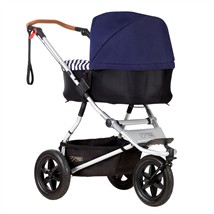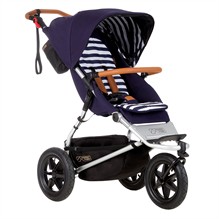 We also made use of the carrycot - another really handy feature for multi-tasking families with newborns: baby sleeps while parents walk. Now that our daughter is bigger, we've adapted the buggy to make use of the forward-facing seat and our little girl is loving her new view.
The urban jungle has all the features you would expect: great suspension, ease of use, flexibility and so on, but what you can't see in the pictures is how intuitive it is and in the end I think that's the mark of a great product, in fact - a great gadget! We have babies, we are busy and stressed and tired and we cannot be bothered working stuff out - we just want it to work, as we would expect it to, every single time. We want it to be one thing in our lives that we don't have to think about, because someone else spent years thinking about it for us! The Mountain Buggy range has obviously been created by parents and I'm grateful to them - for letting me buy one last gadget, one that is exactly what I need it to be, while also being just a tiny bit cool.
I'm proud to be behind it as my daughter and I explore the urban jungle.
 

Oliver Driver mostly directs television, film and theatre but he also owns a bar, two dogs and a motorcycle. He recently welcomed his first child, daughter Etta, to the world and he is pretty excited about it.
Read more about the Mountain Buggy urban jungle here.