GLAD celebrates 50 years!
We're celebrating GLAD's 50th year! Take a look at how GLAD® has helped us entertain family and friends over the decades. Watch the video here:

We Kiwis love our traditions, bringing family and friends together with plenty of good food. And while some things have changed since 1967, some have stayed the same for the past 50 years - including getting together in our homes and backyards along with the familiar presence of the GLAD® brand. The cook's best friend is celebrating 50 years in Kiwi kitchens in 2017. Here's to many more memories with our family and friends in the decades ahead!
Try this retro recipe for Devilled Eggs next time you need to bring a plate!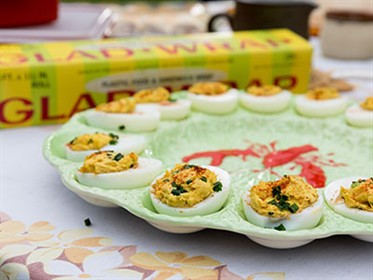 Ingredients
8 eggs
1 tsp Greggs Curry Powder
Freshly ground Greggs Sea Salt and Black Pepper, to taste
2 Tbsp mayonnaise or 2 Tbsp milk
Garnish with paprika and chopped parsley or chives
---
Method
Place eggs in a saucepan and cover with water. Bring to the boil, then gently simmer for 10 minutes. Remove from heat. Cool eggs under cold water before carefully peeling off the shells.
Cut the eggs in half lengthwise.  Scoop yolks into a bowl. Add curry powder, sea salt and black pepper and mayonnaise or milk. Mash with a fork until smooth and creamy.
Use a GLAD® Snap Lock Sandwich Bag as a piping bag (half fill the bag and cut off a corner) or spoon the egg yolk mixture back into the egg white cases.
Garnish with paprika, parsley or chives.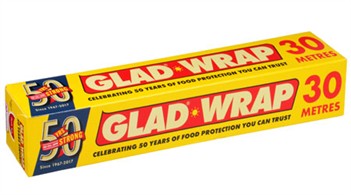 To celebrate 50 years, GLAD WRAP® limited edition retro pack is available in store for a limited time. Click here for more. GLAD® celebrating 50 years of food protection you can trust.
1960s
In the flower power era of freedom, we wore our fancy florals and effortlessly served our garden party guests the trendiest of entrees, the prawn cocktail – prepared ahead of course, and kept oh-so-fresh with the help of the exciting new GLAD® Wrap.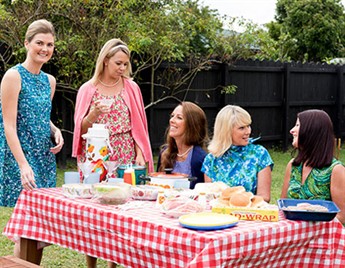 1970s
The 70s were a liberation! We went out to work and spent less time in the kitchen, but still managed to entertain our friends and families. In corduroy flares and suede boots, we stuffed eggs in advance, hosted fondue parties and cleaned up in a jiffy with the help of timesavers like the then new GLAD® Kitchen Tidy Bags – so clean, so easy!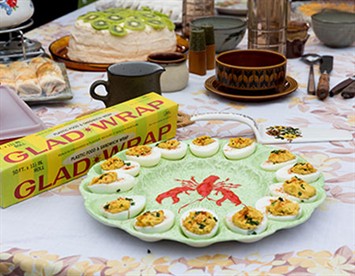 1980s
We got serious in the 80s, out to impress each other with our power suits, big hair and flash cooking. Nothing impressed more than serving up brandy snaps to finish a dinner party – so nouvelle! Where would we have been without GLAD® Wrap to keep them fresh? Cheese and pineapple hedgehogs were an absolute hit at children's birthday parties. And on the unusual occasion of there being leftovers – well, those clever new GLAD® Snap Lock® Bags could have been designed just for sending these tasty treats home with guests, even though we've now found many more uses for them.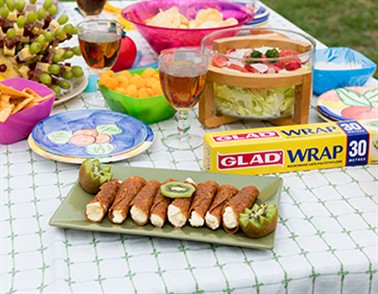 1990s
The 90s saw us take a more casual approach to just about everything. Potato gratin was an easy way to feed a crowd, and GLAD® Cooking Paper saved us scouring the baked-on sticky bits around the dish. We were getting a bit adventurous in our choice of beverages too, and keeping a supply of GLAD® Ice Cube Bags in the kitchen meant we were never short of ice, no matter how many friends were drinking our gin!
2000s
These days, we're much more conscious about the impacts of the things we choose to buy on ourselves and our planet. We're wearing natural fibres, eating whole foods and recycling and reusing as much as possible. And GLAD® has made changes to a number of products to help us be more responsible, like the GLAD® Ware re-usable containers, which come in a range of sizes to keep food and leftovers fresher for longer.