Makeover your playroom with Fisher-Price®
Babies bring an endless amount of love and joy into a home, but I was reminded recently that they also need a lot of stuff - toys, furniture and other necessary bits and pieces! My 6-month-old niece is the most beautiful baby in the world - made even sweeter by the fact that I have three boys so I embrace everything girly whenever I can! However, the ocean of clutter that follows her in an effort to keep her entertained, has a tendency to take over the serenity of my living space!
Do we really need a separate room dedicated to the children where we can stash all the kid-related clutter away? Well, thanks to toy companies like Fisher-Price®, we no longer have to have everything hidden away. Instead we can have just a few toys on hand that look great and offer hours of fun in one concise package, ready for babies to enjoy.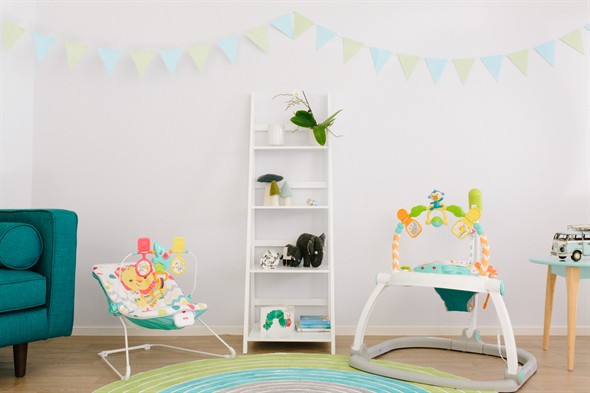 The Fisher-Price® Rainforest Friends Spacesaver Jumperoo (above right) comes in both soft carnival-themed colours (pictured above right) and bright rainforest colours. It offers endless fun and encourages a baby's natural jumping movement, without the need for a door frame. The Jumperoo will be your best friend when you need a little extra time to cook dinner or to grab a few moments of quality time with the big kids. Bouncers are another great way to keep baby safe and comfortable. Take the lightweight Fisher-Price® Colourful Carnival Bouncer (above, left) with you to the bathroom and save the luxury of a long slow shower from becoming just a distant memory!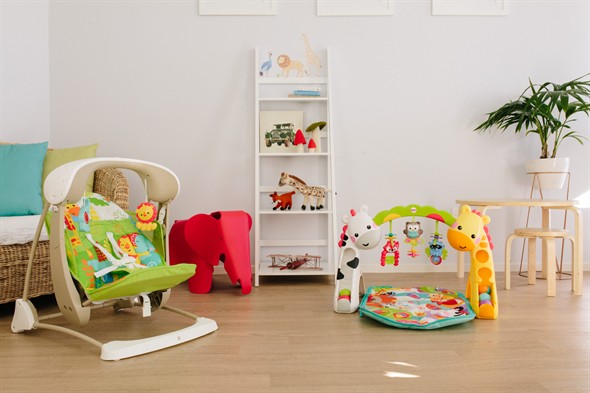 The battery operated Fisher-Price® Rainforest Friends Take Along Swing & Seat (above, left) is a definite winner. The gentle swaying, soft music and colourful hanging toys provide the perfect entertainment for baby when you need just that little bit longer to get the washing out and the housework done.
And when baby number two (or more) comes along and older siblings want to play, the Fisher-Price® Newborn to Toddler Play Gym (above, right), incorporates a fun ball-rolling game to let big brothers and sisters play safey near baby while baby is safely entertained below.
These well-designed toys provide a safe and fun way for babies to start to explore the world around them while learning and developing important fine kinesthetic motor skills. And most importantly (and conveniently for parents), they offer the perfect way to get a few jobs done and have a little guilt-free me-time while baby is happy at play.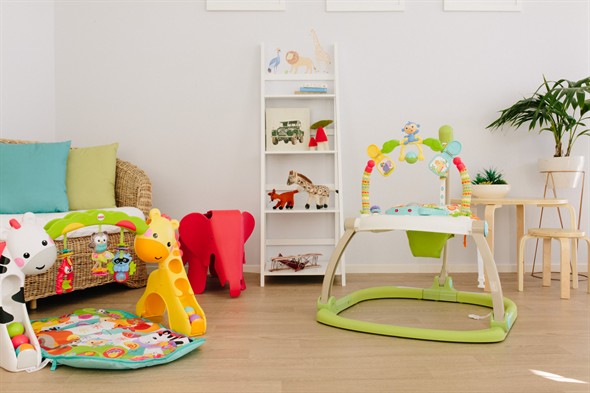 With some fun new, and cleverly themed designs, this new range of Fisher-Price® toys is not only functional, but aesthetically pleasing too. Team them up with some other favourite toys and they can even make your living space feel more homely without adding clutter. Featuring a soft carnival theme (sold exclusively through The Warehouse) and a colourful rainforest theme (available at Farmers), these toys will add comfort and colour to your home.
Furniture thanks to Mocka   Toys thanks to Nozomi  Rug thanks to Aladdin's Rugs  Wall decals thanks to LoveMae