About Us
Vision
To be a empowering media business that positively impacts families.
Mission
To Encourage parents and parents-to-be, in their most important role in life.
To Inspire parents to be creative and deliberate in their parenting, their time with their children and in raising their children.
To Empower parents to be all that they can be, giving them the tools and information that will help them live the life and create a family that draws from the heritage they wish to keep and breaks new territory in being a close modern family.
To Inform parents, creating expert written, relevant content and events that challenge and inspire them and each of their unique situations.
AIM
Our AIM at OHbaby! is to provide a website, magazine and online community that helps us all be better parents. We're governed by an overarching little acronym we like that guides the articles we choose to create for our readers! E-I-E-I-O
Encourage
Inspire
Empower
Inform
OHbaby! readers
History
OHbaby! is the love child of Angela and Royce Pedersen.  In early 2000 they spent the summer camping with their family as the always do.  The break away from the stresses of work and getting back to the basics, spending time with family and friends and enjoying life for the most important things in it got them thinking - 'there's more to life than this'.
Angela and Royce were keen to break out and start a business for themselves that would allow Angela to work from home when they had kids.  They believe the role of a parent in this world is the most important one they will ever have and to be there for their kids was a priority.  They also thought if they could help others by providing them with the information they need to get their family off to a good start then, even if they made no money but acheived this goal, it would be worth it.
Their dream was to provide quality, useful and thorough information about planning a child (what people are getting into), a step by step guide through pregnancy and then how to raise a baby and child as the early years of life are the most important years!  They wanted to provide all of New Zealand with an online community of Kiwi's that could share stories and support each other and share the joy their children brings to them! 
Years later OHbaby! is still growing from strength to strength, and Royce and Angela have had three children of their own Ella, Eva and Jesse (pictured below). "I have so much more planned now to offer our members and visitors than I ever dreamed was possible and I'm so excited to watch as OHbaby! grows and to watch and chat on our forums! It is the best feeling to know that all the blood, sweat and tears that we have put into making OHbaby! is really helping people and growing a real community on the site, I just love all our members, we're so thankful for them!' says Angela.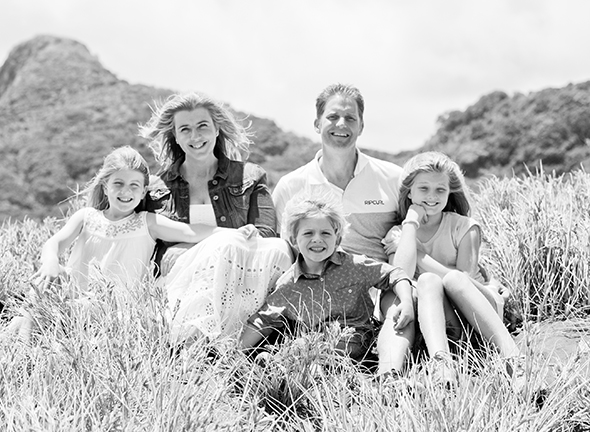 Eva, Angela, Jesse, Royce and Ella Pedersen
Photo by Sam Mothersole