20 minutes with Diana Gabaldon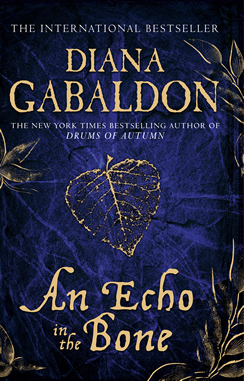 Simonne Walmsley sat down with bestselling author of the Cross Stitch series Diana Gabaldon to talk about the latest instalment, An Echo in the Bone. 
It's quite a big ask, when meeting someone as extraordinary as Diana Gabaldon, not to think about how impressed you are. As I sat down in the lobby of Auckland's Westin Hotel across from the New York Times No. 1 best-selling author of An Echo in the Bone, the latest book in the Cross Stitch series, I must confess that my brains fell out of my ears. Frantic mental efforts to re-harness intelligent thought certainly weren't helped, either, when the reality of 20 minutes with the woman who has written seven tomes averaging close to 1,000 pages each also sunk in at this rather badly timed moment.    
Diana Gabaldon (pronounced Gabble-done - to rhyme with stone - if you've wondered), who holds degrees in Zoology, Marine Biology, Quantitative Behavioural Ecology and an honorary degree of Doctor of Humane Letters, has a number of other impressive achievements to her name, including founding the scientific computation journal Science Software Quarterly. She's also written comic book scripts for Walt Disney and is a born story-teller - and that's the trap. As soon as she starts talking, I want nothing more than to order a coffee, sit back in my chair, and simply let her go in whatever direction she wants. That's the rub with being a fan as well. 
Diana, in turn, appears to take my fascination and run with it, and we manage to cover quite a lot of ground, including the rather unexpected and charming tale of how her housekeeper came to join her household. 
    
Slightly more on topic, we discussed the progression of the books through the years and increasing awareness of the mortality of the aging characters, heightened by the death of the elder Ian from consumption, an emotional storyline that Diana told me she found very distressing to write. This led me to ask whether she has ever missed a character so much that she has considered bringing them back. Before I even fnish my sentence, she tells me, "Oh, yes. I miss Murtagh very much." 

And so, The Exile, a graphic novel scheduled for release next September, set within the parameters of Cross Stitch but with a completely new narrative line and beginning slightly before Cross Stitch began, is told from the points of view of Murtagh and Jamie. 

I ask, even though I'm not sure I want to know the answer, whether she knows where and when the story ends, and I am relieved when she says no, not exactly.  "I have the final scene, because it came to me some years ago, and when things pop up I write them down. So I do know the final scene, but I have no idea where it takes place or when, and I have not the slightest idea how we get to that spot." She needs to get all of the way through the American Revolution, at least, and is now dealing with four storylines from An Echo in the Bone, so doesn't know whether she can tie everything off in one more book. In her matter-of-fact way, she says, "If I can, fine. If I can't, then there'll have to be nine." I do like the idea of nine books.
    
It seems incredible now that Cross Stitch was a practice novel, written by Diana to learn how to write a novel, and which she never intended to show anyone. 
    
Incomprehensible to me, though, is that when she wrote it, she had a full-time job, another part-time job, a home, a husband, and three small children.  I imagined that considering what she has achieved, her advice to anyone with a goal they wish to realise would be invaluable, and I wanted it. 
    
It's a thought familiar to me when she tells me that often young women say to her they feel so guilty taking any time to do what it is they want to do. Her response to this is blunt, to say the least.
    
"I say, 'Do you watch television?' and they say, "Oh yes, of course.' And I say, 'You don't feel that you're depriving your family of anything by watching television for four hours a day?' and they say, 'No...' And I say, 'Good. Use some of that time. Stop watching television four hours a day. You'll have a lot more time." Her advice can be applied to everything from getting the dishes done every night to, well, writing best-selling novels.
    
"What you have to do is go to work instead and it's difficult, because there's this, we call it energy of inertia in a chemical reaction - sometimes you have to add energy in the form of heat in order to make a reaction go. It's the same way, when you're getting to work especially on something like this, you have to push yourself to actually do it. Once you are doing it, well, there you are, but you have to make that first step, which is hard." 
    
Diana continues, "You have to alter the shape of your day, and if this involves other people it's going to seem daunting and all that, but really they accept it fairly easily as long as you're not inconveniencing them to any great extent. The only thing that you have to do there is remember to do it every day. It doesn't matter that you don't have four hours to work on it. That would be nice, if you had four hours to work on it, but you're not going to get that so if you've got 10 minutes, work on it then." 
    
I was nowhere near ready to leave when Diana's publicist stood up, giving me an apologetic smile because we've not only run through our time-slot, but we've run quite a way over, considering how tightly-packed the schedule is for her New Zealand tour. So, as I turn off my recorder and reiterate what a pleasure it was to meet her, I ask Diana one last question, because I have to know. Does she have any guilty pleasures?
    
Diana looks absolutely nonplussed for a moment, starts and stops more than once as she thinks, and then replies, "I just never thought of being guilty about anything I like." Just like that, she has secured my eternal adoration.



Simonne Walmsley, mother of one-yeaar-old Cuinn, has been a fan of Diana Gabaldon for half her life, and was quite relieved she didn't faint during the interview.


 
As seen in OHbaby! magazine Issue 9: 2010



Subscribe to OHbaby! magazine
Purchase Issue 9