Te Reo Books 2015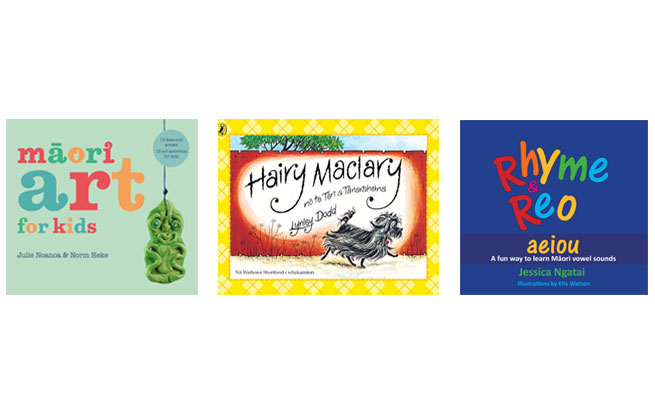 Rhyme & Reo: aeiou makes it easy to learn the vowel sounds used in te reo Māori. Each rhyme highlights a Māori vowel sound, using familiar English words to demonstrate the sound, along with helpful notes and tips. A helpful learning aid supporting parents to learn and improve their own te reo Maori alongside their children. See below for a sneak peek! 
Written by Jessica Ngatai, illustrated by Ella Watson
Published by Ako Books
July 2015 
Hairy Maclary nō te Tēri a Tānarahana
Lynley Dodd's famous Hairy Maclary from Donaldson's Dairy translated into te reo Maori by broadcaster, actor and writer, Waihoroi Shortland. When Hairy Maclary and his canine friends go for a walk and encounter Scarface Claw, the toughest tomcat in town, they run away!
Written and illustrated by Lynley Dodd,
Published by Penguin Group
May 2014
Maori Art for Kids 
A collection of 15 unique Maori art projects for children aged seven and over. Practical skills cover sculpture, photography, design, paint, mixed media, collage and more. Easy-to-follow instructions include illustrations of the steps involved, using every day craft materials, recycled and found objects. Beautiful examples of taonga (treasures) created by leading contemporary artists are shown alongside each project with a brief explanation of the object, it's purpose and use in the past and present.
Written by Julie Noanoa, photographed by Norm Heke
Published by Potton& Burton Publishing
2014