'New family' shower
Celebrate your impending arrival in style with a relaxed, elegant dessert evening for a few close friends.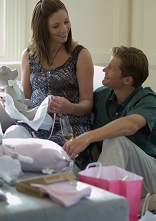 Does the very phrase baby shower make you shudder in horror? A party to celebrate the imminent arrival of your child sounds fun, but when most people picture a baby shower, their mind is filled with images of squealing women playing silly games while the menfolk are banished to the bedroom to watch rugby.
     There are inter-familial grumblings over who gets invited and who doesn't people stand over the mum-to-be demanding to know the gender and then criticising her choice of baby names; and for the generous person hosting the event, it's a whole heap of work that only seems to end in crumb-ridden carpets and limp crepe streamers. And don't even get us started on the never-ending, can-you-top-this-one exchange of labour stories!
     All in all, a baby shower is meant to be good fun, but so often leaves both mum-to-be and all of her guests exhausted and suffering indigestion.


Fortunately, a baby shower doesn't have to be an ordeal to be endured. It also doesn't have to take weeks of planning, revised guest lists, catering for hordes of people, and embarrassing games that nobody really wants to play. And the dad-to-be should definitely be included after all, he's contributed 50% of the genes to this baby, so he should get to share in the excitement of preparing for it. So select a few good friends and invite them over for a low-key, relaxed, elegant dessert evening, with beautiful food, bubbly for the guests and sparkling juice for the mum-to-be, and a few fun activities to get you all in a baby-welcoming state of mind. Make it a special event to celebrate your new family, not just your new baby.


Where and when to have it:  Your home is an obvious choice, as you and your guests will be most comfortable in your own environment. But think about the time of year. Is it a hot, sweltering summer afternoon, or a chilly winter evening? If you know a friend with a fabulous outdoor entertaining area or a warm, cosy fireplace, you may want to see how they'd feel about hosting.
If you feel up to it, another lovely idea is to invite a few friends out for an early dinner at a favourite restaurant, then return home for dessert and camaraderie.

Who to invite:  Keep your guest list small, intimate and relaxed - there's no need to invite Great Aunt Mildred or your third cousin who just happened to invite you to her baby shower six months ago. It's more than likely that the same relatives and acquaintances you'd otherwise feel obligated to include will be visiting you after the baby is born anyway, descending upon you with gifts and good wishes, and demanding cuddles. Let them wait, this is a celebration for you and the people who know you best. Six to eight people is a good number; three or four couples are just the right amount to keep things feeling comfortable and low-key.

What to do:  It wouldn't be a baby shower without games, and the key words here are simple and fun. Try to think of a few non-competitive, enjoyable games that everyone will feel comfortable playing, including the guys. Many men feel uncomfortable talking about birth, so banish the birth stories and nappy-changing competitions and stick to group fun.
Here are some ideas for low-key activities: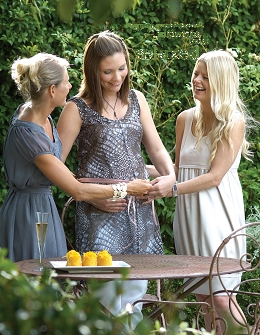 Get a couple of metres of ribbon or a ball of string, and have guests guesstimate the mum-to-be's girth by cutting a piece of ribbon to their estimated diameter. Then measure the mum-to-be's bump on another piece of ribbon, and hold the rest up to hers. The person with the closest length of ribbon wins.

Make up a card with some pertinent questions on it, such as the gender of the baby, time and date of birth, weight, length, hair colour, eye colour, and name suggestion. Make sure you have enough for everyone, then let them fill out their guesses and when everyone's done, compare answers. The mum-to-be can take the cards home for her baby album; they are a sweet keepsake. See our cute

game cards

 you can print off and use.

Check out Baby Smarts (Quirk/Southern Publishers Group,$39.99). It's a fun little card game that has question-and-answer cards about what happens before, during, and after the baby's birth. There are four categories: Mum (from belly to baby), Baby (from diapers to drool), Culture (bringing up baby throughout the world) and WildCard (surprising information about those bundles of joy), there's also a score card and a tip guide, as well as different scoring options. Mums and dads alike will have fun answering questions like, In France, the more children you have, the fewer taxes you pay.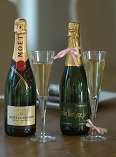 What to serve:  The great thing about a dessert evening is that it's easy; pick a few delightful delicacies from your local speciality bakery, have a go at creating your own sweet treats (see our delectable recipes below), or choose a combination of homemade and store-bought desserts.
Two or three things per person is just enough. Add in a cheese-and-cracker platter and some chocolates, and you'll be sorted.
     Bubbles are most definitely on the menu. This is a celebration, after all! For the mum-to-be, a special bottle of sparkling white grape juice will keep her from feeling left out. Tie a ribbon around her bottle and wine glass so it's easy to spot which one is non-alcoholic, and you can all share in the toasts.


Banoffee pie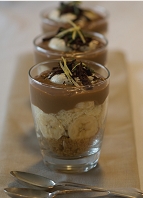 3 tins of sweetened condensed milk
200g butter, melted
2 packets of sweet plain biscuits, crushed finely
4 bananas
1 lemon, juiced
1. Immerse unopened tins of condensed milk in a saucepan of boiling water. Cover and boil for three hours, checking often to ensure that water is always covering the tops of the tins so they don't split open and explode. Remove tins from the water and allow to cool completely before opening. When opened, the sweetened condensed milk in the tin should be transformed into a soft caramel pie filling.
2. Mix melted butter and biscuit crumbs together. Line the bottoms of eight
small, flat-bottomed juice glasses with the biscuit crumb mixture. Refrigerate until ready to use.
3. Just before serving, pour caramel into each glass and smooth the top. Slice bananas and squeeze lemon juice over them. This prevents the bananas from going brown. Arrange the banana slices on top of the caramel.
Berry trifle
350ml fresh cream
150g caster sugar
450g cream cheese, softened to room temperature
10ml lemon juice
500g frozen berries, thawed
300g sponge cake
100g dark chocolate, grated
1.  In a bowl, beat fresh cream with 50g sugar until stiff peaks form.
2. In another bowl, mix cream cheese, lemon juice, and 100g sugar. Fold two cups of whipped cream into the cream cheese mixture. Reserve remaining whipped cream.
3. Drain berries, reserving juice. Slice sponge cake into pieces that will fit into eight small, flat-bottomed juice glasses.
4. Line glasses with a slice of sponge cake. Drizzle with berry juice. Spread cream cheese mixture over. Add grated dark chocolate. Sprinkle with berries. Repeat layers twice. Top with remainder of cream cheese mixture, whipped cream and berries.
5. Cover and refrigerate for four hours before serving.
Garnish with fresh mint leaves, if desired.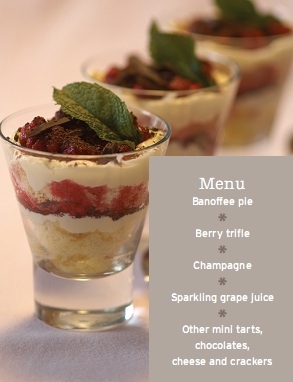 AS FEATURED IN ISSUE 1 OF OHbaby! MAGAZINE. CHECK OUT OTHER ARTICLES IN THIS ISSUE BELOW