12 unique ideas for an at-home Easter egg hunt
We asked you for some new twists on the traditional Easter egg hunt, and here they are!
Easter will be different for many families this year thanks to the COVID-19 pandemic. Lockdown rules mean we can't stray far from our homes, so joining in a fun public Easter egg hunt, or creating your own in a park or at a friend's house is not an option. Try these innovative ideas instead: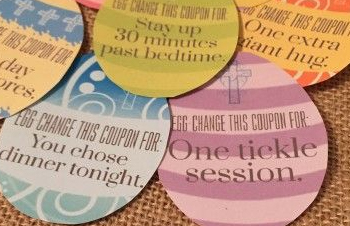 Alternatives to chocolate
Instead of chocolate eggs you could use hollow plastic eggs and put your own prizes inside. Things like little toys, vouchers for an activity/family outing or coins would all work.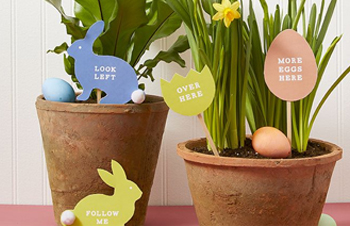 Signposts
If littlies will need some help in finding their hidden eggs, cut bunny, egg, and carrot shapes out of cardboard. Glue them to sticks and scatter them throughout your garden to help guide everyone to their hidden treats.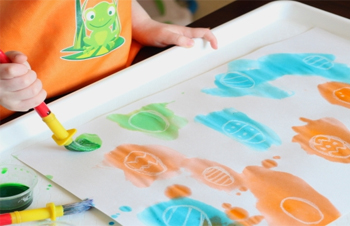 Magically appearing eggs
Here's a crafty idea that toddlers will enjoy. For this you'll need a white crayon and some watercolour paints – one colour is fine. Using the white crayon draw patterned Easter eggs on a clean, white piece of thickish paper. Then get your child to paint the watercolours over the crayoned eggs to 'find' them!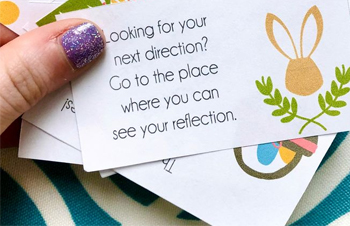 Leave clues
Instead of leaving eggs everywhere, carefully hide a few of them, and then offer a trail of clues that'll help kids find them. It combines the fun of an egg hunt with the thrill of a scavenger hunt.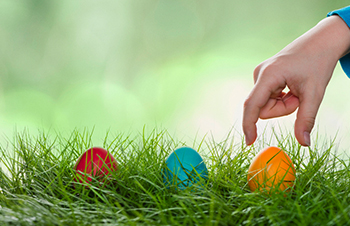 One hunt, separate lists
Give each child their own list containing items to find. For example, one large bunny, one pink egg, two mini green eggs, and so on. This will help cut down on arguments if you have one child who tends to find all the eggs first.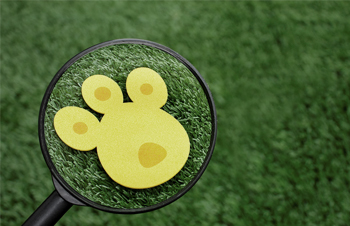 Follow the bunny tracks
Let the Easter bunny himself guide the fun! Younger children will love the cuteness factor of finding and following bunny prints to wherever eggs are likely to be found. You could even write a note from EB himself, explaining what to do.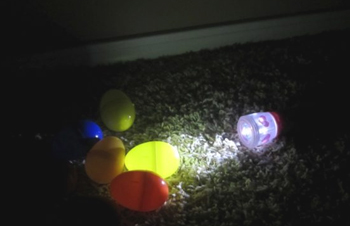 Night-time egg hunt
Do this one after dark inside the house. Hide the eggs and turn the lights off, and then give each child a torch to locate the eggs.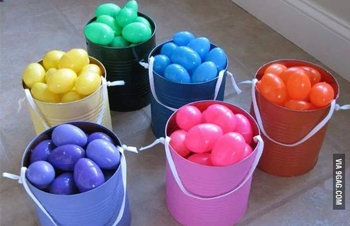 Colour-coded egg hunt
In a free-for-all hunt, older kids tend to scoop the pool so to avoid disappointment and give everyone a fair go, give each child a certain egg colour to find. If they finish first, the older kids can help the little ones look for their colour.
Mix and match
Another Easter egg hunt idea for toddlers is a mix-and-match hunt. You'll need to have plastic hollow eggs, and to draw your own two-colour eggs on paper. Mix up the two halves of the plastic eggs and then help your child to sort through them to match the actual eggs with your drawn eggs.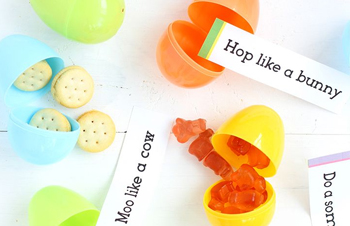 Get active
Write out as many directions as you have eggs and cut them up, placing one with each egg to find. Things like 'hop around like a bunny' or 'do 10 star jumps' will get everyone up and moving!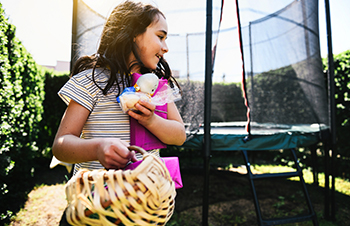 Turn the tables!
If you have siblings who are old enough, get them to hide eggs for each other. You'll need a packet of miniature foiled chocolate Easter eggs divided up according to the colour of the wrapper (eg a blue pile, a green pile etc). Give each child a different coloured pile of eggs to hide around the house or garden. Then see who can find the most of each other's hidden eggs (finding your own colour doesn't count!).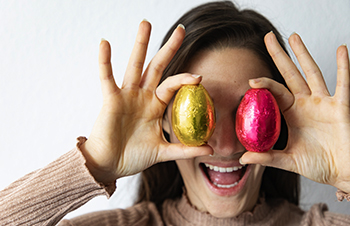 Parents get a turn!
Once your kids have found all their eggs, let them grab a few and hide them for you to find. They can use the "hotter/colder" method to direct you to their hiding spots.
And some helpful advice...
Before you begin hiding the eggs, be sure to count them, and if necessary, write down where you hide them - this will make cleaning up a lot faster and you won't find a mouldy egg in a pot plant or a melted mess on your mantelpiece come mid-October! Happy hunting!