Toddler bedding
Sleep tight!
The OHbaby! team has shopped 'til we dropped - here are our best picks of what's available in toddler bedding.
Mattresses
While any bedding store can sell you an innersprung mattress, if you'd prefer to go green, we particularly like Innature's all-natural mattresses. Innature (www.innature.co.nz ) handmakes mattresses using organic cotton, hemp, coco fibre, natural latex, and wool, and their Little Kiwi range of mattresses are custom made for bassinettes and cradles right through to adult-sized beds. The materials they use are 100% natural, free from toxic chemicals, breathable, supportive, durable, and environmentally friendly. Innature's recommendation for a child's first big-bed mattress is the 5-inch coco latex mattress (single $645, king single $725).
Mattress protectors
It's a good idea to use a mattress protector on your child's big-kid bed for a couple of reasons. First, nighttime accidents are still common during toilet training, and leaky nappies are inevitable. Also, you'll want to protect the mattress when your child is ill with tummy bugs or head colds. And it's much easier to strip off a mattress protector and pop it into the wash than it is to clean a mattress - especially in the middle of the night.
     A traditional waterproof mattress protector is a great option for under your child's sheets, between the mattress and the bottom sheet. We particularly like the Baby First Quilted Single Mattress Protector (920mm x 1880mm, RRP$26), with a thick, soft fleece outer for your little one's comfort and a super-absorbent, 100% waterproof inner for complete mattress protection. It's machine-washable, but remember it needs to be drip-dried as the dryer can degrade the waterprooing. Find it at Baby City and other independent retailers around the country.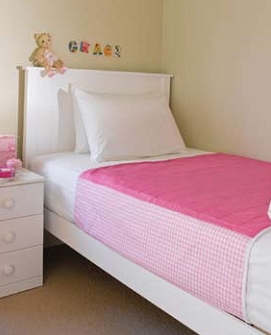 Another innovative option for a mattress protector is the Brolly Sheet (www.brollysheets.co.nz). The Brolly Sheet is placed on top of the fitted sheet and tucked in underneath. The outer layer is cotton, so it looks and feels like a normal sheet, but the PVC inner keeps the fitted sheet and mattress clean and dry. It's really quick to change - just strip it off and toss it into the wash. In several fun colours to match your child's room décor, the Brolly Sheet comes single, king single and queen, priced from $44.95. The best part about the Brolly Sheet is that you don't have to strip the whole bed if your little one wets it.
Sheets
How many and what kind of sheets your child's big-kid bed requires is a matter of opinion. Our recommendation is two sets of 100% cotton sheets for spring and summer, and two sets of cotton flannelette or cotton knit sheets for autumn/winter.  We love Cocobelle (www.cocobelle.co.nz) for beautiful children's sheets. And My Room (www.myroom.co.nz) has 100% cotton sheet sets for boys' and girls' beds, as well as wonderful 100% cotton knit sheets that feel like your child's favourite T-shirt against their skin.

Duvets
A cool duvet can "make" a child's room and tie everything together. Look for paint colours, wall décor, and curtains that complement the duvet, and use it as a focal point in your child's room. 
     Make sure the duvet you choose is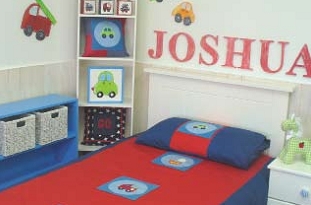 washable, and that it doesn't have any small buttons or decorations that your curious toddler can detach and possibly choke on. 
     Giddy Giraffe's bedding (www.giddygiraffe.co.nz) is 100% cotton and handmade in New Zealand to match their furniture, and we particularly love the Boys' Toys duvet cover (single $90, king single $110).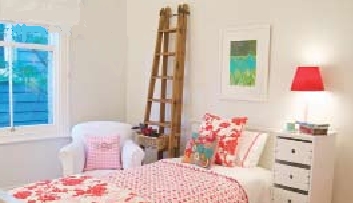 If you want to choose something a little more sophisticated, we love TomTomJak's Polka Dot duvet cover and pillowslips (single $152, king single $195). There are also matching sheet sets, lamps, cushions, and other accessories, and you can buy the fabric by the metre too - check out www.tomtomjak.co.nz.
     Cocobelle carries a lovely selection of designer duvets and bedding accessories, and we've in love with their Room Seven range.

Duvet inners
One of the most important considerations with duvet inners is how warm it's going to be, and whether you can get away with using the same one all-year-round, or if you'll need two duvet inners - a heavy one for winter, and a lighter one for summer.
     If you're in the deep south where it gets very cold at night, you'll want a very warm duvet inner made of wool or feathers. For more temperate areas, wool or a mixture of wool/cotton are a good bet. We're not big fans of synthetic duvet inners because they're not as breathable as natural materials.
     Giddy Giraffe stocks organic wool/cotton duvet inners (single $140, king single $155) with 100% organic wool filling and 100% organic cotton outers. Organic cotton minimises exposure to toxins that can cause allergies, and wool is naturally non-allergenic, moisture-absorbent, and ire-resistant - and it "breathes". Wool is warm in winter and cool in summer too.
     Fairydown (www.fairydownbedware.co.nz) is a Kiwi classic and they also make a great range of duvet inners. A really innovative feature of many Fairydown duvet inners is that you can get two that snap together - use both in winter and only one in summer.

Pillows and pillow protectors
With pillows, it's best to stick to natural, non-allergenic materials. Many parents worry about their child sleeping with a pillow for the first time in a big-kid bed, as they should not have pillows in their cots. If you're concerned about the risk of suffocation, you can forgo a pillow altogether, or stick to using a very small, cot-sized pillow for a while until your child becomes used to it.
     We prefer 100% cotton pillows or wool-filled pillows as they're breathable and non-allergenic. Farmers has a good range of pillows, including the Fairydown brand. They also have a selection of pillow protectors, which are like pillowcases that go on underneath the pillowcase to help protect the pillow from getting stained. If your little one is a real drooler, Brolly Sheets (www.brollysheets.co.nz) also has a PVC pillow protector that's waterproof and fire-retardant.
Sleep safety
"How can I make sure my child won't fall out of bed?" is a common question parents have when moving their child from a cot to a big bed. Safety bed rails are one option. Bed rails are typically L-shaped, with the bottom part of the L sliding under the mattress on the side of the bed, anchored by the weight of the mattress and the child. Many bed rails are hinged so that they can flip down during the day and be pulled up at night. 
     The Safe T Sleep Sleepwrap is a product many parents of babies are fond of, as they help to keep children secure in their cots. It's attached to the child's mattress, over their sheets, then the child is placed in the middle and wrapped up. It's great for encouraging back sleeping as well as keeping little escape artists put! The Safe T Sleep Standard Classic Sleepwrap ($106.99) not only fits bassinettes and cots, it also fits single beds. Also, the Safe T Sleep Universal Travel Sleepwrap ($129.99) fits all sizes of beds. This is a great option if you're concerned about your child falling out of bed, but you don't want to deal with safety rails. Visit www.safetsleep.com to find out more or to order. 
As seen in OHbaby! magazine Issue 3: 2008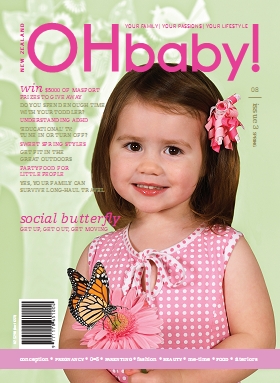 Subscribe to OHbaby! magazine
Purchase Issue 3