Nature baby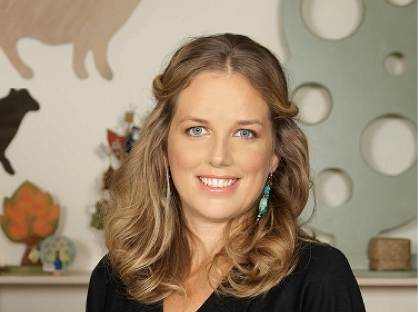 In business, naturally

When Georgia Faull had her first child in 1998, she was frustrated with the available range of baby products. Refusing to dress her children in polyester, Georgia set about establishing a business providing quality, natural products that would benefit present and future generations and Nature Baby was born.
Georgia Faull, Director and Research Development Manager for Nature Baby, has spent the last 10 years raising not only three children, but also a successful business which now boasts two flagship stores, an online store, and distribution throughout New Zealand, Australia, and Japan.
Nature Baby is founded on Georgia's passion to provide quality products that challenge the typical consumer experience. Its organic merino range, for example, is obviously good for babies but also considers the welfare of animals and agriculture, promoting organic farming and sustainability. Her inspiration? Her own children, of course - Nature Baby is truly tried and tested!

OHbaby!: What gave you the idea to start Nature Baby?
Georgia: Back in 1998, the choice of products available for babies was very limited, and I couldn't believe that most of what was around was synthetic and unnatural. I didn't want to dress my baby in sweaty polyester, so that's where our journey began.

OHbaby!: How did you put your business plan into action?
Georgia:To be honest, in the beginning we didn't really have a business plan! We started this business from scratch. It was a completely new idea at the time, and we really didn't know if it was going to sink or fly. Our main priority was to just sell what we loved and believed in - the business plan came later.

OHbaby!: What was the hardest part in the early days?
Georgia: What I really didn't expect was the amount of consumer education needed about the benefits of natural products. For example, when we first started selling organic merino, people were very suspicious of wool. They thought it would be itchy and hard to care for. Now people recognise what a wonderful, versatile fibre it is.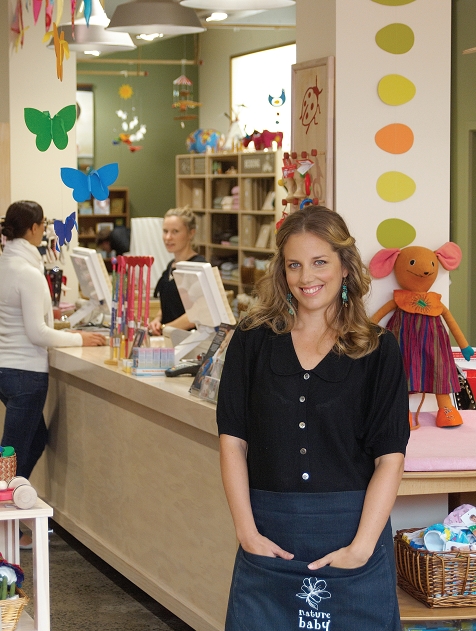 OHbaby!: What is the most exciting part of being in business?
Georgia: I really love the creativity. As a business owner, you have the freedom to create things the way you want them to be. Also, to run an ethical business is very good for the soul. It's very heartwarming to be able to sell what you believe in. You know it's good for everybody, from the producer to the consumer; and it's satisfying to be a part of social change, especially as more people now recognise the value of these issues.

OHbaby!: How does motherhood fit in with your business, and vice-versa?
Georgia: My children are a great source of inspiration. Most of the ideas for our work come from looking after them; therefore, we are happy and fortunate that our business and family life are very connected.

OHbaby!: Have you had any stressful "working mum" days?
Georgia: A typical stressful day would involve opening the store in the morning after a wakeful night with a sick child, feeling absolutely exhausted, working a challenging day, and then coming home to housework, cooking dinner, and all those other requirements of motherhood - when all you really want to do is curl up and go to sleep!

OHbaby!: How do you find balance between work and family life?
Georgia: This can be very tricky, and is something all working mothers struggle with. The answer, for me, as our family grew and we had more staff to handle the business responsibilities, was to step away from the daily operations and work on research and development from my home offce. This way I feel I have more balance.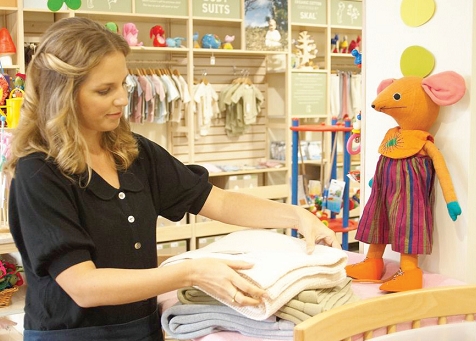 OHbaby!: Do you ever take your children to work with you?
Georgia: I can take my children to work with me, though they can be a little distracting! I am very lucky to have the support of two grandmothers, who help with childcare.

OHbaby!: What did you want to be when you were younger?
Georgia: I have always been passionate about the environment, though I didn't really know what I wanted to be. I knew I never just wanted to do a job for money, and I have always wanted to do something that helped people to think about things, or change their ideas. One of my inspirations as a young girl was Anita Roddick, the founder of The Body Shop. Her ideas were revolutionary at the time, and she instilled a strong value system in her business, while at the same time building a global brand.

OHbaby!: What's your favourite thing about the business now?
Georgia: My favourite thing is that everything is changing all the time, our business will change - it will not stay the same, and that I find very exciting.

OHbaby!: What products are you most proud of?
Georgia: I am really proud about all our products, but I am especially proud of our organic merino clothing range. It is 100% New Zealand made, from organic merino fibres that have not been treated with any kind of chemical at any stage.

OHbaby!: Would you like your role to change, or stay the same?
Georgia: I would like my role to stay the same as I enjoy things the way they are. Though, with a preschooler in tow at present, I do look forward to having a little more fexibility with my routine and what I can squeeze into one day.

OHbaby!: Do you have any regrets about the path you've taken?
Georgia: Absolutely not. All the mistakes you make along the way help you to grow and learn. You also can't be afraid of making mistakes, because taking risks is what business is all about.

OHbaby!: What is the best advice you were ever given as a mother?
Georgia: Children are only young once and they grow up very fast, so enjoy it when they are little.

OHbaby!: Do you have a favourite mantra or saying for when the going gets tough?
Georgia: Nothing ventured, nothing gained!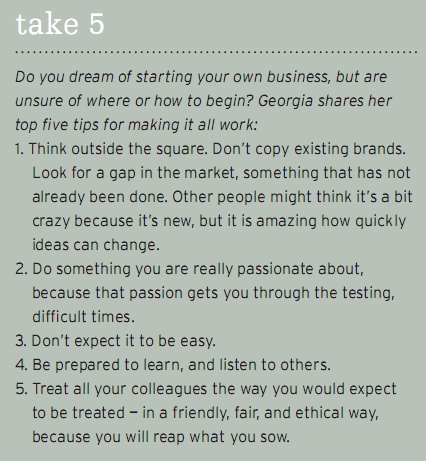 As seen in OHbaby! magazine Issue 6: 2009