Porse
Beyond Mary Poppins

From a caravan in Hawke's Bay, Jenny Yule established PORSE In-Home Childcare and Educator Training - a service that would not only benefit her own family's livelihood and lifestyle, but would also help families across the country to juggle the work/life balance with confidence.
 

With a vision for expanding the hearts and minds of a nation through nurturing childcare in the home, Jenny Yule has made a successful business that, quite literally, works for families. Jenny founded PORSE in 1994, while juggling newborn Rosa, her two other children (Robbie, then aged 10, and Hannah, aged 8), the renovation of their home, and consequential family life based out of a caravan. With an obvious ability to multi-task, and a determined passion to develop better-quality in-home childcare, Jenny brought her previous experience in early childhood and primary education to the kitchen table, creating what is now a household name. From those early days with only one other staff member, Jenny now manages 36 offices across New Zealand and 200 staff who support the work of 2,000 educators.

OHbaby!: What gave you the idea to start PORSE?
Jenny: Following the sharemarket crash of the late 1980s, the bank forced our family off our Hawke's Bay farm, so we moved to Auckland. I followed my teaching career and landed a job at AUT, tutoring nannies. When we returned to Hawke's Bay five years later, it was this experience working with nannies that would be the start of PORSE.
While working for AUT, I became convinced that the only way to care properly for a baby (in the absence of its parents) was through nannying, because of the one-to-one care and attention babies receive. I believe that babies need special care during the critical stages of early brain development.
My idea for PORSE was simple: To create a national nanny organisation to help families find childcare in the home more convenient, affordable, and a better scenario for their children, as well as supporting nannies to have training and career options beyond just being a babysitter.

OHbaby!:   How did you develop your business plan?
Jenny:   Through constant brainstorming to determine just what the organisational structure needed to look like. Initially, our biggest issue was working out how to survive financially.  This major hurdle was overcome by employing a chief financial officer, who has been simply the best accountant and adviser, to secure our financial success.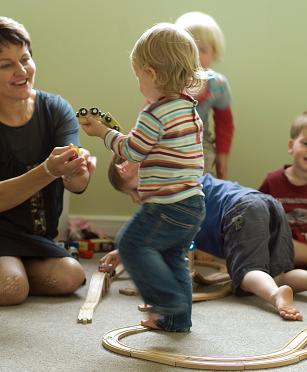 OHbaby!: How did you put your business plan into action?
Jenny:   By being hands-on in every aspect of the business. I'm a firm believer that you need to work in the business rather than on it. In the early years, I spent many nights with a calculator in hand, wearing lots of hats, paying nannies their wages, invoicing families, and managing the finances - which all helped to grow the business from the inside-out. Thankfully, today we have lots of super-skilled staff in all areas of the business, especially payroll and finance.

OHbaby!: What was the hardest part about the early days?
Jenny: Juggling being a working mother, living in a caravan, and having a new baby, all at the same time as opening offices in Auckland, Wellington, and Christchurch! But Rosa's birth was good timing, because as her needs and our family's needs changed, I was able to develop the programme and grow the different types of nanny services we still offer today.

OHbaby!:   Did you take your children to work with you?
Jenny: Taking the children to work with me was never a practical option because it would be so boring for them. But when Rosa was three months old, she travelled up to Auckland to "help out" with staff interviews - that was before I found an excellent PORSE nanny for her! Rosa was the catalyst for developing our childcare services, and PORSE arrangements certainly helped ease the pressures of managing children,  home life, and a new business. But, naturally, I'm biased!

OHbaby!: Have you been able to take steps to make your business family-friendly?
Jenny: Because PORSE is in the business of supporting families with childcare, we also support our staff to access the PORSE programme for their under-fives. This definitely helps staff to share firsthand with families and educators the benefits of how the programme works for them as working parents, and also the benefits for their children when receiving one-to-one care.

OHbaby!:   How do you maintain a healthy balance between your work and your family life?
Jenny: I'm still trying to understand what that really means, because when you love your work as much as you love your family life, then it all feels healthy and in balance anyway, in spite of working long hours. Although, to be really honest,  I'm not as house-proud as I used to be - just more relaxed about living in a healthy mess and having a weedy garden!

OHbaby!: What do you do to get "me-time"?
Jenny: When the older children were little, I used to mow the lawns with earmuffs on, but now I have me-time on my horse to either relax or get some adrenalin going.

OHbaby!: Do you ever feel "mummy guilt" about spending time working instead of with your children?
Jenny: Yes, all the time! I'm not sure if any working mother could not feel pangs of mummy guilt. I've also felt guiltier as they get older, although it seems to wane as they hit their late teens. I try to not fall into the trap of buying "guilt presents" to make up for working long hours,  as I know that sharing an experience or spending time together is more important. However, we adopted a kitten from the SPCA these last school holidays, which did help to remove some of my guilt for not going away on holiday with them...

OHbaby!: What do you most enjoy about the business now?
Jenny: The stories we hear about the amazing educators, families, and staff who feature in young children's lives.  PORSE is a business focused on supporting young children to flourish in relationships, and seeing this all come together is most rewarding.

OHbaby!: Does PORSE have any new initiatives that you're particularly proud of?
Jenny: Yes, our BabyCARES course, which is helping mums, dads, and educators understand more about themselves and how they can best care for babies and young children. How we care for our babies is the most important health, welfare, and education issue to get right, to avoid problems in later life.

OHbaby!: Where do you see the business in the next decade?
Jenny: Continuing to expand, getting bigger and better, with the PORSE programme available to more families so that, as a nation, we understand more about how to value, respect, and support babies to grow up in safe and loving families.

OHbaby: What's the best advice you were ever given as a mother?
Jenny: Trust your gut instinct when mothering your children, because mothers know their children best!

OHbaby!: What is the best advice you were ever given as a businesswoman?
Jenny: Don't take yourself too seriously!

OHbaby!: What advice would your husband give to other husbands of mums wanting to start their own businesses?
Jenny: I've been super-lucky because my husband has taken on the key parenting role for our youngest daughter, who now thinks that only dads can cook, clean, or shop! So the best advice he would give to other guys is to be happy with what your partner is doing, so you don't mind becoming chief cook and bottle washer, and going on most of the school trips.

OHbaby!: Do you have a favourite quote that you repeat to keep yourself inspired when the going gets rough?
Jenny: I try to enjoy the rough bits, but when my heart starts to thud louder than normal, then I remind myself, "If it's going to be, it's over to me", and do some deep breathing!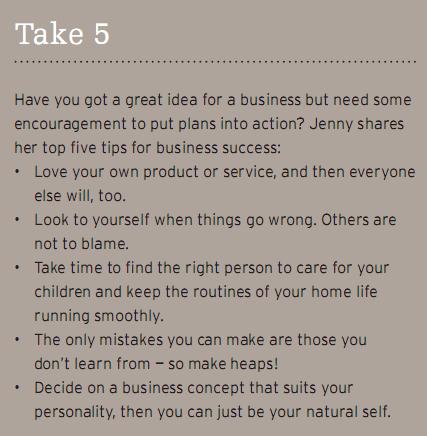 As seen in OHbaby! magazine Issue 5: 2009