MINI Countryman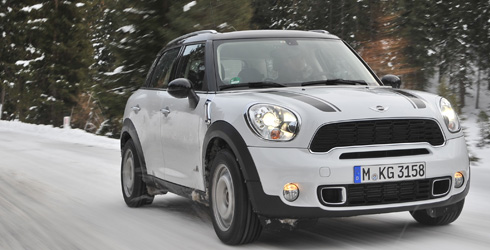 MINI Style .. Maxi fun .. 
When the PR agency emailed asking if we'd like to run around in the new MINI Countryman for a week, it took all of about half a second to hit "reply to sender".
A week later the MINI Countryman all wheel drive was safely delivered and the very kind experts from BMW gave me a quick run through. It was time to act the part:
"Yes, of course, Run Flat tyres, I wouldn't expect anything less. Oh, and the Xenon Headlights, well, those would be standard issue these days surely?"
Despite my uber-cool exterior, I felt like a kid in a candy store. A push button start! Cool! And you can change the interior lighting scheme through all the colours of the rainbow at the flick of a switch? Gimme, gimme, gimme! I fancy some lime green, for the early morning drive to work, a sexy-red for date-night with hubby, and a playful pink for Friday night out with the girls. It's features like that that make me think some female designers had a role to play in the creation of the MINI Countryman. Either that or they did a focus group with kids, because my three were won over by the lighting feature alone.
That's not to say it's all sweetness and light. It has the muscle and grunt to keep the blokes happy behind the wheel too. It was zippy, low and in control as we wound our way on the hills towards home. It's the first MINI with four doors and the option of four wheel drive. It feels more like a SUV than a 'small car', and I'm sure will achieve MINI's goal of "opening the door of new MINI customers requiring extra space and the flexibility for their family and leisure activities." 
The MINI Countryman is guaranteed to turn heads, so if you're shy and retiring this is not the car for you. I was stopped by admiring blokes in the car-park twice in one week, (and yes, it was the car they were interested in) and received the respectful backwards head nod from three loutish lads as I cruised by. Perhaps it's just a West Auckland thing, but I suspect the appeal of the MINI Countryman is universal.
I was really impressed with its fuel efficiency. The manufacturer's specs say its average fuel consumption is 4.4 litres/100 kilometres - that'll get you from Auckland to Christchurch on just one tank of gas.
This is a very cool looking car. Inside has the bells and whistles to match, as well as a surprising amount of room. The kids (two of whom are in car-seats) were happily ensconced in the backseat. The boot was large enough for the weekly shopping and then some, although I doubt it would have accommodated a large stroller, or all the kids' bikes in the same way a station wagon does. The front and side airbags, curtain headairbags covering both rows of seats, and the three-point seatbelts and ISOFIX child seat attachments, ensure your precious cargo will be looked after in the event of a crash.
All in all though this is one car that may be MINI by name - but it's maxi by nature.  Maximum size, maximum style, and maximum fun!