Flying high: surviving long haul travel with a baby
Travelling long-haul with a baby strikes fear in the hearts of many but, as Michele Powles writes, it is possible to get to your destination with your sanity, and that of your fellow passengers, intact if you think ahead.
My husband summed it up: "We're going to be those people, aren't we?" I sighed and bowed my head even as I nodded. We were going to see the rolled eyes, the pained smiles, and if we were lucky, the sympathetic back pats of world-weary travellers who had done it all before.
     We had been summoned to spend summer with the in-laws on the other side of the planet and that meant flying with a baby.
     I'm pretty calm as a general rule, not prone to panic. I can find a smile even when a wall falls down and the world starts leaking into the lounge, but being confined in a small space for more than 24 hours, with all those disgruntled stares and a squirming bundle of impatience on my lap? Someone, help!
     As I asked around friends and colleagues who had done the long-haul trip, the answer to the inevitable questions of which airline is best, when should we go, what should we take, should we do a stop-over, was, "It depends."
     Gah! But as I unpacked the answers and added my own experience, some common threads of advice emerged.        
Book early and book smart
We had to get to the UK during the peak season, had to fit the trip around work, my in-laws' party and a first birthday so we booked well in advance. We also went for a "night" flight (lights down low for most of the flight and fewer meals etc). For mum Ana and 10-month-old Daniel who chose a flight close to Dan's bedtime, discovering it was a "day" flight was a nightmare.
     "People were up and down, the lights were on most of the time and I was offered food even though I had a wriggling, unsleeping toddler," says Ana.
     What you choose will depend on whether you're stopping on the way and how much sleep you think your wee one will get but it pays to ask what the format of the flight is.

To stop or not?
This was the biggest question for me. If time and budget allow, I will always stop in Asia on the way to Europe. Ten hours feels a whole lot more manageable than 24 and I get to potter around in warm climes with fab food for a day or more. But a stop-over does bring with it the chance of losing your luggage, delayed flights and a cranky baby for a whole extra day. As someone's mother told me, when you're getting back on the plane to start all over again, you could have arrived already. This is what dad Rob and nine-month-old Elena figured, and going straight through worked well for them.
     In the interests of science, but mostly because it just worked out that way, we stopped one way and not the other. And for me, the stop-over was definitely worth it. I got to lie down in a real bed and we all slept. We also loaded up at the breakfast buffet, including taking food on board for Mr One. When we finally got to the UK we had a four-hour train and car ride so I think if we hadn't had that extra dollop of sleep and real food it all might have been a whole lot worse.
     For Karen and 11-month-old Holly however, the stop-over was a mixed blessing. The first day in San Francisco was perfect, a happy holiday, but having to check out of the hotel and walk all day to keep Holly happy on the second day left them exhausted by the time the flight was ready to leave.
     For those who do stop, think about what will be there at the other end. Sarah, who has travelled many times with her three children, has a formula: two nights via Asia, using wotif.com to find a cheap hotel with a pool. The swimming tires out the kids and they then sleep in the hotel and on the plane. I'll definitely try that next time.
     With older kids especially, keeping an "adventure theme" including treats and even a costume element can put everyone in the right frame of mind and having a stop-over can really help. Of course, you need time, money and receptive kids for that one.

Plan, prepare and repack
I'm not a big planner. Usually I pack on the day I leave, maybe the night before if I'm really organised. But I wasn't about to do that this time. For Ana and Daniel, having a place for everything and everything in its place made the trip much more relaxed. When Ana's hands were full, being able to get to something straightaway made it much easier. I wasn't that prepared, but I was pretty okay with how it went. Even so, I'd do it differently next time.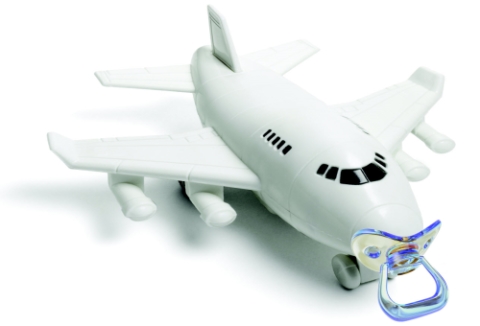 Less is more
As well as nappies, food and spare clothes for all of us, I took a stroller, a few toys, books, pegs and a dark sarong on board. Even though I don't feel guilty about taking loads of stuff and using as much overhead locker space as I needed, sometimes less is more. The pegs were great toys and just generally useful and the dark sarong worked well at covering the bassinet (but this won't work on every airline as bassinets can be very different sizes, see below).
     However, I didn't need all the toys or books, we found plenty to play with on board: earphones are really fun, and clean sickness bags make great hats, puppets and scrunchy balls. I'd also take fewer toiletries, and a good tip from Karen is to take a spare pair of pants that fit both Mum and Dad (it's a plane, just pretend they're PJs) rather than spare everything. I also made sure to dress Mr One in his cutest outfit (one with ears): a cute baby is given so much more leeway, in my experience.


More is more
For me, extra food was the key to the return trip. Especially with older kids, little fiddly things to eat can take up time and energy. Also, natural remedies often come into their own in extreme situations like this. We took Quintessence sleep drops, and while I wouldn't say it dropped Mr One like a stone into sleep, when he was tired, he certainly crashed much more easily.
     Another nice tip is to put a few drops of eucalyptus oil into a little spritz bottle, add water on board and make yourself a nice antiseptic cloud now and then. Some say it helps with the airborne germs and it certainly smells nice and fresh.
     The carry-on stroller was good for those big Asian airports and for long breaks in between flights. We even used it as a luggage carrier a few times which was a life-saver.
     Teresa, a long-time flight attendant, recommends thinking of it as being like staying the night at a friend's with the kids (she's still amazed that some parents expect the airline to provide everything). Airlines have a very limited supply of helpful additions: one size of nappy, a few jars of baby food and a bottle. She's now seeing more iPads and DVD players and she thinks they're winners.
     For Sarah, it meant two-year-old Chloe could watch The Gruffalo eight times without annoying four-year-old Molly — bliss.
Turbulent skies
Even though she's done it before, for Sarah, pregnant, alone, and with two toddlers, her last flight to the UK was hell. Giardia, complete with vomiting and diarrhoea for everyone, meant constant trips to the toilet and because everyone was ill, everyone had to go. Every time. The learning? "Have low expectations. Really low. Don't make any apologies and don't accept no from airline staff if it's a reasonable request," she says.
     If you're without a partner, you can organise a "meet and assist" where an airline staff member will meet you and the kids off the plane and go through express lanes. And if things are really bad, ask for help.
     Flight attendant Teresa agrees. While there is only so much your flight attendant can do, many of them will take a child for a while to give you a break and can be useful mediators if other passengers give you grief.
     Letting kids do things you'd never do at home, like fall asleep in front of a movie, can be the difference between sanity and completely falling apart, so give yourself a break. If you're falling apart, your child almost certainly will be too.
     From Sarah again: "Don't expect any sharing and accept that bribery is a power for good."
     So if you're planning a BIG trip don't let fear take over. Flying long-haul is never fun but it doesn't have to be a nightmare just because you have children. My husband and I even managed to watch movies together, syncing our headsets so we could share the one screen that wasn't obscured by the bassinet.
Which airline is best?
It was a question I asked everyone. But "best" can vary depending on your circumstances. Whether you want the nicest hostesses, the most direct route or the longest leg room, "best" depends on your point of view. But luggage allowance and the type and size of bassinet can often make a big difference.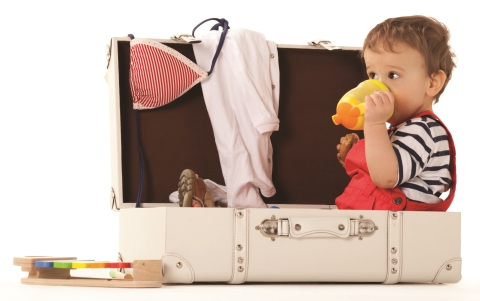 Luggage allowance
Flying long haul via the USA usually gives you a larger allowance but things are changing and when travel is shared between two airlines, allowances and charges will be those of the carrier operating the longest section in the journey, so you do need to check beforehand.
     Similarly, infants used to get their own luggage allowance on all airlines. Air New Zealand has just cut this allowance (they now allow only a collapsible stroller/push chair, and a car seat/baby capsule.)
     We wouldn't have got everything on without the extra kilos Mr One's ticket came with. As with all big-ticket items, check for changes of policy that might affect you.
Bassinets
Things are also changing with seating. Most airlines had first come, first served policies, but now you can pre-book (and pre-pay!) for a bassinet with some carriers. Some airlines are strict on weight and ages, while others take a more relaxed policy. For us, the bassinet was a saviour. When Mr One wasn't sleeping in it, it was a place where he could play with toys or just somewhere to put things.
Air New Zealand
Bassinets can be pre-booked for an extra fee for infants up to eight months old and weighing up to 11.8kg. If you haven't pre-booked and there is a bassinet seat spare it may be available for infants up to 15 months and within the weight limit.

Qantas
Bassinets are available for little ones up to 18 months, first come, first served.

Emirates
Bassinets are 75x33x16.5cm, first come, first served for infants up to 11kg. There are also change tables in every aircraft toilet.

Singapore Airlines
A limited number of 77x30x16cm bassinets are available first come, first served for infants up to 14kg.

Cathay Pacific
Bassinets are 76x38x20cm, first come, first served for infants up to 12kg. They suggest babies over six months are too old.

Korean Air
Bassinets are 75x34x22cm, available by request only and limited to infants up to 75cm and/or under 11kg.

Lufthansa
Bassinets are by request only and limited to infants up to 83cm and/or under 14kg.

Malaysian
Bassinets are 76x40x30, first come, first served, for infants up to 12kg and under 12 months. If there is no bassinet, they will try to provide an extra seat.

Thai
Designed for infants under six months only, up to 67cm and under 10kg. Babies over six months will be considered only in special circumstances.

United
Bassinets available for infants up to 10kg. But no stroller of any size is permitted as carry-on baggage.
Despite training in law (or perhaps because of it) Michele Powles has been a dancer, producer, writer, and all-round arty type in various countries for most of her life. Now a full-time writer with novels, articles and a son to her name, she's based in New Zealand and loving every minute. Visit her at michelepowles.com.
AS FEATURED IN ISSUE 22 OF OHbaby! MAGAZINE. CHECK OUT OTHER ARTICLES IN THIS ISSUE BELOW