Just the two of us
Need some alone time with your significant other, but can't manage a whole week away or even a weekend? Then indulge in a 'just-us-two' 24-hour getaway in your own hometown.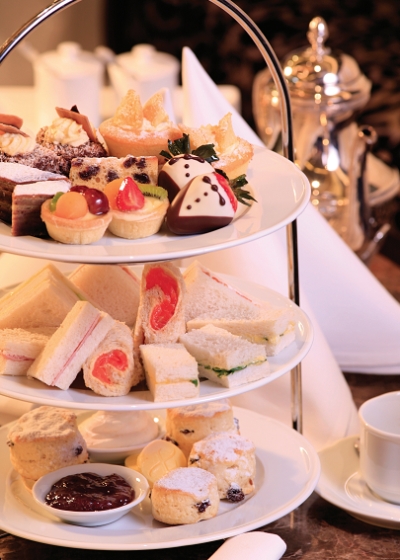 For the past year, my husband has been wooing me with tales of a weeklong, sun-drenched island getaway. "We'll relax on the beach, drink cocktails, watch the sun set," he'd coo, rubbing my shoulders as I stared through the dining room window, superimposing white sand and a lounge chair over our perpetually why-doesn't-someone-please-mow-me-I'm-going-to-seed backyard. "We'll get cheap fights and ask my parents to look after the kid for a week. We'll take time off. We'll relaaaaaaaax."
I'm all about relaxing, but as the year flew by, the image of us lazing on a beach together for a week grew dimmer. And finally, it was almost 2010 and we needed to make a decision - either we'd go away together, or we'd scrap the whole idea.
Fortunately, we chose "go away together", because the prospect of finishing 2009 without any dedicated couple-time was too depressing for us to contemplate. But where to go? There wasn't time to save for that island holiday, and the in-laws were too busy to look after our daughter for the week we'd hoped for. So we hemmed and hawed over what to do, until one day, the lightbulb blinked on. Just the two of us, for 24 hours. And we wouldn't even go that far from home.
That's how we ended up at my favourite Auckland hotel, The Langham. I'd visited The Langham plenty of times, for meetings, meals, and a few indulgent trips to the Chuan Spa, but never stayed overnight. Every time I'd gone there previously, I had been subconsciously trying to extend my time in its luxurious surrounds. If I had a meeting, I'd get there half-an-hour early, so I could have enough ime to swan through the elegant lobby and smile at the staff as though I was a regular, then primp in one of the expansive "powder rooms". I made friends with one of the doormen, Kevin, who greeted me by name and always made me feel like I belonged. Yes, at heart I'm a hedonist - or perhaps I just long for the quiet, unrushed pace of a hotel, where time seems to stop and your needs are the most important in the world. It's quite a change from the occasional insanity of life as a working mother.
In my eyes, The langham was the perfect venue for some much-needed reconnection with my husband, as well as a bit of pampering. Its central Auckland location - right next to Karangahape Road's restaurants and eclectic shops - meant we didn't have to go far for entertainment, if we could manage to drag ourselves away from the comforts of our executive Suite and the hotel's many amenities. What could we get up to in just 24 child-free hours?
We checked into The Langham at 3pm on a sunny Friday, sending our dusty Mazda station wagon off to be valet-parked for the night. My pal Kevin wasn't on duty when we arrived, but the doorman who greeted us was heart-warmingly solicitous as he toted our one small suitcase into the lobby and introduced us to the staff at the front desk. It was both amusing and enjoyable to feel like an important person, even if we were only going to be at the hotel for 24 hours!
Our executive Suite was bigger than my first apartment. With a six-seat dining table, corner office space, lounge area with wide-screen TV, fully stocked bar, and wall of windows, I could easily imagine coming home from the opera and slinging my (faux) fur wrap over the sofa while my debonair husband poured me a martini. A wide door led to the separate bedroom, with a bed that seemed even bigger than a super-king, another wide-screen TV, and a bathroom with a phone in it. (I have never felt the need to talk on the phone while sitting on the toilet, but for some reason, a phone in the bathroom always seems the quintessential marker of a flash hotel, so thought I'd mention it.)
While my husband settled in front of the TV, remote in hand, mound of pillows behind him, complimentary fruit tray within easy reach, I grabbed my togs and toiletry bag and kissed him goodbye, headed for a few hours of personal bliss at the Chuan Spa. While the Chuan Spa does some gorgeous couples' treatments, I knew we both needed a couple of hours of private down-time to unwind and get used to being child-free before launching into husband-and-wife bonding.
An elevator ride and short walk down a corridor later, I arrived at the Chuan Spa for my Summer Jing treatment. A seasonal treatment purporting to revitalise and energise me for the warm weather, the hour and 15 minutes in the hands of the honey-voiced beauty therapist Lucy promised to be pure bliss.
Lucy started with a Chinese-style back, neck, and shoulder acupressure massage, which almost sent me to sleep as she worked out the knots and tension from the week. After I begrudgingly turned over to lay on my back, she set to work on my poor face, which benign neglect and seasonal change has caused to be a bit of a mess in need of exfoliation and balancing.
When it was time to "wake up", Lucy led me to the Dream Room, where curtained futons and soft lighting promote relaxation and a gradual return to the "real world".
Dinner and a movie were on the agenda for the evening, and everything was within walking distance - or, if we preferred, we could have booked a chauffeured Lexus hybrid from The Langham to shuttle us around town. Ken Yakitori Bar was right around the corner at 89 Karangahape Road (known as K Road to the locals). Yakitori,  a Japanese style of cooking where the bite-sized food is grilled over charcoal and comes to you on skewers ready for eating, is one of our favourites, and Ken is the best place in Auckland to eat it. We ate until we couldn't eat any more, drank Asahi beer, and groaned with contentment. There are few pleasures greater to parents than having an entire meal together without needing to cut up someone else's food or fight about vegetables, and we certainly took advantage.
After dinner we wandered down K Road, enjoying the evening breeze and taking in the just-getting-started night life before heading to SkyCity Cinema on Queen Street. It was about a 20-minute walk, but if you're in a hurry, the Link Bus is an easy way to get around town - it travels in a continuous loop around Auckland city and a one-way ticket is only $1.60.
I confess I nearly fell asleep during the movie, I was feeling so relaxed. We had hoped to put in an appearance at SkyCity Casino afterward but decided the massive bed at the hotel was preferable to the sounds of pokie machines. Upon entering our room, I was touched to see our covers had been turned down, mints left on the pillows, and slippers placed next to the bed.
I thought we'd drift to sleep, sated with the pleasures of the afternoon and evening, but instead my husband and I found ourselves talking for hours. We haven't done that since we were dating and had all-night phone conversations! We caught up on all sorts of things, made plans, talked about our hopes and dreams, and generally spent time rekindling our romance and our feelings for each other. Pure bliss.
The next morning, we had a delicious room-service breakfast before wandering back to K Road. We picked up some small treats for our daughter, lingering in some of our favourite stores - Buana Satu, The Third Eye, and trendy children's toy store Iko Iko. We even stopped for a hot chocolate at Verona (yes, the cafe from the Elemeno P song) before heading back to the hotel for our late check-out and last indulgence, afternoon tea at The Winery.
After packing our suitcase - yes, I took all of the Molton Brown toiletries from the bathroom! - we checked out of the hotel at 1pm, before approaching The Winery, the in-lobby bar that also serves what I believe to be Auckland's most delicious afternoon tea. Three tiers of delectable goodies more than made up for our missing lunch, from fluffy scones to crustless sandwiches to chocolate-covered strawberries. Admittedly, the crowd was a bit on the feminine side (the Langham's afternoon teas are popular for baby showers, bridal showers, and birthdays) but the plush seats and delicious food soon distracted us from anything but eating.
When it was finally time to go, my favourite doorman Kevin had our car waiting and gave me a hug goodbye. In reflection, finding 24 hours together was the easy part - going back to reality was difficult! But it's refreshing to know that when we're in need of some dedicated couple-time, 24 hours at the Langham is all it takes for us to reconnect and get back on track.
AS FEATURED IN ISSUE 8 OF OHbaby! MAGAZINE. CHECK OUT OTHER ARTICLES IN THIS ISSUE BELOW