Giving birth in lockdown: four mums tell their stories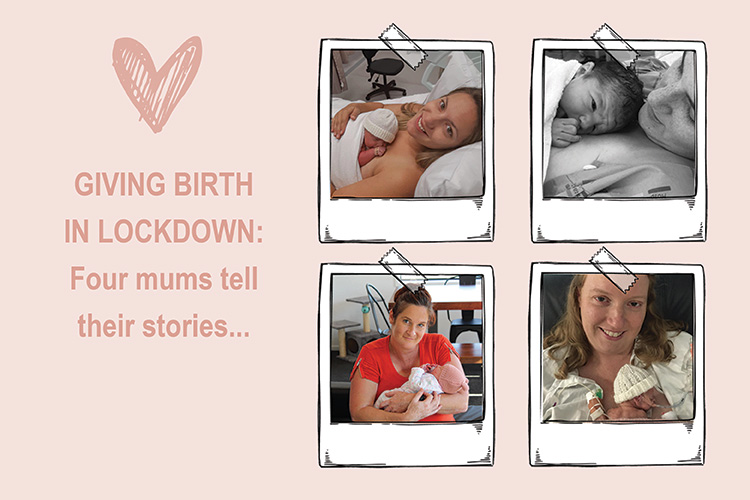 Giving birth is challenging enough without throwing a pandemic and lockdown restrictions into the mix! Four resilient women who gave birth under some very unique and trying conditions told their stories to Christine Stride.
A very premature birth
"Nothing could have prepared me for giving birth by emergency c-section to a 26-week old baby in a different city during a pandemic."

Kirsty McLeod (pictured right) had been planning a gender reveal for her baby on May 2, but instead baby Phoebe arrived at just 26 weeks and three days. Kirsty was admitted to Palmerston North A&E clinic with severe rib pain on March 28, two days after lockdown began. It turned out to be HELLP syndrome (a rare but serious condition of pregnancy affecting the liver) and Kirsty was then diagnosed with preeclampsia.
Her daughter Phoebe was born at 3:06am on Sunday March 29.
"Being told I had severe preeclampsia and that I'd be airlifted to Wellington to give birth by emergency c-section, and knowing my husband wouldn't be there, is probably the most difficult moment of my life. He wasn't allowed in the A&E because of the COVID-19 restrictions and I was so scared and upset – it felt like a nightmare that I kept hoping I'd wake up from."
However the process went smoothly - Kirsty even remembers seeing a reflection of the c-section in the surgeon's glasses! – and she is grateful to the "amazing" hospital staff and a couple of the midwives who made the whole experience "feel much more doable".
Her advice to mums who are also due during this pandemic period is that it's okay to feel frustrated by it and to mourn that your expectations and hopes may not be met.
Also, "Please know that the staff are equally saddened by the lack of support you're able to receive from your family. One hospital midwife told me she broke down in tears before coming in for one shift because of the dads not being allowed in to see their babies and how heartbroken the mothers were about it."
Kirsty's husband Drew stayed in a motel across the road from the hospital, unable to go out because of the lockdown restrictions. He hasn't been able to see Phoebe at all, so can't bond with her.
"It's frustrating because 50% of the NICUs (Middlemore, Dunedin and Christchurch) are giving dads the same rights as mums in terms of visiting, but Wellington isn't," Kirsty says.
Kirsty is now with Drew in the motel, and Phoebe will stay in the NICU until she's full term, so for another 11 weeks. All going well, she will be transferred back to Palmerston North at 34 weeks gestation. That means Kirsty, and Drew have to spend another five weeks or so in Wellington.
Kirsty gets to see Phoebe as often as she wants and enjoys skin-to-skin/kangaroo for four hours a day. She also has to do 8-10 pumping sessions a day. "She's doing okay at the moment which generally means I am too - although I'd love a hug from my mum!"
Going with the flow
There are perks to giving birth during a lockdown: you don't have to worry about traffic holding anyone up!

Saturday 28 March, Jamie-Lee Monaghan awoke to light cramps which soon intensified to contractions. By 9am she was on the way to Auckland hospital and witnessing an eerie and virtually unprecedented sight.
"I'll never forget how empty Auckland's southern motorway was, there was literally not a single car on the road."
As she arrived at hospital Jamie-Lee's biggest fear was that they'd discover she wasn't in active labour and that she'd be sent back home or that her husband would have to leave, as the guidelines were that partners could only be present during active labour and the birth. Fortunately when her midwife arrived and checked her she was already 9cm dilated. Baby Liam was born at 12:35pm that afternoon and the new family stayed at the hospital for a further three hours together before mum and baby transferred to Auckland's Birthcare facility.
Jamie-Lee says the realisation that her birth experience was going to be nothing like she'd imagined was during Prime Minister Jacinda Ardern's media conference on Wednesday March 24, announcing the country was going into lockdown.
"I cried my way through it as we realised our parents wouldn't be meeting their grandchild anytime soon. This was particularly hard given that it was my parents' first grandchild and my husband's parents' first grandchild born in New Zealand. I became obsessed with finding out the latest information on hospital and Birthcare guidelines during Covid-19 and even considered changing to a Birthcare or home birth last minute so I had more control over the birth."
She didn't though, and praises her "incredible" midwife for ensuring the experience was as normal as possible.
Jamie-Lee and Liam spent two nights at Birthcare and she says that's where she felt the pandemic restrictions the most.
"We couldn't leave the premises once we arrived nor could we have visitors. For this reason we chose to pay the extra for a private room so my husband could be with us the whole time, or else he wouldn't have been able to come back until we were ready to go home."
Jamie-Lee's advice is to simply go with the flow.
"I stressed myself out in the lead-up to the birth by reading too many stories about different situations and involving different DHBs. The staff are all so caring and they are too are in a situation they never imagined they would be in and they're all doing their best. In the end I was fortunate to have a very positive experience, and I wish I hadn't spent time worrying over something I couldn't control."
A valuable virtual support group
"[The pandemic] won't stop your bundle of joy arriving, so wrap yourself up as much as possible in that bubble of yours and close off the outside
world."
Tarryn Barthow's little girl Ellie arrived a week earlier than she was due, and via elective c-section to avoid medical complications. Fortunately Tarryn's husband's parents had moved in to be part of the couple's bubble, and were able to look after their older grandchild. Sadly this means they couldn't be part of her brother-in-law's bubble; his partner is due to give birth before the end of lockdown, and so they'll miss seeing their third grandchild's earliest days.
Tarryn is grateful that her birth was stress-free "surprisingly given the situation". She'd suffered severe postnatal depression after her first child was born, due to a traumatic birth, and felt she desperately needed her husband with her, but, because of the lockdown restrictions, that wasn't to happen.
At the time of Tarryn's birth, midwives were still unclear about many procedures as each District Health Board's rules differed.
She's grateful for the advice and support from members of the Pregnancy & Birth During Covid Support Group Aotearoa Facebook group, where women shared their experiences and what kind of things they could expect.
"The hospital and maternity unit staff were amazing, and worked hard to make me feel as normal as possible. They made me feel like all this madness wasn't going on around me and that all that mattered was me and my baby."
Tarryn's advice for other mums due to give birth is to enjoy the enforced isolation time with your baby and partner.
"This is a terrifying time but one we'll get through. It won't stop your bundle of joy arriving so wrap yourself up as much as possible in that bubble of yours and close off the outside world. Your baby needs a happy you and you're in the safest place possible in your bubble."
A lot on her plate
"On the Monday before lockdown I found out I was born with just one kidney…"

Despite some shocking health news just days before giving birth, mum of two (and now three) Yvette Cleall's induction during the COVID-19 lockdown went smoothly. On the Monday before lockdown Yvette was told she needed to be tested for mody-5, a rare form of diabetes, because she only had one kidney.
Also on her mind were her two older children, both in their teens. While they didn't need 'looking after' her younger boy needed special medication, which ended up being given by his older sister.
Baby Charlii was born at 12:20 on Wednesday 2 April in Christchurch Women's Hospital, just a day earlier than planned, and Yvette was heading home at 9:30am the next day. Her husband was allowed to stay for the birth and even went home for a bit on the Wednesday night. Yvette felt the absence of family keenly, and knowing they couldn't visit even when she and Charlii were home, made things harder.
"I hated that my family couldn't come see the baby. I would have stayed at hospital longer if I could have, but if I'd transferred to the maternity ward my husband would have had to leave, and my other children wanted to see their sister."
Like other mums Yvette praises the "amazing" hospital midwives who were "incredibly helpful during a stressful time".
Reassuringly, Yvette's midwife has visited her and Charlii at home, and Yvette reports that while she doesn't wear the full protective gear, she sanitises her hands before and after touching Charlii, and wears gloves when touching her.
Yvette's advice is to pack plenty of snacks, and possibly even meals, for your birth partner, if they're allowed in with you.