Homeschool parents share their awesome learning resources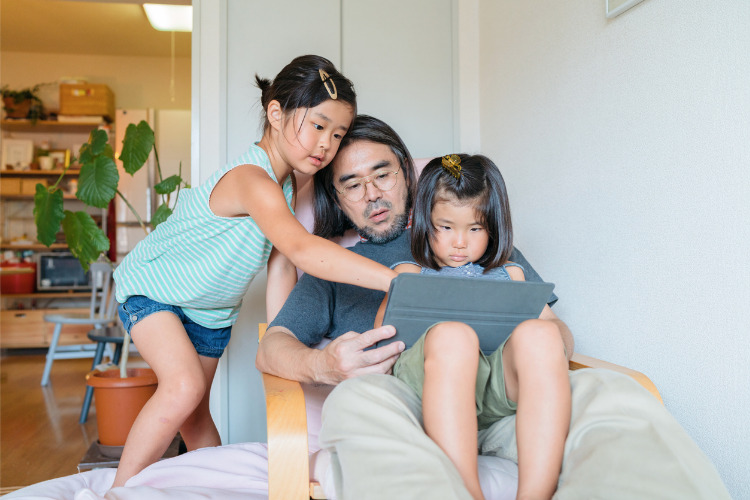 Check out our list of awesome online resources to help entertain and teach the kids while you're all in lockdown!
Listen to a story
Popular children's author David Walliams releases a free 15-minute story online each day.
Children's books read by famous people.
Listen to astronauts read stories from space.
Audible Stories Listen to free stories ranging from preschool to classic literature, no download of apps, no login required and no ads. Includes languages like English/German/French/Italian/Japanese.
Take a virtual tour
List of virtual tours and live zoo cams
Go on a field trip to places like the Louvre art gallery in Paris, the Great Wall of China, Yellowstone National Park, farms and zoos.
Visit a museum
Google Arts and Culture partnered with over 2,500 museums and galleries around the world to offer virtual tours of their spaces. Some of the options include New York's Museum of Modern Art, the Anne Frank House in Amsterdam, the Natural History Museum in London, and the Uffizi Gallery in Florence plus numerous others.
Music
Songsforteaching.com Songs for preschoolers to learn
Experimental music with musiclab.chromeexperiments.com
Lets kids play instruments like the guitar, piano, pan flute, drums, and bongos online.
Cooking and learning

Nomsterchef.com Illustrated recipes designed to help kids age 2-12 cook. Recipes encourage culinary skills, literacy, maths and science.
Our world
Wonderful resources at National Geographic
Check out your house on Google Earth
Budding marine biologists can take a deep dive into ocean life.
What's the latest?

Find out all the news for Kiwi kids
Geography
Geoguessr.com tests kids' geography skills. Using images from Google's Street View, it puts players down in the middle of the street and asks them to figure out where they are.
Space
Explore the surface of Mars on the Curiosity Rover with acccessmars
NASA's Climate Kids initiative covers a wide range of topics including weather, climate, atmosphere, water, energy, plants, and animals.
Answers to burning questions
Wonderopolis offers short videos and texts that answer various burning questions for children. There are vocabulary challenges and comprehension questions too.
Exercise/dance
Live PE lessons at 9am Monday to Friday on the Five Minute Move YouTube channel for children of all ages.
Go Noodle offers movement and mindfulness videos created by child development experts.
Kid-friendly workouts with sworkit.com. Choose from Strength for Kids, Agility for Kids, Flexibility and Balance for Kids, Warm-Up for Kids, Cooldown for Kids, Stand Up and Move for Kids, OR create your own custom workout.
Science
Stevespanglerscience.com is a fabulous free at-home science experiment resource.
19 excellent kid-friendly science podcasts to listen to.
Crash Course Kids is more science for kids on YouTube.
Maths
Bedtime maths makes maths a fun part of your daily family routine!
Animations and easy-to-follow explanations cover many maths topics for various ages at gridclub.com.
Numberphile offers short videos about numbers that help kids explore complex maths topics and make maths more fun!
Writing and literacy
Boost kids' writing confidence with Storybird.
All sorts of books are available to be read to your child by a narrator at Uniteforliteracy.com.
Art
Get step by step instructions on art projects including origami, 3D cards, clay pots, etc at Red Ted Art's YouTube channel.
Kids learn to appreciate the arts via games, investigations, and exploring different forms of art at Artsology.com.
Mo Willems is uploading daily drawing lessons.
Carson Ellis' Art Club  author and illustrator Carson Ellis will be posting art assignments on her Instagram page every weekday morning. If you want to share them, you can use the hashtag #quarantineartclub. She'll also provide individual hashtags for each exercise so everyone can see each other's work.
Design
Kids Think Design explores careers in fashion design, graphic design, interior design, book design, product design, film and theatre, architecture, animation, and environmental design.
Interactive magazines
Young Explorers is a magazine designed specifically for young children. Children can listen to the magazine being read to them as they follow along with the highlighted text.
Scholastic has created a free learn-from-home site with 20+ days of learning and activities Scholastic Classroom magazines.
History
At whatwasthere.com you can type in any city, state, or country to view an archive of historical photographs and other documents. It's a unique way to help children learn about history.
Other great sites with educational resources for kids, graded so you can choose your level.
turtlediary.com/kindergarten-activities
Make your own animated videos with Go Animate
And don't forget to fly a kite! Check out how on 101 things to do with kids that will cost (generally) nothing but time!
Learn a language
https://www.duolingo.com/
Coding
Learn to code- https://www.codecademy.com/
Scratch teaches students all about coding- https://scratch.mit.edu/
Coding for 4-10 year olds- https://www.kodable.com/