Missing a vital ingredient? These substitutes will save your baking!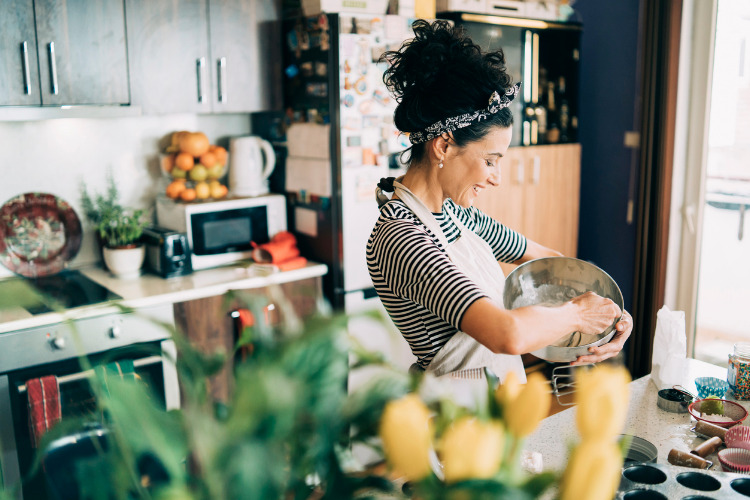 How frustrating it is when you're all ready to bake only to discover your baking powder tin is empty. Or when you're about to make a cake and discover you have only two of the required three eggs. Or maybe you need half a cup of buttermilk but don't want to buy a whole bottle. Whatever the case, to save you having to go out to stock up we've put together a list of simple baking substitutions for some common ingredients.
Egg substitutes for baking:
Apple sauce / stewed apple

 

Use 1/4 cup of unsweetened apple sauce in place of one egg in most baking recipes. Fruit can make things a little heavier so mix it with 1/2 teaspoon of baking powder. If all you have is sweetened apple sauce, then simply reduce the amount of sugar in the recipe.
Banana

Use a quarter cup of mashed banana (from about half a banana) instead of one egg when baking. Note that this may impart a mild banana flavour to whatever you're making – usually a good thing!

Water+oil +baking powder
Whisk together two tablespoons of water, one teaspoon of oil (like corn or vegetable oil) and two teaspoons of baking powder. Use this in place of one egg. When used in cookies and other baked goods, it works so well no one would ever know.
Flaxseeds

Believe it or not, heart-healthy flaxseeds can be used as an egg substitute. Simply mix one tablespoon of ground flaxseeds with three tablespoons of water until fully absorbed and viscous. Use in place of one egg.

Chickpea flour
Protein-packed chickpea flour works as a binder and leavener. Mix three tablespoons of chickpea flour with three tablespoons of water for each egg. Continue to mix until creamy and thick.
Silken tofu
We were surprised to see this on the list too! Silken tofu is a great binder, and all you need is one-quarter cup of it for each egg.
Vegetable oil
Typically, a quarter cup of vegetable oil can be substituted for one egg when baking. If you're short more than one egg, try another method, as any more vegetable oil will likely make the recipe too oily.
Aquafaba

The hot new egg replacement is bean juice — specifically, the liquid that comes in your can of chickpeas. It may not work for everything, but if your recipe calls for egg whites, instead (about three tablespoons per replaced egg). For best results, use an unsalted variety and just reduce it until it's the consistency of egg whites. Then it's about 3 tablespoons for one egg.
Allspice substitute

1 teaspoon of allspice = ½ teaspoon ground cloves + ½ teaspoon cinnamon
Baking powder substitute
For every 1 teaspoon of baking powder called for in the recipe, combine ¼ teaspoon baking soda and ½ teaspoon cream of tartar. Bake immediately.
Baking soda substitute
For every ¼ teaspoon used in the recipe, substitute 1 teaspoon baking powder.
Bread crumbs substitute
Use ground rolled oats or crushed cereal or plain crackers in the same ratio: 1 cup of your substitute of choice for 1 cup bread crumbs.
Bread flour substitute
All-purpose flour makes a fine bread flour substitute. Use as much substitute flour as called for in the recipe.
Brown sugar substitute
1 cup soft brown sugar = 1 cup caster sugar + 2 tablespoons golden syrup.
Butter substitute for baking
For baked goods, 250g butter = the same quantity of margarine or 7/8 cup of coconut or vegetable oil (if recipe requires melted butter).
Buttermilk substitute
Try 1 cup plain yoghurt (not Greek, it's too thick). Or pour 1 tablespoon of vinegar or lemon juice into 1 cup milk and leave to stand for five minutes until it becomes chunky.
Cake flour substitute
To replace 1 cup of cake flour, add 2 tablespoons cornflour to a 1-cup measuring cup; fill the cup the rest of the way with all-purpose flour to use as a substitute.
Caster sugar substitute

Place white or raw sugar in a food processor and pulse for approximately 1 minute until the grains are finer.
Cornflour substitute
For every 1 tablespoon cornflour, substitute 1½ tablespoons all-purpose flour.
Cream of tartar substitute
For a recipe that includes beaten egg whites and cream of tartar, use ½ teaspoon lemon juice with the eggs to replace ¼ teaspoon cream of tartar.
Dark brown sugar
1 cup caster sugar + ¼ cup treacle or golden syrup.
Honey substitute

Corn syrup, golden syrup, maple syrup, or agave nectar all work as 1:1 replacements for honey. Or just use 1 1/4 cups sugar + 1/4 cup liquid (whatever is called for in the recipe).
Icing sugar substitute

To replace ½ cup of icing sugar, grind ½ cup granulated sugar in a blender until fine. Multiply as needed to reach the amount called for in the recipe.
Lemon juice substitute
Use cider vinegar as a 1:1 substitute for lemon juice.
Mascarpone cheese substitute
Make your own mascarpone cheese substitute by mixing 340g of room temperature cream cheese with ¼ cup heavy whipping cream and ¼ cup sour cream. This will replace 450g of mascarpone.
Self-raising flour substitute

1 cup self-raising flour = 1 cup plain flour + 1½ teaspoons baking powder.
Sour cream substitute

In baking use plain yoghurt as a 1:1 replacement.