Marvellous mocktails for mamas-to-be!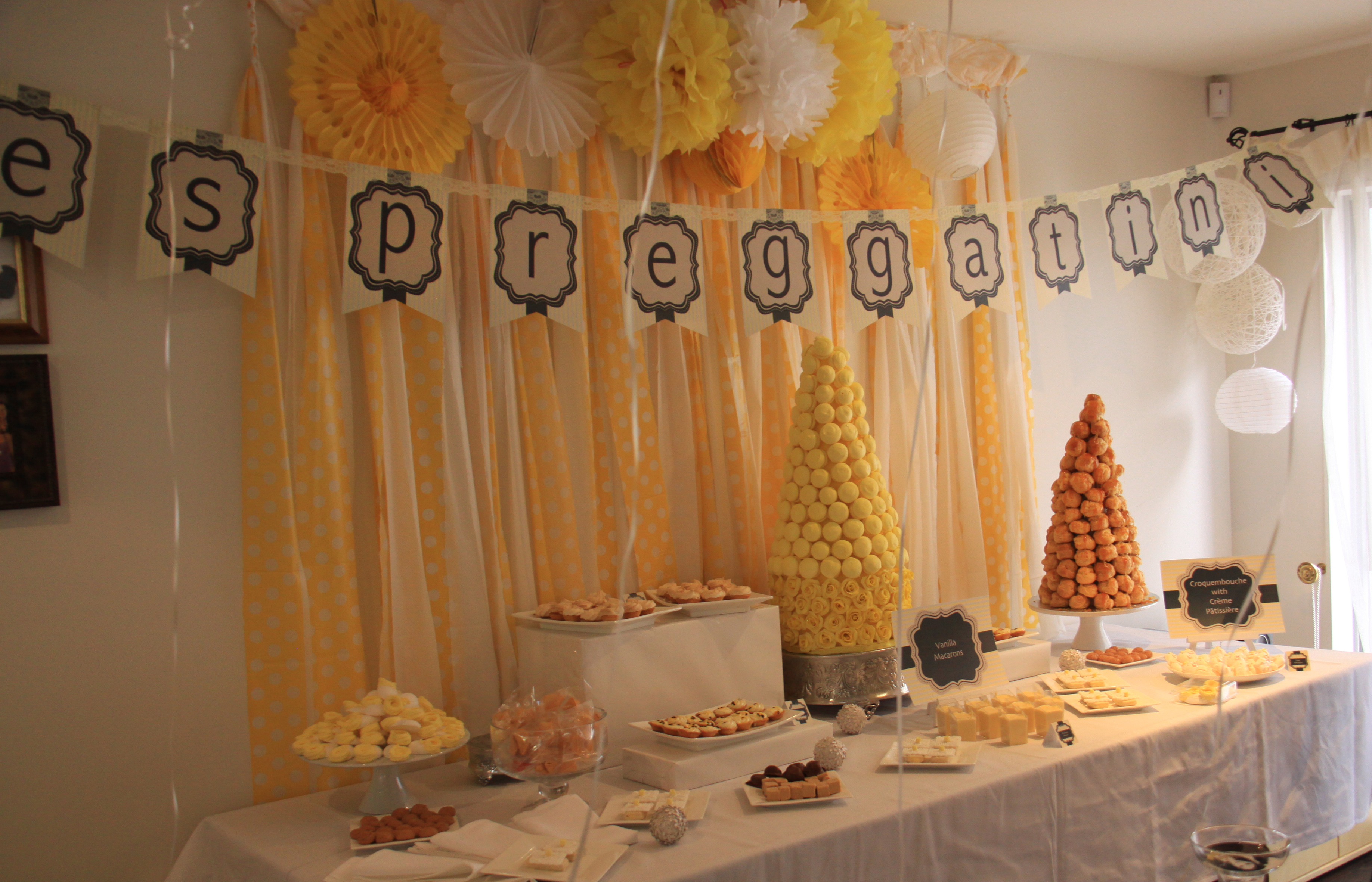 Colette Wood's good friend Jules is a socialite and entertainer extraordinaire, so she needed a baby shower to match.  Colette describes how she pulled off a glamorous party, without the hangover! 
Jules, my friend, is a socialite and extraordinary entertainer, so I felt her baby shower needed to match this.  She'd mentioned how depressing it was that the only non-alcoholic drink served at functions is orange juice.  Sometimes a tropical mix but mostly orange.
The inspiration
Finding the book 'Preggatinis – Mixology for the mum to be' inspired me to throw a cocktail party for Jules, alcohol free of course!  None of our friends like traditional baby shower games, so we ditched them all and invented some of our own.
Theme
I decided to go with 'glam' and chose yellow instead of pink.  The French café music I chose added a certain je ne sais quoi to the day.
Planning
Preparation commenced months before, with late night browses through Pinterest.  Sourcing many things for the shower took time and online purchases were made for items from all over the world!
Hand made on a budget
Jules is quite lucky, as a few of her friends have previous and current experience in catering and design, which made the day possible within a moderate budget.  That said, we went over budget but it was worth it!  Everything was made by her friends, from the pom-poms down to the sugar roses on the macaron tower.
Bring on the fun!
Cocktails
The competition for 'best cocktail' was introduced and all the competitive streaks came out!  Judging was based on name, appearance and taste of course!  Jules had the task of guessing the ingredients, so she was savouring each one!  Some ladies followed the recipes and others got creative.  My personal favourite was 'passion of the heart' which was a deep pink coloured cocktail with heart shaped strawberries and an umbrella and some amazing concoction with cranberry juice.  The Mammarita cocktail was the best and the winners were victorious!  We carried on making cocktails of course, and towards the end of the day soda was replaced with wine and the party really got fun!
Debbie made the most divine bunting that read 'Belly up to the Bar' as well as a gorgeous bar sign that had cocktail names such as 'Cosmom', 'Momjito', 'Mammarita' and 'Frolicking with Folic Acid' printed.  These are all inspired names from the cute Preggatini book.
Fortune Cookies
The ladies had previously sent through 'wishes of fortune' for Jules' baby and I arranged for these to be baked in fortune cookies.  We dished these out and we all got to read some out loud and Jules' had to guess who wrote them.  We were rolling over with laughter at some of the messages and the freshly baked cookies were delicious too. Jules has kept the messages for the baby scrapbook too.
Lunch
Most of us are foodies, so we needed to splash out in this department.  The menu was extensive and everyone adored Debbie's bespoke printed menu.  Pasta shells were filled with spinach and feta, baked with Napolitano sauce, crusted with mozzarella cheese and served on a stiletto spoon.  All the pastry for the chicken pies and quiche's were homemade and the baby chicken pies were a great hit!  No one went hungry as we also had ham and cheese croissants, mini hamburgers and Greek salad!  My personal favourites were the guacamole, prawn and crostini canapés, served in a transparent cone and displayed in a cone stand. The halloumi and scallop kebabs were divine too.  Debbie's designer flags added the perfect finishing touch to the table.
Dessert
The croquembouch was very popular!  The profiteroles were filled with an incredible crème pâtissière and the drizzled caramel added to the depth of flavour.  I made 90 sugar roses for the base of the macaron tower and it was adorned with about 120 macarons or more – I lost count! The baby bootie meringues were adorable and we filled our party favour bags with them too.  Lemon meringue, white chocolate mousse, passion fruit cheesecake and biscuits took care of all the other sweet cravings!
Party Favours
Again, Debbie designed stunning messages and logos for the favour bags.  Our favours were a shower sponge on a stick with the message 'From Jules' shower to yours'.  We also had 3D chocolate baby strollers.  I sourced the well-priced mould from America and they were so easy to make!
Décor
Debbie's design work really added the sparkle to the day.  We hired most of the furniture to maintain consistency and symmetry.  We also hired the many gorgeous martini and cocktail glasses, as well as bar equipment.  Debbie made the delicate tie backs for each white chair as well as the icon.  She also made a table runner with black and white photographs of Jules and her friends and family over the years.  The ladies loved this and spotted old photos of themselves on the table too, taking us all down memory lane.
Success
Jules was so surprised when she entered her redecorated home!  She adored the cocktails and lunch.  She loved catching up with the girls over lunch and we all shared many laughs.  The vibe was energetic and glamourous – just like Jules!
Special thanks to Debbie, owner of Imprezzion, who takes events to the next level!