Delicious, home-made gifts for under $10
Spread the festive joy with some home-made goodies that are quick and cheap to make. These recipes yield a good quantity of tasty nibbles so you can spread one batch between two or three recipients.
Then take a trip down to Spotlight or your local $2 shop to source attractive boxes and containers.
Image 1 of 6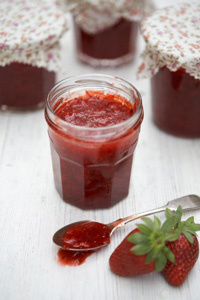 Strawberry Jam 
2 cups crushed berries
2 cups sugar
1 tbsp lemon juice
Mix crushed berries with sugar and bring to the boil.
Boil for 10 minutes then add with lemon juice and simmer for about 5 minutes or until jam starts to set. Pour into sterilised jars and seal with sterilised pop-top lids. If you have pretty fabric at home cut out rounds and fix them on with rubber bands.
Here's a very quick and cheap idea: Invest in some disposable plates and festive serviettes. Cover each plate with one or two serviettes and attractively arrange your goodies. Then cover with plastic wrap. Take a sheet of red or green cellophane, sit your plate in the middle and tie cellophane at the top with gold ribbon.