A special little smile: Cameron's cleft lip
When Sophie Leutenegger's baby boy was born, his cleft lip diagnosis came as a complete surprise. Knowing very little about this birth defect, Sophie was surprised to learn how common they are – around 1 in 700 babies are born with a cleft. Sophie shares her family's story to raise awareness and offer support to other families facing a similar diagnosis.
When did you first become aware of your son's cleft?
We had no idea Cameron had a cleft lip until he was born. In fact, at my 37-week growth scan the sonographer specifically told us that there was no cleft lip. At the time I thought this was a strange thing to say, as neither my partner nor I have any family history with clefts or any reason to think our baby would have a cleft. It actually planted a little seed in my mind that it was now a possibility; although my partner tried to reassure me I was worrying for nothing.

What were the implications of the cleft for his newborn and baby stages? 
We were incredibly lucky - because Cameron had a unilateral microform cleft lip, it was purely cosmetic and had very little implications on his health. This meant he could still breastfeed, although he did, and still does, suffer from severe reflux, which seems to be fairly common in cleft babies. 
As I didn't know about his cleft during my pregnancy, I had actually decided to birth at a birthing unit rather than a hospital. Looking back I'm very glad he was able to breastfeed immediately without any issues, as it would have made those early moments even more stressful if he was unable to feed and I in a hospital. 


How did you cope with the news of Cameron's diagnosis?
My partner was an amazing source of support and reassurance for me, as I did struggle in the first few weeks. I'm sure he struggled too, but he was just better at hiding it than me. For me, it was a mixture of scared of the unknown, feelings of sadness for what Cameron would have to go through with surgery, and hurt over some of the comments we received from both strangers and people we knew. I was particularly sensitive and emotional (which is pretty normal as a new mother dealing with the changes in hormones) but I was often up late in the night in tears thinking about the comments we received. We heard things like "You can't leave the poor boy looking like that, I hope you're getting him fixed", and the even blunter "What's wrong with his face?" and "He's going to get so bullied looking like that!". Generally comments such as these stemmed from ignorance rather than the intention to hurt, but that didn't make it any easier to hear. 

Where did you go for information and support?
We were referred to a paediatrician a week after Cameron's birth to double check his palate was intact (it was) and that a cleft lip was all that we were dealing with. He then referred us to the cleft team at Middlemore Super Clinic and we had our first appointment with them when he was just over a month old. It was a little bit overwhelming meeting the whole cleft team (cleft coordinator, the surgeon and a registrar, a psychologist who works with cleft children and a speech therapist) but they were incredibly lovely and it definitely helped ease any nerves knowing we were in safe hands. The more we learnt both through our own research online and from the cleft team, the better prepared and reassured we felt about what we'd be going through. There is also a Facebook community of cleft families in New Zealand who have been great to talk to. It was so helpful hearing their stories and knowing we weren't alone.


How did Cameron's cleft need to be treated?
Cameron had surgery at five months old to repair his cleft lip and right side of his nose at Middlemore hospital. With his cleft being microform (the most minor type of clefts), it could be repaired in just one surgery. As his cleft was very minor, we did consider waiting until he was old enough to decide to have the surgery himself. This was one of my biggest struggles, whether to operate on him at the time the surgeon recommended (and while he was young enough to never remember it), or to wait until he was old enough to understand what he would go through and make the informed decision for himself. After much thought and many discussions, we decided to go through with the surgery. I truly believe it was in his best interests and what Cameron would want. 

What was the healing journey like and what is the prognosis now?
Those first few days were tough - seeing your precious five-month-old in hospital, screaming in pain with a swollen face, bruised and bloody stitches and arms in splints was something I hope I never have to go through again. He was a little trooper though and is much tougher than his parents – that's for sure. He had arm splints on for three weeks to stop him touching his face, which was probably what bothered him most, and the stitches dissolved after a few weeks leaving a raised pink scar, which will fade over the next few years. During the first few months after his surgery, as the scar tightened, the cleft side of his lip started to rise again, which is part of the normal healing process, but it has started to relax now and should drop further to be in line with the other side of his lip. It is possible he will need another surgery as a teenager, but that all depends on how his face grows and develops into its adult shape. That's not something I'm thinking about just yet. At least he will be old enough to understand and make his own decisions then.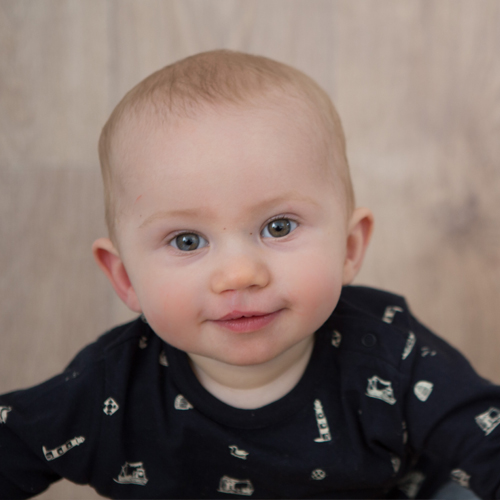 What advice would you give other parents facing similar news on the birth of their child? 
It might sound silly, but try not to be scared or to worry too much. I truly believe you are never faced with something in life that you aren't strong enough to cope with. Your baby is perfect, enjoy those cleft smiles as much as you can because I promise you, as much as you'll love their new smile after surgery, you will definitely miss their cleft smile. There is a great support network out there, reach out online to the Cleft NZ Facebook group. Ask as many questions as you can to both the specialists and people who have walked the same path. Most of all, remember it's normal to feel sad, to be upset and to struggle. Take people's comments with a grain of salt and enjoy your beautiful perfect baby. 

I'd also like to say a big thank you to everyone who has helped us over the last year on our cleft journey, especially to Glenn Bartlett and his team at Middlemore who took such great care of Cameron. Thanks also to our friends and family for all of their support and love. 
PHOTO CREDIT: Main image, Ellis Photography