Nappy Lady's Guide to Washing Cloth Nappies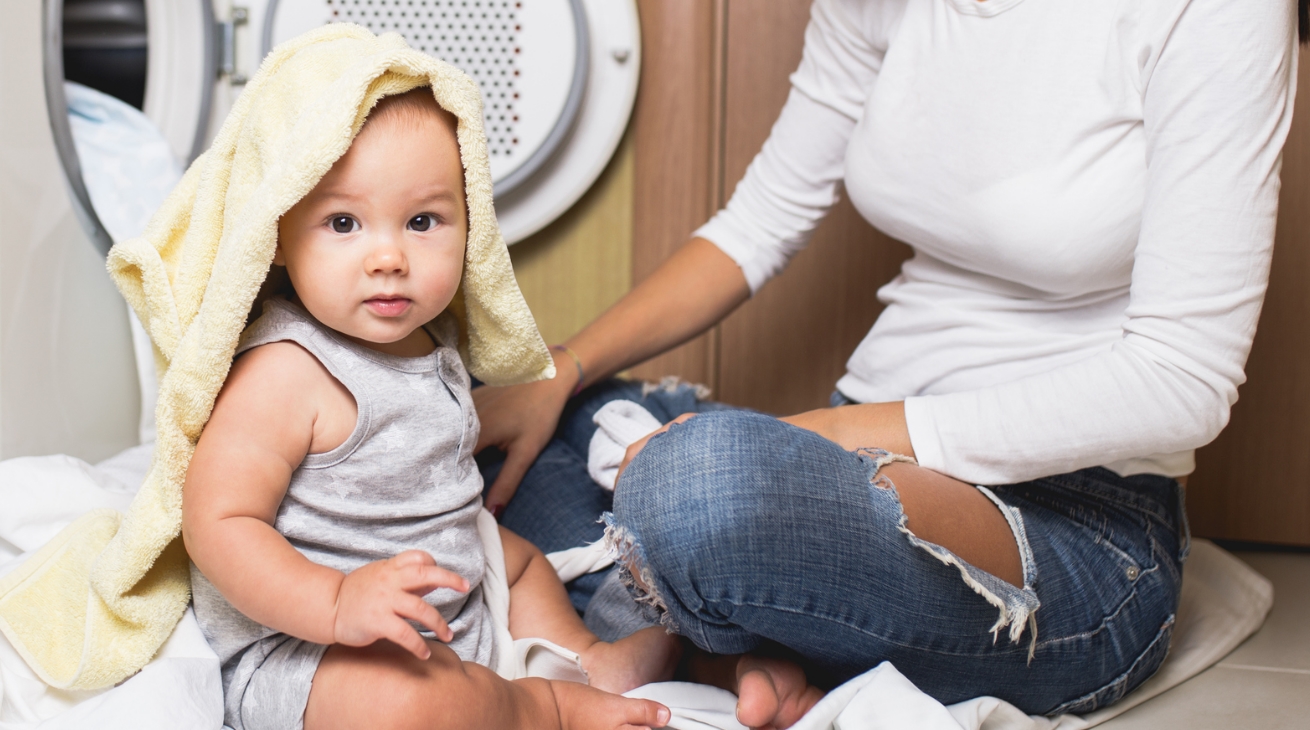 To get the most out of your cloth nappies follow The Nappy Lady's guide to washing cloth nappies and extend the life of your nappies. 
Lets face it; the lifestyle of a cloth nappy is not a bed of roses.  Generally a cloth nappy will be expected to be washed around 200-300 times, sometimes more.  The nappies will spend loads of time in washing solutions, soaking wet, hanging in the sunlight and possibly time in the drier.
All of these things are a day in the life of a cloth nappy so as you would expect, they will have a limited life span.  This is why it is important to make sure you use good quality nappies and make sure that you take care of them because they will be the most used baby item in the first 2.5 years of your baby's life. 
The Nappy Lady Says: Do….
When you first get your 'new' cloth nappies, soak your nappies for 24 hours in cold water only.  This will kick start your nappies absorbent capacity.  Then pop them through a wash…your nappies are now good to go!!
Always follow the wash care instructions on the care label because the manufacturer will have tested different washing scenarios.
If they have hook and loop laundry tabs, Make sure you fold these over or do them up, as they could damage your nappies in the wash otherwise.
Use a liner. This will protect your baby's bottom by keeping it dry and it will protect your nappy from staining especially from the dreaded bright yellow breastfed poo! It also makes getting rid of poo easier - not to be underestimated.
If you are not using a liner get as much poo off the nappies as you can before putting them into the nappy bucket i.e. holding them in the flush of the toilet.
Pop a bit of tea tree oil onto an old flannel or piece of white fabric and keep it in the bottom of your nappy bucket.  This will keep nasty smells at bay.
Use a laundry mesh. It makes getting all those dirty nappies into the washing machine super easy AND it saves you from having to touch them.
Use non-biological powders, as they are better for both baby and the environment. There is an enzyme present in some bio detergents that is corrosive to bamboo fibre and cotton. It works by digesting the stains out of your nappies but unfortunately takes the fabric with it! For total piece of mind use a specially formulated nappy wash or check with the manufacturer.
Line dry whenever you can. Not only will sunlight bleach stains out of your nappies but the UV radiation will kill bacteria too. You can tumble dry the nappies on a cool setting if needed but buy some pegs and save your money wherever possible!
The Nappy Lady says don't…
Don't soak them, don't scrub them and get them out into the sun as much as possible.  This will keep your nappies fresh and stain free.
Don't leave them for more than two days before washing, especially if you want to reduce the chance of your nappies staying stained.
Don't use fabric softeners as this leaves a nasty residue that coats the fabric fibres and decreases the absorbency of the towelling.
Don't soak your nappies in harsh stain removers. If you do have a pile of very stinky nappies and want to soak, use either water or a mild solution of a specially formulated powder for use with nappies.
Don't use bleach or other harsh stain removers. They will shorten the lifespan of your nappies and in most cases void your guarantee.
Don't use pastes of wash powder and apply direct to stains, this is too concentrated.
Don't wash your nappies in dishwasher tablets!! (Yes, we do see it being recommended, but would you wear knickers that had been washed in dishwasher powder?)
Don't boil wash. If you are worried about bacteria, leave your nappies in bright sunlight, even in wintertime. Even a good frost can work wonders.
Bicarbonate of soda (baking soda) and vinegar can dissolve cotton and bamboo fibres. Whilst a lot of nappy websites recommend using them to sanitise and soften nappies they will drastically shorten their lifespan and is likely to render your guarantee void.
Use barrier creams such as Sudocrem sparingly as they can coat the fibres in your nappy effectively reducing their overall absorbency. When using a barrier cream you should always use a liner.
A final note:
It is amazing what some mums do to keep their nappies spotless.  Endless soaking and scrubbing will wear your nappies out really quickly, especially some of the cheaper brands.  The nappies are there to catch waste and over time they will most likely become stained, this is to be accepted and is not a fault. At my workshops I always ask the mums and dads, if you put a white t-shirt in the wash with your nappies every day, it would be looking a bit nasty after a couple of years, so we need to have realistic expectations of how long our nappies should last.
Nappies have a crazy life.  They are there to catch poos and wees so you would expect them to stain and eventually wear out over time.