Flying with babies and toddlers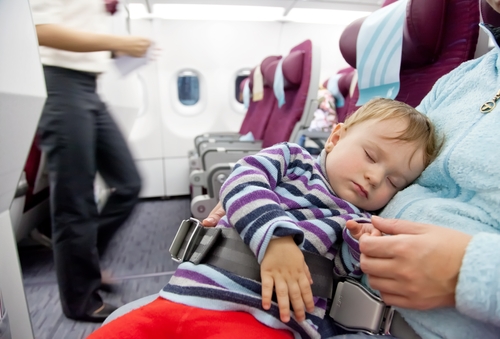 Flying with children can be stressful, but careful planning can help towards a smooth journey.
It is recommended that you wait until your baby is at least six weeks old before you travel by air with him/her. If you need to travel before your baby is six weeks old, talk to your doctor or midwife.
You may have to walk a long distance inside the airport to get to your plane. Think about how you will manage your child/ren and bags. Some airlines will allow you to take an umbrella-fold stroller right up to the door of the plane; you will need to check with your travel agent if your airline allows this. Front packs can be a good way of transporting baby inside the airport, whilst leaving hands free to carry bags. Hand baggage with wheels is often easier to manage.
Children over 2 years will have a seat on the plane. For children under 2 years, you can request a bassinette. Bassinettes are assigned according to age, so the younger the child, the more likely you are to get a bassinette. If you don't have a bassinette, you will have to nurse your baby on your knee. If the flight is not full, and you check in early enough, you can request that an empty seat be left next to you. The airline may or may not do this.
If you are breastfeeding, you will be able to do so on the plane. If you are bottle feeding, you will need to provide your own bottles and formula. The airline has facilities for heating bottles and baby food, but make sure to ask staff well in advance, as it may take some time, or the bottle may be overheated and need time to cool. You will need to take enough bottles to cover the whole flight, as there are no facilities for sterilising bottles on board.
Most airlines provide a range of canned baby foods. Check with your travel agent when you make your booking. For children aged over 2 years you can request a special children's meal. If your child has special dietary requirements, for example allergies, it is best to take your own food. It helps to take a small supply of snack foods, as airline mealtimes do not necessarily coincide with toddler mealtimes!
Most aircrafts have change tables in some of the toilets, but space is limited, so only take what you need for the nappy change with you, to save space. You will need to take your own nappies and wipes.
You will also need to take several changes of clothes for you and your children, just in case. The flight will seem even longer if your child throws up on you, and you have no clean clothes to change into! Aircraft temperatures can fluctuate, so layers work well. That way you can strip off or add extra layers when necessary.
Some airlines provide your child with a goody bag of little toys and activities, but it is also a good idea to take your own. Books are good, as are quiet toys - your neighbour on the plane will not thank you if you take your child's xylophone!
Babies and young children often experience ear ache when the plane is taking off and landing. For a small baby, this can be eased by feeding baby during take off and landing, or giving baby a dummy. For a toddler, it may help to give him/her a lollipop to suck on. If you are concerned, your doctor can also prescribe Otrivine, a nose drop which helps to clear blocked ears. You should discuss this with your doctor.
Below is a list of things you might find useful to pack in your hand luggage:
Change of clothes for you

Change of clothes for each child

Bottles and formula (if necessary)

Dummy (if using)

Toys and books

Lunchbox of small snacks

Nappies

Lollypop for sore ears when taking off/landing

Paracetamol (just in case)

Good luck, and enjoy your flight!!