Don't forget to Smile!
Women experiencing hormonal changes during pregnancy are one of the most at-risk groups of gum disease.
One in three New Zealanders suffer from gum problems – and many don't even know it, according to research from the New Zealand Oral Health Survey.* During pregnancy, increased levels of oestrogen and progesterone can make gums more susceptible to plaque bacteria. By checking your teeth and gums for any signs and symptoms of gum problems, such as redness in the mouth, swelling or bleeding when brushing, these problems can be prevented or even reversed before it's too late.
SIX STEPS TO A SUPER SMILE
Brush your teeth twice a day, for two minutes each time, with an electric toothbrush.
Floss regularly, paying special attention to your back teeth, which can harbour more bacteria as they are harder to reach.
Dentists recommend to replace the head of your toothbrush every three months.
Bleeding gums while brushing is generally a sign that the area needs more thorough cleaning. If the bleeding continues, see your dental professional.
Use a specialised product to help address any dental problems or concerns.
Visit a dental professional regularly for check-ups and cleaning, especially in pregnancy.
HOW ORAL-B GUM CARE CAN HELP
The new Oral-B Gum Care range is a clinical breakthrough to help promote and maintain healthy gums. The range features Activ Repair™technology, which is proven to work at the gum line to target both gum and enamel problems. The Oral-B Gum Care toothpaste contains Stabilised Stannous Fluoride, which works by helping form a protective layer on the teeth. It fights plaque bacteria along the gum line by slowing bacterial re-growth, and also helps to restore weakened tooth enamel.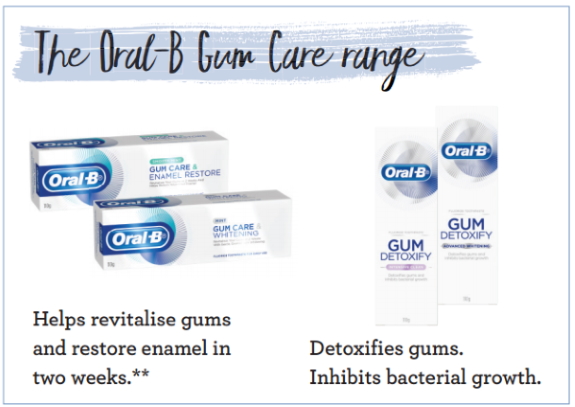 *Our Oral Health: Key findings of the 2009 New Zealand Oral Health Survey, 2010. Available at www.health.govt.nz.
** In laboratory tests on weakened enamel.
Advertorial