EVER WONDERED WHAT'S INVOLVED IN EGG DONATION?
HERE'S HOW YOU CAN MAKE THE DREAMS OF BEING A PARENT COME TRUE FOR A HOPEFUL FAMILY.
It's not every day you get to change people's live's for the better and make their dreams come true.
Every day at Fertility Associates we see women and couples who are hoping to have a baby of their own but, after working through all the options, need the help of an amazing egg donor.
Being a parent can be the best feeling in the world. Imagine being able to give that experience to another hopeful family.
What makes a good egg donor?
A women who:
is aged between 20 - 36 years
is a non-smoker
has no significant health issues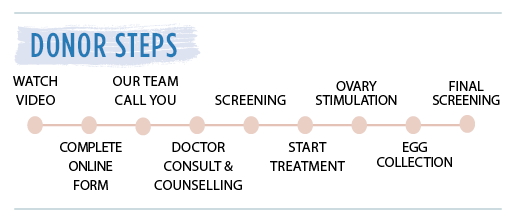 A simplified version of the egg donation process is outlined in the graphic above and we are at the end of the phone if you want to ask us about egg donation, or you can find out more information on our website.
During the preparation and screening process you'll have initial screening blood tests and complete a health check and a counselling session for you to discuss the personal, emotional and legal aspects of being an egg donor. There is no cost to you for egg donation and you're able to be reimbursed for expenses such as travel and childcare incurred to meet your appointments.
FAQs:
■ Do I need to have completed my family to become a donor? You don't have to have finished your family to be an egg donor, we get enquiries from younger women before starting a family.
■ I have had my tubes tied can I still be a donor? Yes as egg donation treatment involves the ovaries, this also applies to hysterectomies.
If you're interested in helping one of our many families waiting - we'd love to hear from you! We have a great video too that outlines the steps involved.   Simply visit our website at fertilityassociates.co.nz/eggdonor watch the video and then fill in our online form.