Home is where the Hape heart is
Recently while face-timing a fellow mum during lockdown, I commented on the literal art class she had set up in her kitchen for her two preschoolers. Her baby played peacefully under a play gym on the floor and the picture-perfect setting made having kids at home all day look all too easy breezy. She hastily reminded me that this activity will last a total of 30 minutes, after which there were another 11 hours to fill with fun and engaging activities. 
Playcenter chic may not feature prominently on people's Instagram accounts just yet, but with the current lockdowns becoming all too familiar, and homes becoming makeshift play centers, schools and at-home offices, it's bound to become the next big thing! So to save you time curating the perfect in-home pre-school, we have put together a selection of beautiful, educational, and engaging toys from Hape's new range that will keep your kids entertained for hours! 
Thanks to Hape, mums, and dads can now take a step back from being the teacher all day and let Hape take the reigns. Hape has a longstanding reputation for creating exceptional educational toys that challenge all areas of children's early learning and development, constantly growing the product selections on offer and increasing the areas of development. 
This year's new range includes some fantastic toys to suit the whole family, from ride-ons to musical instruments, new kitchen products and train sets. Check out a few of our favourites below. 

MUSIC PRODUCTS 
Seven new products are being added to Hape's extensive range of musical toys, catering for ages 12 mths - 3+ years. With a focus on a child's first experience with music and learning to love musical play, the Learn With Lights range is perfect for beginners. And if your kids are anything like mine they will have formed a band and will be requesting an audience in a matter of minutes. 

Hape learn with lights Drum - Help your kids make their first musical explorations with this brilliant play-along drum! It features rhythm mode with lights and six basic beats to practice basic playing. A song mode with flashing lights and five actual songs for more confident players to play along with! Toggle the switch on the side of the drum to switch between rhythm mode and song mode. See if you can master all six basic practice rhythms then move onto playing the five actual songs! The lights will flash towards the middle to help you.  
Recommended for ages 12+ months

Hape learn with lights Harmonica - This play-along harmonica with guiding flashing lights is a fun, easy to play instrument. Children follow the flashing lights (red indicates to blow out and blue to suck in) and learn to play the six included tunes. Then, when you're they are more confident, switch to Tutti mode to speed up and hear accompanying instruments! The light panel is adjustable making it easy to see as you play or it can be played without any light guide. Holes are specially spaced making it easy for little musicians. 
Recommended for ages 3+ 

Hape Learn with Lights Ukulele (Blue) (Red) - Begin your musical journey and learn to play your favourite tunes on this brilliant ukulele which features flashing lights that teach you how to play! Includes an instruction sticker and booklet and a handle to make it easy to carry around with you! 
Recommended for ages 3+

 My First Musical Walker - Help your little ones take their first steps in style with this wonderful musical walker. See their faces light up as they start to walk and hear pretty music playing as they go! With adjustable speeds, the walker also features a drum, xylophone & three spinning blocks for additional musical play. You can also play the additional instruments attached to create your own music! 
Recommended for ages 12+ months

 Hape DJ Mix & Spin Studio - Help your little ones spin their first tunes with this portable DJ studio! Play the keyboard solo with one of four instrument sounds or 18 fun sound effects or you can start one of five background tunes and use the tempo slider to change the speed, add DJ sound effects as well as scratching along with the black record! Add random sound effects or scratches to the background music! When you`re feeling more confident, select the right instrument, tempo and effects and create your very own mix! 
Recommended for ages 12+ months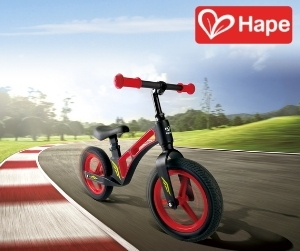 RIDE-ONS and BIKES RANGE 
Ride-Ons are the perfect accompaniment to any toddler or young child on the move, learning to walk and get around. Hape's stylish range of Ride-Ons will encourage children to test their physical capabilities and reach their full potential. 
Trikes - Begin your bike-riding adventures with this wonderful three-wheeled balance bike! With a lightweight design and an adjustable seat with a soft, comfortable surface, the bike also features flexible wheels that won't scratch your floor. It has a lightweight and durable aluminium frame weighing only 1.2kgs, and features an adjustable seat to suit different ages. Your child will gain self-confidence, increase body flexibility and muscle strength as they learn to ride by themselves and with other kids.
Balance Bikes - Take your bike-riding adventures to an exciting new level with Hape's amazing balance bike! Featuring a lightweight design, comfortable seat, anti-slip handlebars and an inbuilt carry handle, it's light at just 3.4kgs yet durable, featuring a magnesium alloy frame. It adjusts to suit your child's level with three different seat and handle positions. Your kids will love the freedom of riding and improving their balance quickly and efficiently.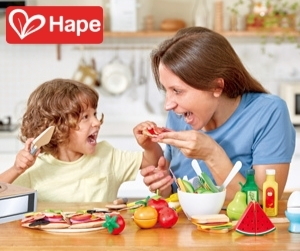 NEW KITCHEN PRODUCTS 
Hape has introduced a number of food playsets to encourage role-play activities.  These include: Breakfast, Pizza, Healthy Salad, Perfect Popsicles, Picnic Basket, Healthy Fruit.  Fantastic for developing language and social skills. 
Hape Delicious Breakfast Playset - Introduce your children to the art of a good breakfast early on so they will be ready to make the real thing when they are old enough! This set includes yoghurt with an opening velcro lid, milk, a bottle of orange juice that clicks when you turn the cap, one boiled egg with eggcup, oatmeal with a spoon, toast and more. Great for encouraging a healthy lifestyle as well as developing language, social and fine motor skills 
Recommended for ages 3+ 
Hape Perfect Pizza Playset - The Pizza playset comes with lots of toppings to tempt your little ones tastebuds. Included in the set is a pizza base which can be cut into slices, one pizza slicer, one cutter, lots of pieces of seafood, vegetables and other pizza toppings and even a pizza oven which doubles as a  delivery box, fun! Featuring smooth round edges it's perfect for little fingers to grip and play with.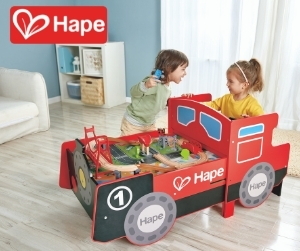 And lastly but certainly not least - Hapes newest train set, The Ride-on Engine Table.
Hape Rail products are one of the most popular ranges within the Hape Portfolio. It's easy to see why when you see the attention to detail in the Rail Sets. Offering hours of imaginative play and fantastic for developing fine motor skills. This Ride-on table lets your little one be the engine driver sitting at the control board with fun light and sound effects, or move the small train around the track on the play table! Mums and Dad, when you've finished playing, just pop everything into the table and slide it into the base to save space.