Let the puzzle journey begin
Carving out time for a quiet activity these days can be tricky, not to mention probably not at the top of your child's list of fun activities to do. Life as they know it is becoming more face-paced, digital and noisy; where's the fun in sitting down to a potentially long and challenging activity when the alternatives require no effort. Which is exactly why it's the perfect time to start prioritising some space in our busy lives for a quiet bit of puzzling, and start reaping some of the many benefits puzzling can offer. 
When we sit down to do a puzzle, our brains are activated while simultaneously relaxing psychologically, thus putting our brains into a meditative state. Doing a humble puzzle can increase IQ, improve concentration and provide an opportunity to create order out of chaos. Opportunities to practice goal setting and patience, and experience a sense of achievement are added benefits too. Just like learning to walk, talk and read, children can benefit from 'learning' how to puzzle from a young age. And as they advance and move onto more challenging puzzles, they can continue experiencing the benefits of doing a puzzle, hopefully into adulthood! 
The kids and I have reignited our love for puzzles this winter. Whether it's just me and one other for a little mummy/ child time, or it's all six of us round the dining table, we are getting through our puzzle collection and enjoying adding new, more challenging ones too. 
Crocodile Creek offers a huge range of whimsical and colourful puzzles that kids love, and you can find one to suit every step of your budding puzzler's journey. At each level, children will be able to progress at their own speed to experience a sense of achievement before moving onto the next stage. It's a great way to continue the journey of puzzling and even involve the whole family as the puzzles get more difficult and the number of pieces increase.
Check out the Crocodile Creek range of puzzles HERE and below!
Let's Begin range - ages 2+
For little ones starting out, there is the Let's Begin range for children two years and older, this is a perfect starter puzzle with 10 puzzles all with 2 pieces each, like the Jungle themed pack that lets kids create jungle creatures.  From there the range grows into mini, floor and learning puzzles in 12 and 24 piece options.  Perfect for little fingers and big imaginations! This range features animals, fairies, vehicles, rainbows and space themes, all in chunky, easy to grasp puzzle pieces. Each puzzle has a border color and matching back to help differentiate which puzzle they are working on. The entry level puzzles also let beginners create the puzzle and continue their learning as they identify the animals they have made.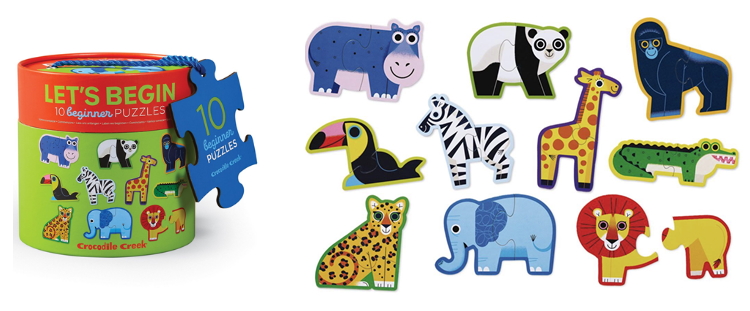 Puzzles for ages 3-4 
Once they master the beginner stage, they will be excited to move on to the next stage for kids three years and above. This range is made up of 36, 48 & 60 piece puzzles. If sea life is the thing for your little person the 48 pc Aquarium Shaped Box Puzzle would be just the thing to transport them to the very own aquarium to observe all the activities that are happening.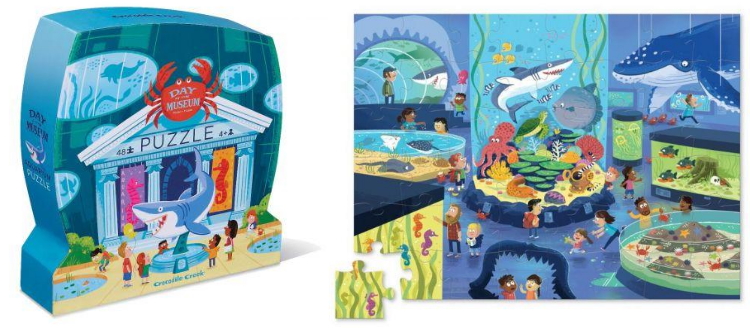 Puzzles for ages 5 - 6+ 
By this stage they are probably feeling pretty proud of themselves and could be ready to advance to the next range of puzzles. This range, suitable for five to eight year olds, features 72, 100 & 200 piece puzzles, once again in fun and colourful designs kids love. 
From here the fun really ramps up! Now's your opportunity to introduce the whole family to the 'family' range of puzzles by Crocodile Creek. The kids will be ready and excited for this next stage which features large 500 - 1000 piece puzzles. They will enjoy the challenge of doing it on their own or as a family and you will have piece if mind that you are investing in sustainable products made with soya based inks, safe and suitable for the whole family. 
The humble puzzle may provide a much needed antidote to the rise of anxiety and stress in our society, while possibly even lifting our average attention span back up from the current eight seconds, wowee! And with lots of beautifully made, quality puzzles available, it's a great time to start your budding puzzler on a lifelong journey of wonder and enjoyment today!