Looking for that perfect baby shower or first birthday gift? Fisher Price has got you covered!
Check out these awesome toys from Fisher Price available at The Warehouse now! There's something to suit all ages so you can find the ultimate birthday gifts for your children today!
Fisher-Price® Colourful Carnival Bouncer
Cute & comfy, soothing & entertaining—it's the best (baby) seat in the house! The seat gently bounces in response to baby's natural motions. A press of a button adds optional calming vibrations, too. When it's time to play, two spinner toys and 1 fun elephant toy on the toy bar encourage baby to reach and grasp (exercising developing motor skills), bat (encouraging development of eye-hand coordination), and play (which is just plain fun). Its soft, machine-washable fabric seat pad makes cleaning as easy as 1,2,3!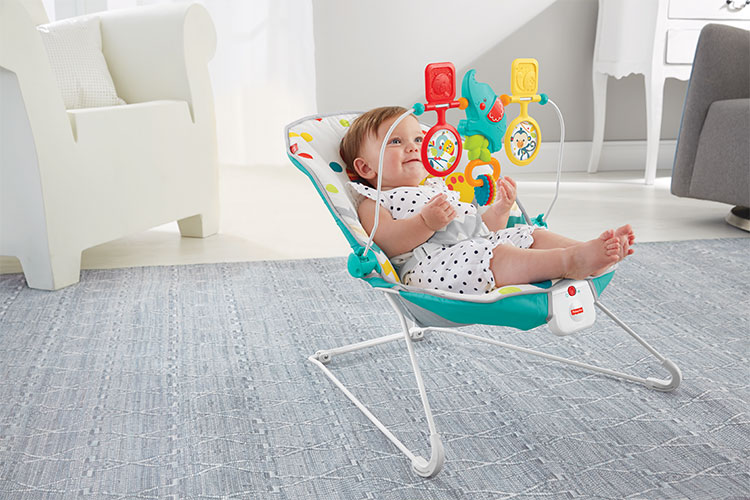 Fisher-Price® Colourful Carnival Take-Along Swing & Seat
The Fisher Price Swing has everything to soothe your baby at home or on the go. From its super-soft seat pad and swinging motions, to the calming vibrations, gentle music and sounds, and bat-at animal friends, this baby swing and stationary infant seat is the coziest spot for your favourite tiny human to hang out. And, the seat easily folds, so you can take it along wherever you and your baby go!
Fisher-Price® Laugh & Learn® Storybook Rhymes
For babies aged 6-36 months   
Open up a world of fun and learning for your baby with the Storybook Rhymes musical book! A turn of the page activates childhood favorites like "Pat-a-Cake" or "Row, Row, Row Your Boat," with colourful illustrations featuring Puppy and Sis! And while you and your little one are bopping along to the music, your baby will be learning about counting, first words, letters, numbers, shapes and more! And with an easy-carry handle, you can take Storybook Rhymes everywhere you and your little cuddle-bug go!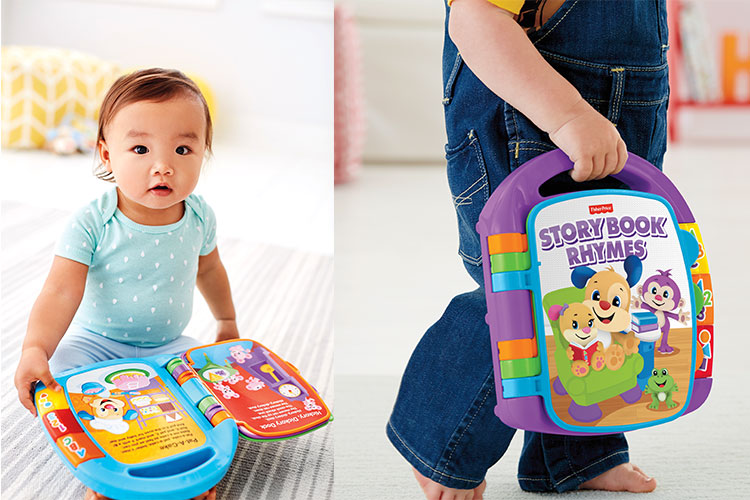 Fisher-Price® Laugh & Learn® Smart Stages Puppy Walker
For babies ages 6-36 month
Let's go for a stroll, baby! The Fisher-Price Walker offers exciting hands-on activities for little sitters and tons of encouraging phrases and support for those first little steps. As little ones grow and go, they're introduced to the alphabet, shapes, colours, counting and words!
Fisher-Price® Laugh & Learn®  Pull & Play Learning Wagon
For babies ages 6-36 months
Your baby can load up on learning and hands-on fun with the Pull & Play Learning Wagon. This interactive red wagon features a variety of activities for sitting babies to bat, press, rattle, and flip, as well as light-up buttons, xylophone "keys" and more that activate songs, sounds, and phrases! As your baby grows, so does the exciting play, with Smart Stages™ technology and a motion sensor that rewards your toddler as they walk and pull the wagon along.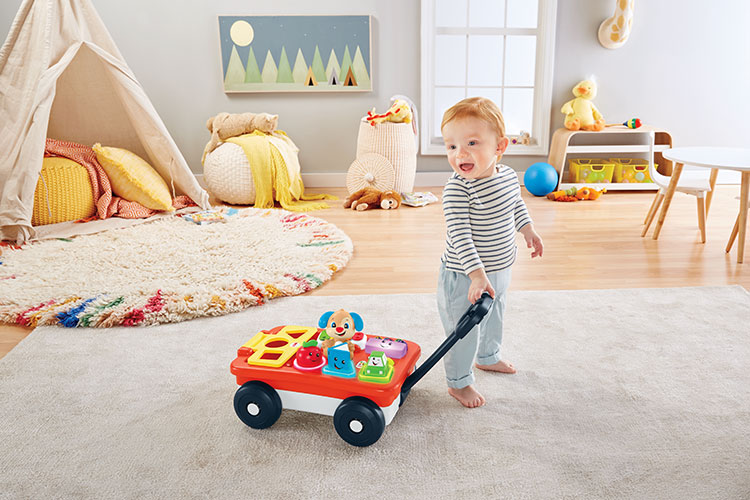 Fisher-Price® Laugh & Learn® Time to Learn Smartwatch
For babies and toddlers ages 6-36 months
This pretend smartwatch looks just like the real thing, with a light-up screen, easy-grasp band, and lots of busy activities for your baby to explore. Busy activities like pressing the toggle switch, turning the dial, and pushing the buttons helps strengthen your baby's dexterity and hand-eye coordination.
LITTLE PEOPLE FARM ULTIMATE GIFT SET
For toddlers ages 1-3 years
The Animal Farm playset guides play in a way that allows your child's creativity to flourish, whilst supporting them through their early development. Perfect as that ultimate first birthday gift! Together with Farmer Jed, your child will learn to care for animals interactively whilst they engage with songs, sounds and phrases. Your little one or theirs, the farm will reward them with years of exciting stories!
Imaginext Transforming Batmobile RC
For kids ages 3-5 years
When Super-Villains start wreaking havoc on the streets of Gotham City, Batman races into action in his Batmobile. Kids can use the remote control to send the vehicle zooming forward, backward and spinning around, then turn the Power Pad to watch the vehicle transform into battle mode with awesome lights, sound effects, and projectiles. Evil-doers don't stand a chance against the Caped Crusader and this fully loaded transforming Batmobile!