Stay summer ready all year round with Nair's hair removal and new leg mask
If your anything like me, as summer comes to an end and the temperature starts to turn cold again, the legs get covered up and hair removal takes on more of an out of sight out of mind mentality, much to my poor husbands horror! But why do we wait until summer comes around again to think about hair removal and maintenance when there are plenty of easy and affordable ways to keep our bodies looking fabulous even if they are covered up the majority of the time. 
Nair's at home hair removal and the new Nair Leg Mask is perfect for a little winter pampering. The best thing about managing your hair removal at home, along with the cost savings, is the convenience! No appointment needed! With the Nair range there are different options to suit your hair removal preference too. Some people like to use creams for some areas, wax strips for others and there's even a wax strip free option too.  
Nair Sensitive Large Wax Strips
Nair products are also great if you do like to head to the spa occasionally but need a quick fix in between sessions. Frustratingly, our hair grows at differing rates so keeping everything perfect at the same time is a challenge.  I always have Nair Sensitive Large Wax strips on hand as these are easy to cut to the shape you might need for a specific area and don't require lots of rubbing to warm them up. One of the best tips I've heard for using wax strips, is to give them a quick warm up with your blow dryer before pulling apart as this speeds the process up and keeps them working for longer while warm.  Nair Sensitive Large Wax Strips are easy to find at you nearest - Farmers, Pharmacy or Supermarket.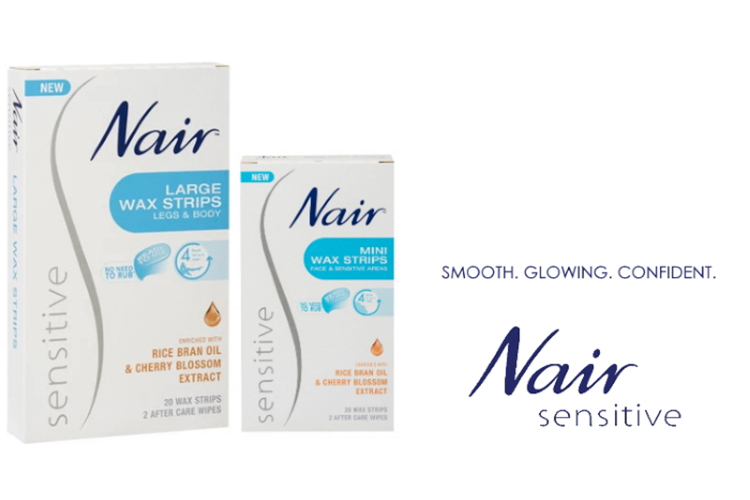 Nair Leg Mask – Who says masks are only for your face?
The latest product from Nair has just been released to the market - The first-of-its kind, leg mask hair remover and beauty treatment all in one. After a long winter of hibernation, our legs can look a little neglected so why not give them the attention they deserve right through the cold winter months so they are looking great when summer rolls around again!
This innovative product, available at Pharmacies, is designed to be used in between your regular hair removal routine to maintain beautifully soft, smooth, gorgeous looking legs. This 3-in-1 treatment removes hair and stubble, gently exfoliates and moisturises the skin and minimizes hair re-growth. Containing natural skin loving ingredients like natural clay and seaweed that gently exfoliate dry and flaky skin. This will become the perfect addition to your hair removal and beauty routine. It's simple to use too, just smooth onto dry skin and allow the gentle formula to work its magic in less than 10 minutes. So you can be smooth and hydrated throughout the year all from the convenience of your own home.
RRP  $17.99 Pharmacy only