Supporting you through breastfeeding
As natural and wonderful as breastfeeding can be, we all know that it can sometimes come with challenges. Lansinoh ® has been supporting breastfeeding mums for over 30 years and our aim is to help you through the challenges, should any arise, so you can continue breastfeeding for as long as you like. Below we look at some common issues that can crop up and ways of managing them. It is very possible to breastfeed without experiencing any issues, but if you do, it's good to know help is at hand!
Lansinoh® HPA® Lanolin

100% ultra-pure lanolin. Soothes, heals & protects sore, cracked nipples.
Cracked nipples are one of the most common challenges of breastfeeding and often indicate a problem with the way the baby has latched onto the breast. Speaking to a lactation consultant or breastfeeding counsellor can help you sort out the issue.
In the meantime, Lansinoh HPA Lanolin will soothe the nipple, and is clinically proven to support the healing process. The ultra-pure lanolin penetrates deeply to restore and maintain the moisture content essential for healthy, supple skin. The lanolin is so pure that there is no need to remove before breastfeeding and you can use it before showering to protect nipples. Lansinoh HPA Lanolin is all natural, contains no additives or preservatives and is hypoallergenic. 
Always read the label. Follow the directions for use. If symptoms persist, talk to your health professional.

Lansinoh® Thera°Pearl® 3-in-1 Breast Therapy

It can be a bit shocking to new mums to learn that the recommended way to administer cold therapy used to be a bag of peas or a frozen nappy in the bra! Thankfully, now there is Lansinoh Thera°Pearl 3-in-1 Breast Therapy.
Lansinoh Thera°Pearl reusable packs can be used either warm or cold, depending on your needs.
Engorgement is when the breasts feel hard, swollen and tender. This can be relieved by emptying your breasts by feeding your baby or expressing your milk and using cold therapy. Cold therapy can help to soothe the pain and swelling associated with engorgement. Similarly, cold therapy can help provide soothing relief for the symptoms of mastitis (which is an inflammation of the breast and sometimes even an infection). If you believe you have mastitis, it is important to see your doctor straight away.

Lansinoh Thera°Pearl's unique design conforms to your breast to provide 360° relief.
Lansinoh Thera°Pearl can also be used warm on the breast before a feed to encourage let-down (the reflex that makes your milk available to the baby). When used warm with a breast pump, Lansinoh Thera°Pearl can help reduce the time spent expressing.

Always read the label. Follow the directions for use. If symptoms persist, talk to your health professional.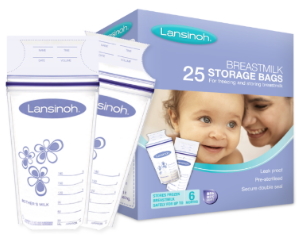 Lansinoh® Breastmilk Storage Bags
Lansinoh® Breastmilk Storage Bags are durable and leak-proof and ideal for storing expressed breastmilk in the fridge or freezer. They feature a secure double seal at the top to prevent spills and double-sealed side seams for strength.

Lansinoh® Breastmilk Storage Bags are pre-sterilised and come with a hygienic, tamper evident secure tear-away top. The bags are made from food safe polyethylene and are BPA and BPS free.

The top of the bags form a handy, easy pour spout to minimise the chance of spills, and also feature a convenient write on tab to allow you to note the date of expression. Lansinoh® Breastmilk Storage Bags come in a "tissue pack" dispenser to keep bags clean and allow you to easily take them with you when you are on the go.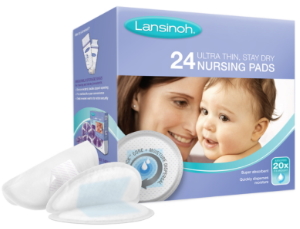 Lansinoh® Ultra Thin, Stay Dry Nursing Pads
Lansinoh® Ultra Thin, Stay Dry Nursing Pads are super absorbent, designed to hold shape and can hold up to 20x their own weight in moisture. BLUE LOCK™ Core quickly captures and disperses moisture evenly, while the unique waterproof layer keeps clothing protected to help you stay dry.

The discreet, naturally contoured design means that you don't have to worry about bunches or crinkles, and the pads are super soft for maximum comfort. Each pad stays securely in place with two non-slip adhesive tapes and fits all breast sizes.

Each pad also comes individually wrapped for convenience and hygiene – perfect to slip into a handbag or nappy bag!
All products are available from selected pharmacies and supermarkets nationwide. For more information visit: https://lansinoh.com.au/