Mummy Makeover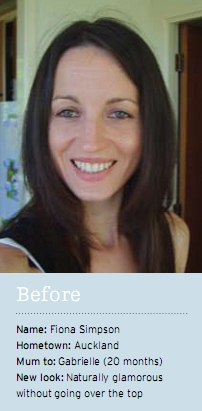 After experiencing two miscarriages, 28-year-old Fiona Simpson saw her OHbaby! makeover as the perfect opportunity for a little pampering. 'I didn't necessarily want to change my look,' she explains. 'But I thought it would be a great experience.' And it was. Fiona, who worked in human resources before having her daughter, Gabrielle (20 months), now manages to fit in a little part-time HR work from home in Auckland. Beauty editor Tracey Strange explains how Fiona got her gorgeous new look.
Our team of beauty experts gave Fiona a look that was easy to achieve without going over the top - a 'natural glam' look that she would feel comfortable with.

Face
Skin: Makeup artist Amber Haldane first used Napoleon's Autopilot Primer to prepare Fiona's skin for foundation and concealer. Bobbi Brown's Creamy Concealer Kit in Beige was then applied under Fiona's eyes to hide dark circles and a foundation brush ensured her foundation didn't look too heavy. "I only wanted a light layering in the areas where Fiona needed it most," says Amber. "Using a brush will help your foundation not to look caked."
Eyes and brows: Fiona wanted a soft, smoky look, so Amber applied tonal eyeshadow shades of chocolate, cement, and vanilla. She then used liner (MAC's Fluidline in Dipdown) and waterproof mascara to add deinition to Fiona's top and bottom lids. "Waterproof products are good if you have a tendency towards dark circles because they don't smudge as easily as non-waterproof," advises Amber. Fiona's brows were also thickened slightly with a brown pencil.
Cheeks: Amber first brushed Fiona's complexion with a matte bronzer, then highlighted her cheekbones with a soft mauve blusher.
Lips: Fiona's lips were illed with MAC's Lip Pencil in Whirl and then highlighted with MAC Lipgloss in Lovechild.
To finish: Amber lightly brushed Fiona's T-zone with ID Bare Escentual's Mineral Veil to remove any shine, set her makeup, and ensure a long-lasting look.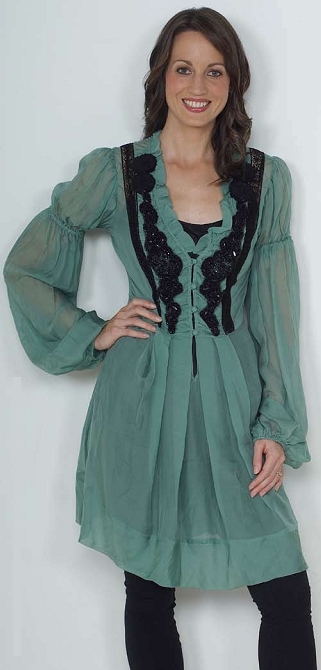 Hair
"Fiona's hair was cut into heavy layers that tended to swamp her delicate face," says Jennifer Morgan, co-owner of Morgan & Morgan Urban Retreat in Takapuna, Auckland. After discussing Fiona's likes and dislikes (she wasn't a fan of copper and red in her hair, and wanted to keep the length), Jennifer
applied some ine highlights in a cool, milky colour to achieve an effect she calls a "chocolate blonde". "It's still essentially brunette but with the feel of blonde. The whole look is soft and natural and brings out the colour in Fiona's eyes," Jennifer explains. Stylist Cara Sherson then graduated the layers around Fiona's face to "open it up" and show off her pretty features.

What to wear
Dressing to flatter a petite figure - Fiona is a size 8-10 - can be almost as much of a problem as hiding a pear-shaped bottom or disguising a less-than-flat tummy. Most dresses will swamp you, tight jeans will make you appear child-like, and anything less than an ultra-fitted coat will make you look like you're playing dress-ups. You can usually forget frills, large patterns, complicated layering and most knee-high boots, which will only serve to make your legs look like two twigs. And it's not easy to look womanly when you have no thighs, boobs, or bottom. But here are some simple rules that can help make tiny women look like superwomen.
Keep shapes simple. Form-fitting clothes such as tailored pants, fitted or slightly flared skirts and classically shaped blouses look great on petite frames.
Go mod. Keep it modern with skinny belts (not wide) and slimline cardigans.
Heels are your friend. Elongate the length of your body by wearing heels under pants. Admittedly, this isn't always practical (especially if you are running after children) but it's a great look if you're going out. But never wear clunky platforms, unless you want to look like Minnie Mouse.
Choose your boots wisely. Swap knee-length boots for tighter-fitting calf-length ones. Or choose knee-high boots with a very narrow leg (most Italian boots fall into this category).
Direct the eye upward. Draw attention to your face by wearing scarves (not oversized chunky knits) and anything with a vertical line (like a zip). This will draw the eye upward and lengthen your body.
Skip the oversized sweaters. Never wear anything baggy. If you do love the modern smock look, make sure it's belted or tied under the bust. If in doubt, stick to a sleek (and equally contemporary) fitted sheath dress. And forget fashion's current love of man-sized knits. Keep yours sleek and fitted.
Say no to layers. Avoid wearing too many layers - they'll just make you look swamped.
Wear plenty of delicate jewellery. Your petite frame can handle it. But avoid anything oversized, such as chunky bangles and enormous beads.
Neutrals are nice. When going casual, try sticking to sophisticated neutral tones such as beige, grey, biscuit, brown, cream and caramel. Casual clothing in poppy, bright colours will only emphasize how tiny you are, and make you look like a teenager.

It may seem like a lot to remember, but if you apply even one of these rules to your look, you'll see a difference.
PHOTOGRAPHS: FIONA TOMLINSON FOR POPPET PHOTOGRAPHY.
MAKEUP BY AMBER HALDANE.
FIONA'S DRESS BY TRELISE COOPER
As seen in OHbaby! magazine Issue 2: 2008