Great Autumn reads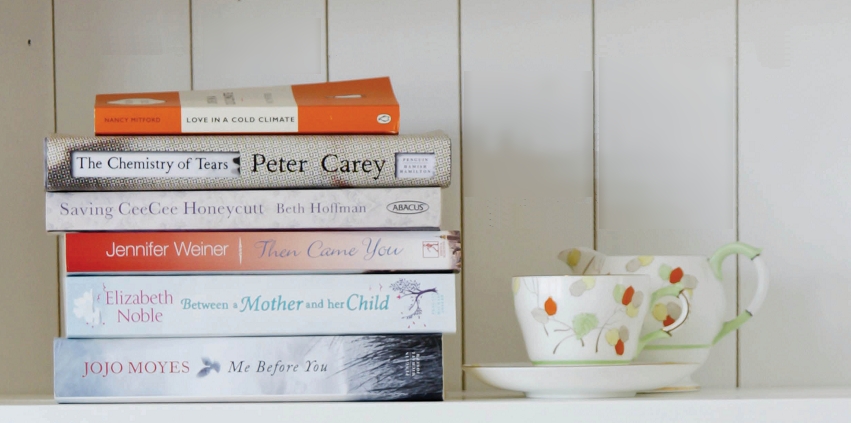 Feed your soul and your imagination with one of these great autumn reads
The Chemistry of Tears
Peter Carey, Penguin, RRP$50
One of the sweetest stories I ever read was Peter Carey's "A Letter to Our Son" - a story of unequalled eloquence about Carey's love for his wife and son that has long stayed with me, despite the couple divorcing a decade later. The Chemistry of Tears is a moving novel which also takes up those large themes of love, life and death. It starts with Catherine Gehrig, a museum conservator, learning that her lover and colleague has just died. For 13 years Catherine has had to hide the love affair, and now she must hide her grief. Catherine then finds solace in piecing together an extraordinary mechanical bird, a 19th century automaton. She gets immersed in the task, and in the journals of Henry Brandling, the man who commissioned the piece. It's a rather beautiful, uplifting and haunting novel, with Carey back to his magical best.
Saving CeeCee Honeycutt
Beth Hoffman, Hachette RRP$36.99
If you liked Steel Magnolias, The Help or other stories set in the American south you'll enjoy this debut novel about a young girl struggling to find a new identify after getting out from under her suffocating and mentally disturbed mother. Enter long-lost Great-Aunt Tootie who whisks her off to the south where her big-bosomed maid Oletta and their colourful collection of Savannah friends and neighbours keep CeeCee entertained. Set in the 1960s, the novel touches on racism and social class, but it's more about the importance of good friends, whatever your age.
Then Came You
Jennifer Weiner, Simon & Schuster, RRP$37
How many people does it take to make a baby? In this New York tale, four. That's gorgeous teen Jules to supply the egg, perpetually broke mum Annie to carry the baby for nine months, gazillionaire Marcus to father her and trophy wife India to decorate the nursery and prepare for motherhood. It sounds a simple solution for a rich yet infertile couple - $20,000 for the egg, $50,000 for the surrogate, $30,000 for the nursery including a $6000 antique rocking horse - but then weeks before the baby arrives disaster strikes. This is an easy read with a momentum to keep you hooked until the end.
Between A Mother And Her Child
Elizabeth Noble, Penguin, RRP$37
The death of a child is always a confronting subject, but in Elizabeth Noble's hands it's given a realistic, emotional and eventually heart-warming treatment. Bill and Maggie have been happily married since their early 20s, but when one of their three children dies it threatens to destroy their marriage and their family. Yes, it's challenging at times and you will cry - but you'll also fall in love with the characters and find yourself cheering for them from the sidelines.



Me Before You
Jojo Moyes, Penguin, RRP$37
Unemployed Lou Clark accepts a six-month contract caring for tetraplegic Will Traynor but a week later she's tempted to throw in the towel after being continually the target of Will's anger and sarcasm. Will was a high-flying city boy before his accident and now he's in a wheelchair, paralysed from the neck down and with a death wish - in six months he plans to travel to a voluntary euthanasia clinic in Switzerland. Yet gradually the pair discovers a connection and Will begins to come alive again. It's just a matter of whether that's enough for him to set aside his death plans. Jojo Moyes has created two truly wonderful characters but offers no easy answers to the debate about the right to die. Hilarious and very enjoyable.
Classic read
Love in a Cold Climate
Nancy Mitford, Penguin, RRP$13.99
The world, it seems, can't get enough of the Mitford girls - that aristocratic, yet eccentric family of Nazi lovers and socialists. Love in a Cold Climate is one of the novels which sparked this fascination. Elder sister Nancy satirises her own family but also skewers the upper-class socialites of the 1930s in hilarious style. Told by wide-eyed debutante Fanny Logan, the story tells of rich, beautiful Polly Hampton. Destined to marry a duke or at least an earl, Polly infuriates her bossy mother by showing no interest in the young men foisted on her. So imagine the scandal when she runs off with a highly unsuitable "uncle"!
As seen in OHbaby! magazine Issue 17: 2012


Subscribe to OHbaby! magazine
Purchase Issue 17