15 Great Christmas books for kids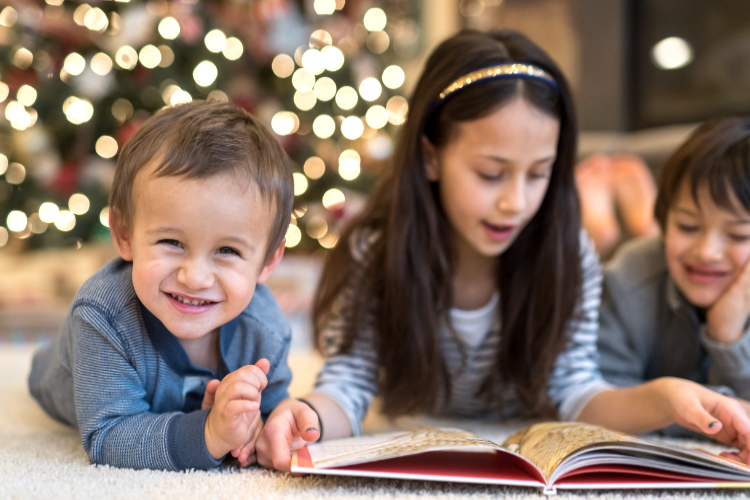 The OHbaby! team has scoured the bookstores and created our list of 15 wonderful Christmas books that will fill your children with the joys of the season.
Slinky Malinki's Christmas Crackers, Lynley Dodd. One of New Zealand's most beloved authors continues the tale of Slinky Malinki, the rapscallion cat. This time Slinky Malinki creates havoc with the Christmas tree decorations!
That's Not My Santa, Usborne Touchy-Feely Books. A great board-book for babies and toddlers featuring bold illustrations and lots of textures for little hands to touch.
How The Grinch Stole Christmas, Dr Seuss. You can't go wrong with Dr Seuss! In this book the master of rhyme transports readers to the world of Who-ville and the curmudgeonly Grinch who tries to steal Christmas away from the Whos.
The Christmas Story by Juliet David Richly. The Christmas Story helps children discover one of the most important stories of all time. Through clear and simple text, children come to understand the events leading up to Jesus' birth and this special miracle.
The Nativity Story, by Juliet David Richly. A simple, straightforward re-telling of the Christmas story, with vibrant illustrations from artist Jo Parry (Candle Bible for Kids). This sturdy and colourful board book is just right for little ones starting to learn about Mary and Joseph's journey to Bethlehem, and the shepherds and wise men who came to meet Baby Jesus.
Dream Snow, Eric Carle. A gorgeous book, with clever see-through sheets of plastic to help reveal the story of a farmer and his animals (named One, Two, Three, Four and Five) who are waiting for it to snow! A fabulous payoff at the end with a musical button for children to push.
Room For A Little One, Martin Waddell. A gentle re-telling of the traditional Nativity story, with Kind Ox and the other animals welcoming Tired Donkey, Mary and Joseph into their stable. Beautifully illustrated by Jason Cockroft.
Santa Claus, Rod Green, Jon Lucas, Carol Wright. This is a substantial, magical hard cover book with lots of pop-ups, secret letters and gorgeous illustrations that give young readers the inside word on what really goes on at the North Pole! Kids simply adore it! (and Mrs Claus' chocolate cookie recipe is pretty scrumptious too!)
Twenty-Five December Lane, Helen Ward. A lovely story about a little girl searching for a special gift on Christmas Eve. She wanders into a strange shop, where another larger than life customer is buying up everything in the store...
Father Christmas Needs A Wee, Nicholas Allan.  Santa's been visiting many houses, and "drinking drinks since half-past three," so now he really needs...  A funny, light-hearted counting book.
The Night Before Christmas, Clement C Moore. This classic Christmas poem is re-told here with gorgeous illustrations. A must-have for every family to sit around and enjoy together each festive season.
The Christmas Rose, Sepp Bauer. Fritz and Gretl's father is very ill and can only be cured by a magical Christmas rose from the Winter King. With the help of some forest animals and a snow giant, Fritz and Gretl bravely make the difficult journey to the Winter King's fortress. This rediscovered German story is full of classic Christmas charm.
Snow, Walter de la Mare's classic poem is revisited in a stunning fashion in this picture book that celebrates the wonder of snow. As the day draws to a close, a family prepares for Christmas - decorating the tree, hanging stockings by the fire, putting out a plate of mince pies. Outside, the world turns to white...
This Little Piggy Went Singing, Margaret Wild and Deborah Niland. Meet five little pigs who are full of life and all the excitement of Christmas! They are either out singing, dancing and playing music, or staying at home making and baking and trimming the tree. A delightful Christmas book for little children that plays on the traditional 'This Little Piggy' nursery rhyme. 
'Twas A Kiwi night before Christmas and all round the bach. Not a possum was stirring; not one could we catch.Take one Santa dressed in singlet and shorts, and put him on a miniature tractor pulled by eight flying sheep, and you have a Kiwi version of the well-loved Clement C. Moore poem.