Christmas stocking stuffers for 0-5 year olds!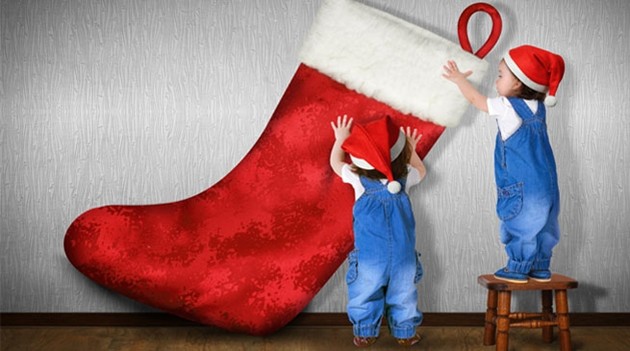 When it comes to stocking stuffers for kids, it's almost a case of quantity over quality. Kids just love seeing lots of little surprises  waiting for them to unwrap. The main rule about a stocking stuffer is that it fit in your child's stocking, so you may want to adjust the stocking accordingly! Here are some ideas for filling your little ones' stockings.
Baby's first Christmas
Baby's first Christmas is special, but since their favourite things right now are probably their own hands and feet, they don't need a lot! You may want to include a keepsake in the stocking, such as a special Christmas ornament or personalised photo. Other ideas include teething toys, cloth books, bath toys, hand held rattle toys, rattly wrist or foot finders, bath mitt puppets, stacking cups, textured or sensory balls or toys, cute socks.
One-year-olds 
At this age it's really just about the wrapping paper, so find some colourful giftwrap or crackly cellophane and get wrapping! Bath toys, bubble bath, novelty socks, fruit pouches, woolly/summer hat, shakers/castanets, soft baby photo album of family members, baby leg warmers, hairclips, cd of baby songs/ nursery rhymes, animal crackers.
Two-year-olds
By now your toddler will be on the move and interested in everything, which makes stiffying their stocking a whole lot easier! Useful gifts include bath crayons, bubble bath, bath toys, finger puppets, sippy cup, character toothbrush, ball, triangle crayons, special pillow case (to take to Grandparents), juice boxes, fruit leather, dress up beads, toys for the sand pit or beach, Fisher Price LIttle People, small box of Duplo, a mini (and hard-wearing) snow globe or Christmas ornament.
Three-year-olds
Playdough, new underwear, homemade cookies, chalk, novelty straws, temporary tattoos, hooded towels, a whistle, plastic bugs, kaleidoscope, pack of balloons, sand bucket and spade,  glow sticks, fun band-aids,  drink bottle, hair clips, glow in the dark stars, drinking cup, ink stamps, sunglasses, dress up scarves, mini dinosaurs, superhero cape, play mobile phone.
Four-year-olds
Bubble mixture, cookie cutters, plain or scratch 'n' sniff stickers, crayons, felt pens, colouring books, whoopee cushion, little torch/flashlight, coin purse, a yoyo, watercolour paint set, magnifying glass, colouring books, Terry's chocolate orange (where you tap and it falls into segments), flashing Christmas earrings/brooches, novelty glasses, headbands and hats, stick-on jewellery, chocolate coins, a Slinky, fake mustaches, miniature books.
Five-year-olds
Fun stationery (shaped coloured Post-It notes are good too), little Lego packs,  single Hot Wheels cars,  nail polish, packet of seeds and a little pot, thankyou cards, instant snow, marbles, kids jewellery, homemade packet of hot chocolate and marshmallows, kids' magazine, little box of craft supplies – glue, scissors, tape etc. real coins, tape measure, spinning top, magic/fairy wand, skipping rope, drink bottle, lip balm, colourful shoelaces, water balloons, a locket with photo inside, personalised t-shirt.