Christmas traditions for your family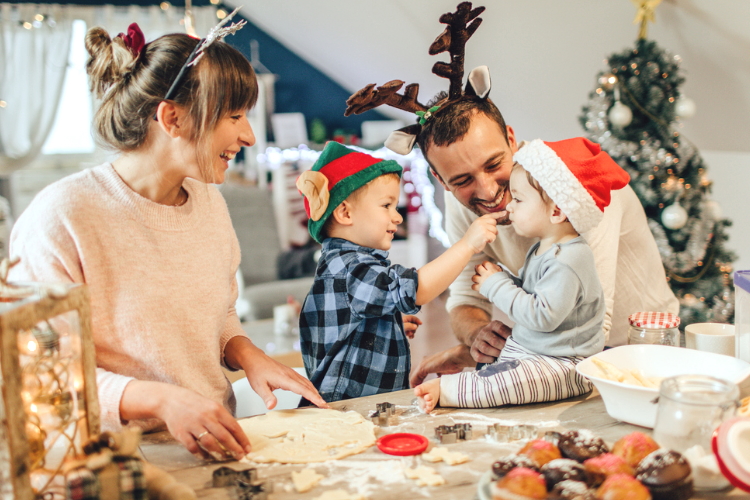 Tradition is part of what makes Christmas special: the Christmas traditions you observe were most likely passed down from your parents, and you will in turn pass them on to your children.
But all traditions start somewhere, and Christmas is a perfect time for creating new family traditions, especially if this is your baby's first Christmas. Here are some great ideas for celebrating the festive season with your family.
Decorating the Christmas tree
Get together as a family, or extended family, and decorate the Christmas tree together. In English tradition, people held "Tree Trimming" parties on Christmas Eve where everyone got together and sung Christmas carols and decorated the tree. Most families these days put up the tree somewhat earlier, but you can still make an occasion of it: put on some Christmas music and get into the spirit!
Christmas decorations
There are a huge number of different decorations available to commemorate your baby's first Christmas, ranging from glass balls inscribed with baby's name and the year, to engraved religious medallions. Some families buy each member of the family a special decoration with his or her name on it, and each person hangs their own decoration on the tree.
For older children, why not try making Christmas decorations? All you need is some stiff cardboard, some string, and some coloured felt pens or crayons. You may like to use collage materials such as glue, glitter, feathers, buttons etc. Help your child to cut out a Christmas shapes such as a Christmas tree or star, and then let him or her decorate it. You can also cut up old Christmas cards to make decorations.
Sending Christmas cards
Most of us do send Christmas cards, and we all love receiving them, but it can be a real chore to write them all. Get the kids involved by having them lick stamps for envelopes, or draw special pictures on the cards. Your child might also like to pick one or two special friends or family members to send his or her own card to. Help him or her to pick a card, and then help them to write their name on it. Kids also love putting envelopes in the post box!
Christmas baking
Kids love to bake, and Christmas is a great time of year to get into it.  If you usually make your own Christmas pudding or mince pies, get the kids involved measuring and mixing. Christmas biscuits are always favourites, and are relatively simple for small children to make. You can find a basic Christmas biscuit recipe here. Christmas biscuit cutters are available from your local supermarket or department store.
Secret Santa
Many workplaces have Secret Santa in the weeks leading up to Christmas, where names are drawn out of a hat, and an agreed spending limit is set for people to buy presents for their Secret Santa. This is also a great game to try at home, especially if you have 2 or more children. If you have a smaller family you could also include Grandma and Grandad, or cousins of a similar age. Write each family member's name on a slip of paper and place it into a container. Then have each person draw a name. The name they draw is the person they will buy a Secret Santa present for. If you draw your own name, put it back and try again.
For young children, $2 is a great limit. They will love being let loose in the $2 Shop to pick a present for their Secret Santa, and kids also love the idea of it being a secret (even if most of them can't actually keep it a secret!). Arrange a day to exchange presents, maybe at a special family dinner, or on Christmas Eve.
Special family dinner
Christmas Day can be a hectic time with lots of extended family around and it can sometimes be a bit overwhelming for children. Some families like to have a special family dinner (or lunch or brunch) a few days before Christmas exclusively for the immediate family. It doesn't have to be a Christmas feast with all the trimmings, even fish and chips on the beach as a family is a great way of setting aside time for your family unit amidst all the madness of Christmas.
Attending a church service
For Christian families, attending church is an important part of the Christmas celebration. Choose a tradition that suits your family. Some families go to midnight mass and then hang out stockings for Santa when they get home, others attend special children's services either earlier on Christmas Eve, or on Christmas morning. This year it may mean attending an online Christmas service!