10 things to do this Easter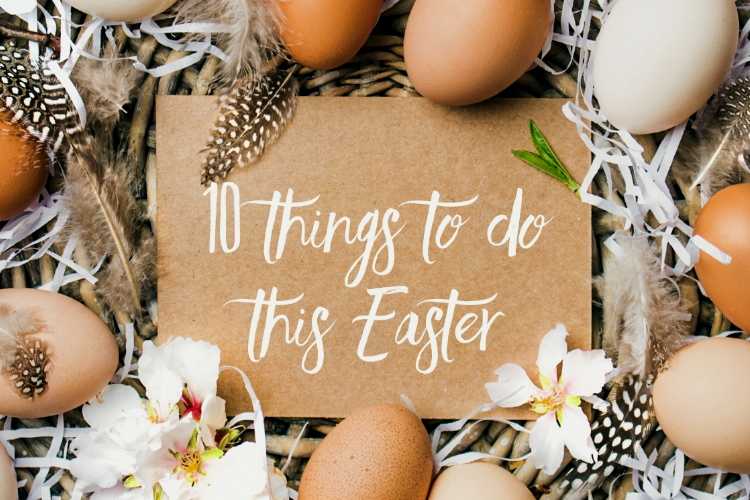 There is more to Easter than chocolate! Burn off all the extra sugar with some of these ideas for Easter holiday family fun. 
1. Decorate the house
Nothing says special occasion like decorations! And trimming the house with sparkly flair needn't be reserved for Christmas - why not get the kids to help you make Easter decorations, too. A simple idea we love requires only some twigs, a jar to put them in, and eggs decorated any way you choose. Hanging eggs on trees was originally a German custom. Put together a collection of paints, glitter and pens to keep the kiddies entertained for at least an hour!
2. Make hot cross buns
Sure you can buy them, but the smell of homemade hot cross buns baking in the oven will make all the effort worthwhile. Make use of youthful energy and get the kids to help with the kneading. Get the recipe here.
3. Blow eggs
It can be a tad tricky, but blowing eggs is a memorable Easter craft activity for the whole family to get involved in, and the results are stunning. Get step-by-step instructions here


4. Paint and decorate eggs

Get creative and decorate eggs any way you choose! From natural dyes to wax crayons, get ideas here
5. Visit a church 

Your kids are probably curious as to why the weekend just got longer and is strangely dedicated to chocolate. You don't have to be religious - a visit to your local church at Easter could prove an engaging cultural experience for your child, not to mention educational. The significance of Easter is largely lost in the mouth-watering marketing of Cadbury and friends. Church will offer an historical perspective, with less sugar. 
6. Collect autumn leaves

Embrace the change in season - and the fact that we live in the Southern Hemisphere where Easter happens in autumn, not spring as predominantly featured in Easter imagery. Collect autumn leaves and make a collage or other decorations for Easter down under! 
7. Wear bunny ears
You might as well, everyone else is! In fact, why not go all out and dress up as a rabbit, fluffy tail and all. Perhaps more Bugs Bunny than Bridget Jones, but hey - whatever takes your fancy! 
8. Play Easter games

Kids big and small will love the thrill of an egg and spoon race, or try an egg rolling race. Play with chocolate eggs or make a big, fun mess with real eggs. See some fun games HERE. 
9. Start a family tradition with Easter keepsakes

I still remember the delicate paper mache Easter egg holders my mum brought out every year when we were kids. When I found the hollow tin eggs pictured (above) in a gift shop last year I just had to have them for my girls. Easter morning they will be waiting on the end of their beds, filled with tiny treats. Create sweet childhood memories with treasured items that can become part of a family tradition. If you're feeling crafty you could make your children egg collecting baskets. Or you could buy someone else's clever handiwork at your local market, or on Felt! 
10. Hunt for eggs!
Get your camera ready - there is nothing cuter on Easter morning than children on the hunt for hidden chocolate eggs! Mix it up and ask your kids to hide an egg for you to find! (Best stick to them just hiding one egg or risk them forgetting where they've hidden them!)