Bake some traditional hot cross buns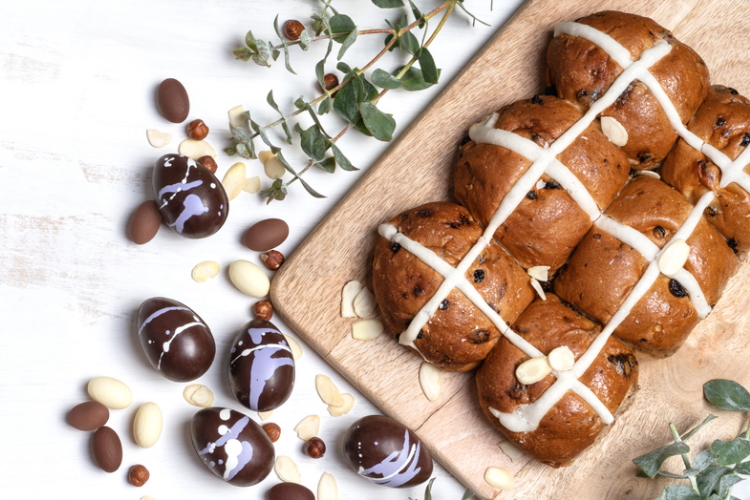 Like Christmas pudding, Hot Cross Buns are one of those classic  holiday foods.
Get the kids to help you mix it up and knead the dough and you'll be munching these delicious, crusty buns in no time flat. Here's our best recipe:
Ingredients for the buns:
1 1/2 to 2 cups milk
1 1/2 tsp sugar
1 tbsp butter
2 tsp yeast granules
4 1/2 to 5 cups flour
1 tsp salt
1 tsp cinnamon
1/2 tsp mixed spice
1/2 tsp nutmeg
1/2 tsp ground ginger
1 tbsp sugar
1 cup sultanas or raisins
1/2 cup currants
1/4 cup chopped mixed peel
Cooking oil
Ingredients for the crosses:
1/2 cup flour
6 tbsp warm water
Ingredients for the glaze:
2 tbsp sugar
2 tbsp water
2 tsp plain gelatine
Method:
Heat milk in a small saucepan until almost boiling. Add first quantity of sugar and butter, and stir until butter melts. Set aside until mixture cools to lukewarm. Sprinkle yeast granules over mixture and leave in a warm place for 15 to 20 minutes or until frothy.
Combine 4 cups of flour with salt, cinnamon, mixed spice, nutmeg, and ground ginger in a bowl. Add second quantity of sugar. Make a well in the centre of the dry ingredients, then pour yeast mixture from saucepan into well. Beat to a soft dough, adding more flour if the dough mixture is too sticky. Mix in sultanas or raisins, currants, and mixed peel.
Turn dough out onto a lightly floured surface. Knead dough until smooth and elastic, or until dough springs back when lightly touched. Form into a ball and flatten slightly.
Lightly brush the inside of a clean bowl with oil. Place dough in bowl and brush top of dough with oil. Cover with a tea towel and leave in a warm place until the dough ball doubles in size.
Remove dough from bowl, then punch dough down in the centre and knead lightly. Divide dough into 16 even-sized pieces, or use large round biscuit cutters. Shape pieces into balls. Place buns 2cm apart on a greased oven tray. Cover with a tea towel and leave in a warm place until buns double in size.
Make crosses by mixing flour and water together to form a smooth paste. Add more water as needed until the paste is smooth and able to be piped. Placepaste mixture in a small plastic bag. Cut the corner off of the bag and use to pipe crosses onto buns.
Bake buns at 200 degrees C for 20 minutes or until golden.
While buns are baking, make glaze. Put sugar, water and gelatine in a small saucepan. Heat until sugar and gelatine have dissolved, stirring constantly.
Remove buns from oven and brush with glaze. Cool on a wire rack. Serve with butter, jam, whipped cream, or just plain!