Easter crafts: cute clothes peg chick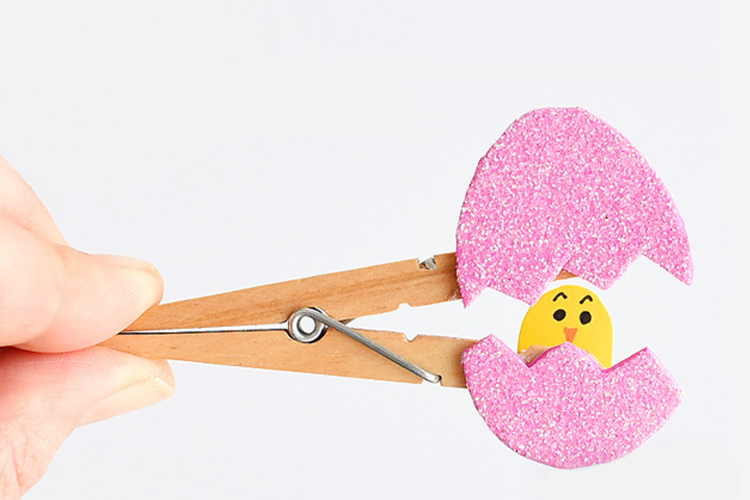 These peekaboo clothespin eggs are easy and incredibly cute! Added bonus - they're low-mess! Kids will love the surprise chick hiding 'inside' the egg. Thanks to onelittleproject for the photo 🐣
🐣 Start by cutting out a small rectangle of glitter foam, then trim around the corners to turn it into an oval egg shape.
🐣 Draw a zigzag line on the back of the egg and cut it out so you now have two halves of the egg.
🐣 Pinch open the clothespin. While it's open, add a small strip of crafter's tape to the where the egg is going to go.

🐣 On a flat surface, line up your egg halves so that the end of the clothespin where your chick will go is in the middle of the egg.
🐣 Cut out a tiny chick face from yellow paper or card. Then use a black pen and an orange pen to draw the eyes and beak onto the little paper chick face.
🐣 Cut a small piece of craft foam and using crafter's tape, attach it to the back of the clothespin where the chick is going to go.
🐣 Then add crafter's tape to the paper chick and attach it to the foam, as in the image below.


🐣 When you flip it over to the front, you should be able to see the top of the chick's head and the entire face when the clothespin is open. If it's not in the right position, just peel off the chick and adjust it. Done!