Easter recipe: Empty Tomb sweet bread rolls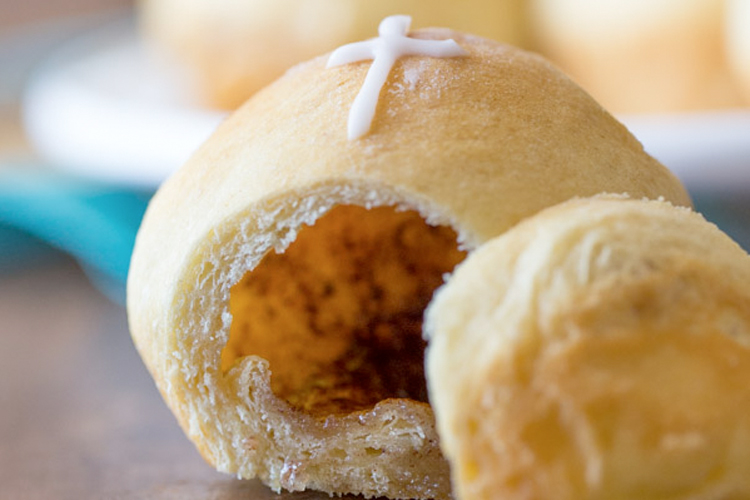 These Empty Tomb Rolls are a lovely symbolic activity that kids can help out with, to celebrate Easter. They're a soft, sweet roll with a marshmallow inside. You dip the marshmallow in melted butter and cinnamon sugar then wrap it in the dough. As the dough bakes, the marshmallow melts into a sweet caramel-like sauce inside the dough. When you break open the rolls the marshmallow is gone but the dough is sweet and sticky. The rolls, aka Resurrection Rolls, are meant to symbolise the empty tomb of Jesus Christ after he'd been resurrected; the dough represents Christ's body being wrapped in the white clothing, the butter represents the oils his body was anointed with as well as the cinnamon sugar for the spices and herbs, then he is placed in the tomb, and finally resurrected on the third day.
Ingredients for the dough:
 ½ cup warm milk
 1 Tablespoon sugar
 2 tsp yeast (active dry)
 3 Tablespoons butter melted
 3 Tablespoons granulated sugar
 1 egg lightly beaten at room temperature
 ½ tsp vanilla extract
 ½ tsp salt
 ½ tsp ground cinnamon
 2 cups flour
Other ingredients:
 8 marshmallows
 3 Tablespoons sugar
 1 teaspoon ground cinnamon
 2 Tablespoons butter, melted
To make the dough:

Add milk, 1 Tablespoon of sugar and yeast to the pan of your standing mixer fitted with the dough hook and stir to combine. Let the mixture sit for 5-10 minutes or until frothy/foamy.
Add butter, 3 Tablespoons sugar, egg, and vanilla and mix on low speed to combine.
Add salt, cinnamon and flour and mix on medium-high speed until a slightly tacky but firm ball forms.
Remove dough from the mixer and knead with your hands until smooth.
Place dough in a lightly greased bowl and cover with plastic wrap.
Let rise in a warm place for about an hour or until dough has doubled in size.
While dough is rising, combine sugar and cinnamon in a small bowl and stir to combine.
Once the dough has doubled in size, preheat your oven to 180C.
Roll dough out into a 35cm round circle about 6mm thick then cut it into 8 equal-sized triangles.
Take one marshmallow and dip it into the melted butter until all sides are completely coated.
Remove from the butter and place the marshmallow into the cinnamon/sugar mixture. Roll the marshmallow until completely coated in cinnamon sugar.
Place the coated marshmallow in the centre of one of your triangles of dough.

Fold the dough around the marshmallow and roll it in your hands until it is completely sealed. You don't want to leave any cracks at all or the marshmallow will leak out!
Once completely sealed, place on a baking sheet lined with parchment paper.
Repeat with the remaining seven marshmallows.
Cover rolls with a tea towel and preheat your oven to 180.
Once oven is heated, bake the rolls for 15-20 minutes or until the rolls are golden brown.
Let them cool on a wire rack.
Recipe and images thanks to joyfoodsunshine.com