CRAFT: How to make a Hula costume
Create this super-easy dress-up outfit for your little hula girl, extracted from Cute and Easy Costumes for Kids by Emma Hardy (CICO Books $39.99).
Aloha! Surf's up with this Hawaiian hula-girl outfit that's perfect for a day on the beach. Colourful ribbons are used to make the skirt, with a bright felt flower garland and headdress. Look for cheap rolls of ribbon in your local fabric store or, alternatively, try strips of crepe paper and machine-stitch them onto a satin ribbon waistband. 
You will need:
🌺 Ribbons about 1-4cm wide 
🌺 Ribbon about 5cm wide and matching thread
🌺 Elastic 5mm wide
🌺 Safety pin
🌺 Three 30cm squares of felt in different colours
🌺 Ribbon 5mm wide
🌺 Two pipe cleaners
🌺 White sleeveless top (to complete outfit) 

How to make:
1. Measure and cut 70cm lengths of the medium-width ribbons. Also cut a 72cm length of the wide ribbon and sew the ends together to form the waistband.
2. Fold the ribbons in half and pin the folded ends to the lower half of the waistband. Machine stitch in place.
3. Fold the top half of the waistband ribbon over so it encloses the folded ends of the ribbon. Pin and machine stitch close to the lower edge of the waistband, leaving a 2.5cm opening. Thread elastic through the channel using a safety pin. Check the length of the elastic around your child's waist, adjusting if necessary. Stitch the ends of the elastic together. Sew the opening closed.
4. Using the pattern piece (above), cut out flower shapes from colored felt. Make two small snips near the center of each flower. Cut a 75cm length of the narrow ribbon for the lei (necklace) and two 30cm lengths, one for the bracelet and one for the anklet. Thread the flowers onto the ribbons, and tie the ends of each ribbon in a bow. To make the headdress, thread flowers onto two pipe cleaners and twist the ends of the pipe cleaners together. Tie narrow ribbons to it for decoration. 
Extract from Cute and Easy Costumes for Kids. Text copyright © Emma Hardy Photos copyright © CICO Books. RRP $39.99 (PB) Available now. Published by CICO Books. Distributed by Southern Publishers Group.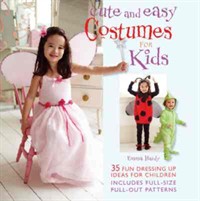 AS FEATURED IN ISSUE 12 OF OHbaby! MAGAZINE. CHECK OUT OTHER ARTICLES IN THIS ISSUE BELOW