10 budget friendly tips for decorating a kids room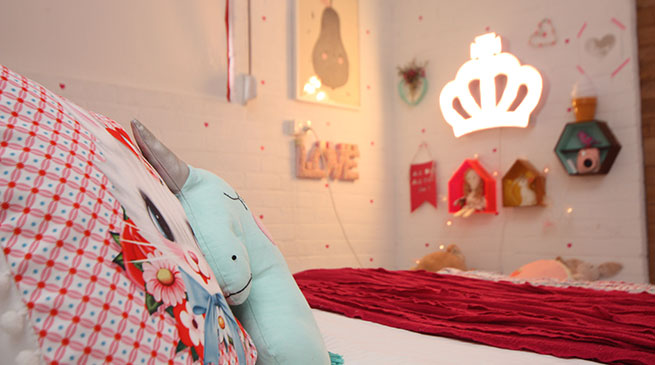 Christie Blizzard is an interior designer who specialises in creating stylish and functional spaces for kids. Here are her top tip tips for revamping your little ones room without breaking the budget. 
1. Keep it simple and add playful decadence. A neutral colour palette is the key to a great child's room because you can subtly or dramatically change the room by adding cost-effective accessories like bed linen, cushions and throws. 
2. Something New. Not just Pink and Blue. Paint is your best friend. Use it. Don't be scared. It's cost-effective, has loads of impact and can be modified over time. Think outside the square and embrace some new not-so-predictable shades. A playful orange tone is a hit with both genders and very on-trend is monochrome - so black and white is great for both boys and girls. If you're not sure about making such a bold statement, a feature wall is a great way to inject some colour into a room while still playing it safe. To do this, simply map out your artwork on the wall using a soft lead pencil and get ready to splash some colour.
3. Growth Spurt! There's a lot of paraphernalia that comes with kids so good storage is essential.  Invest in something that can adapt as your child grows with shelves, drawers and hanging space so you can hide the contents behind closed doors. 
4. Wall Stickers. Create an artistic focal point in the nursery with wall stickers.  When they've served their purpose they can be removed easily and you won't have to repaint the wall. Love Mae is a charming online store which has a great selection of fabric wall stickers – we're particularly drawn to the 'Little Critters" and "Floating Feathers' designs. 
5. Upcycle. Markets and garage sales provide a day out for parents and children to explore charming pieces that can be brought back to life.  I recently sourced a beautiful wicker bedside for $4, sprayed it with gold spray paint and has become a beautiful signature piece for the home! 
6. Frame it. Art can be found anywhere. Special wrapping paper, tea towels or big sister's painting. Different sized frames will add texture and dimension to the room and inspire conversation.  
7. Layering effect. Have some fun with the bed and go OTT with throws, cushions and special toys which will add a punch of personality to their room.  
8. Future-Proof their space and makes sure it can grows with them.  If you buy a throw for your cot linen, be sure it will match what you have in mind when they jump into their "big kid bed". 
9. Budget Stretch- Make your budget go further by buying key pieces of furniture that are versatile. For example, many cot styles adapt into junior beds and the right chest of drawers can double as a change table.
10. Blackboards are a novel way kiddies can draw on the walls (without being scolded!). Select one wall to feature (ideally opposite the bed) and cover. Such a dramatic injection will capture your little one's personality – and art can be updated each day... All you need is the chalk!