Beautiful bohemian bedroom for two
Lavara O'Hanlon is a wedding photographer and mama to three young girls living on Waiheke Island. Her photography is a great creative outlet, but when she's not out and about capturing couples' magic moments, she can't help herself styling and re styling her home's interiors, playing with patterns, colours and textures. She's a constant re-arranger who thrives on creating and updating her girls' spaces – one shared bedroom and a nursery. This beautiful bedroom is home to sisters Zyla, five, and Jirah, three, who Lavara says are best friends … when they aren't fighting.
What was your inspiration behind Zyla and Jirah's room?
I asked the girls what theme they wanted for their room and they requested pink, with lots and lots of flowers. I searched on Instagram until I found these beautiful giant peony blooms from Rocky Mountain Decals. We're renting our current home, so I needed decals that wouldn't damage the paint, and these are easy to both apply and re-apply. The flowers are gorgeous and set the colour tone for the room.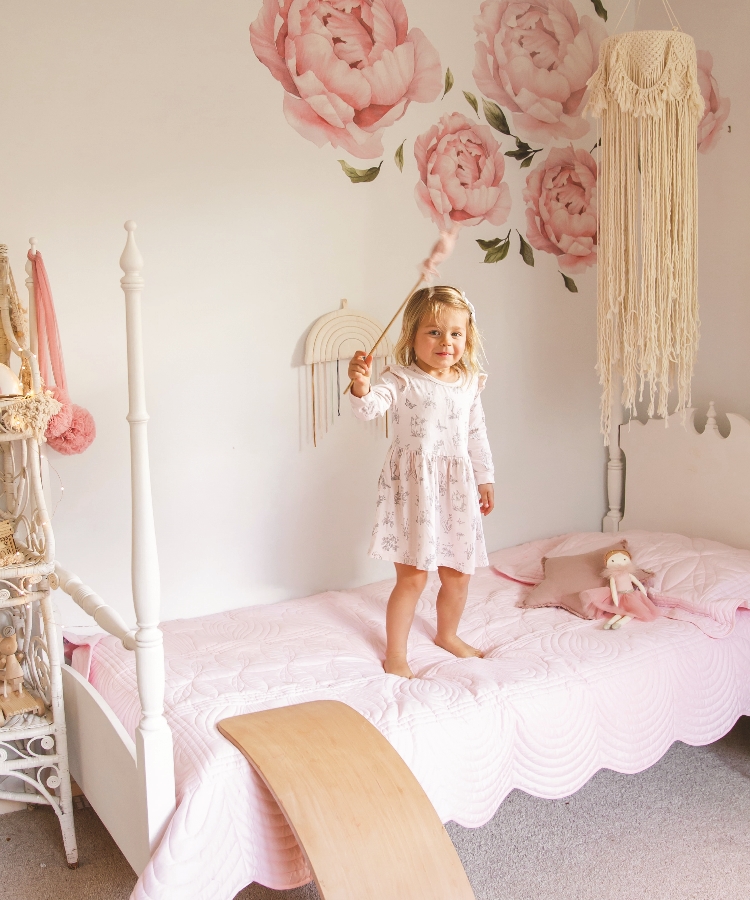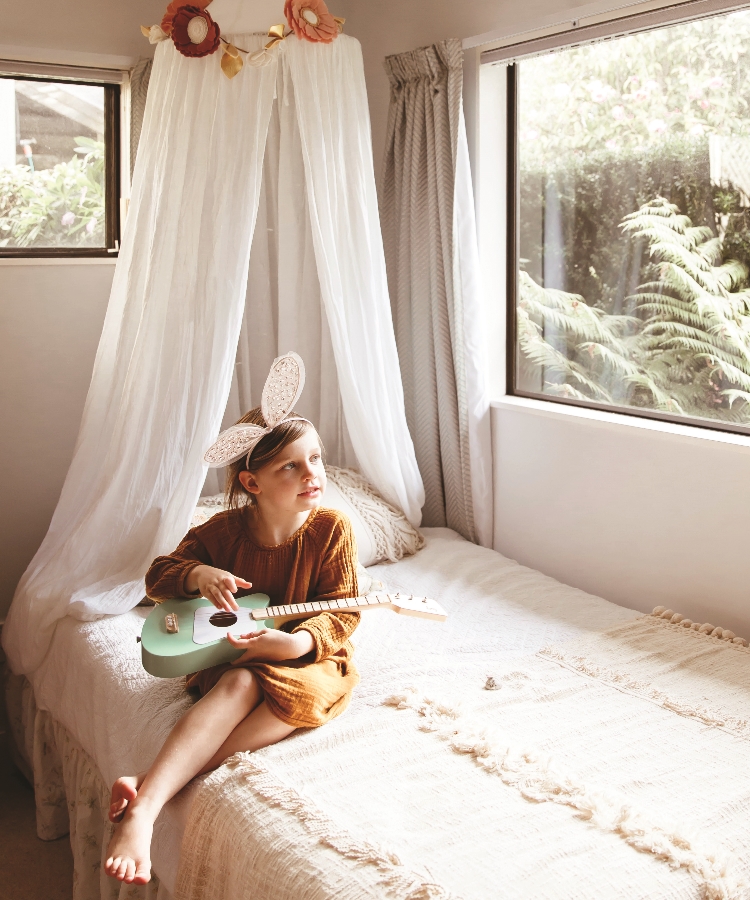 ...I then found the beautiful Bonne Mère bedspread from Kinsfolk Store, which matched the colour perfectly and is such a timeless piece. The girls love their bed canopies so we have a few different Numero 74 ones from Concrete Blush that we share between the girls' different spaces.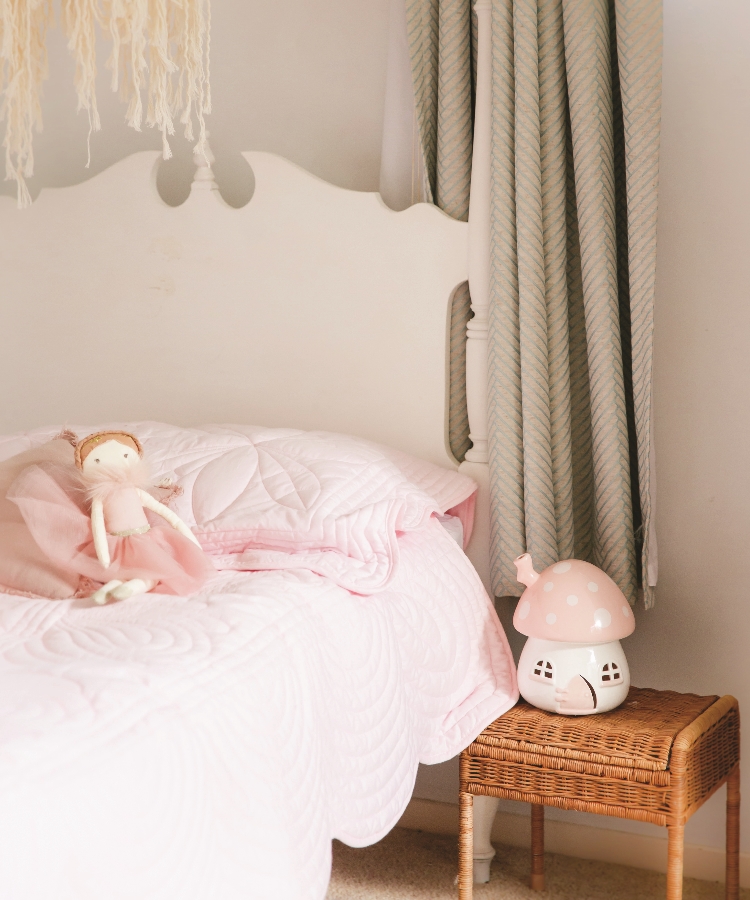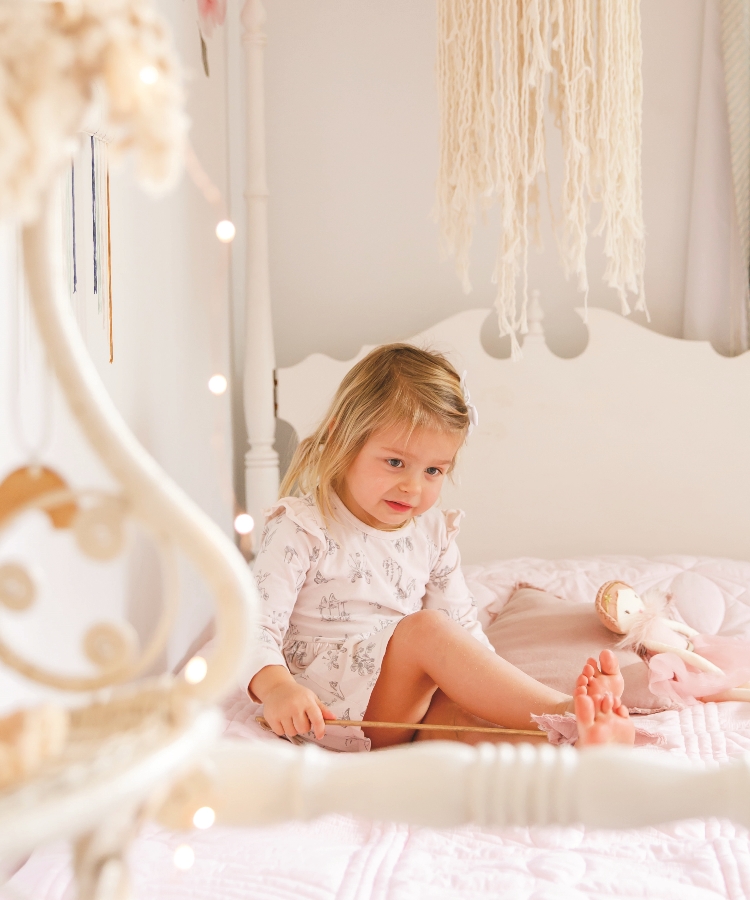 What was your biggest splurge, and your best bargain?
The HomeDay Mini Mod tan beanbag from Kinsfolk Store would be my biggest splurge. Both the girls love it though, so I might need to buy another one! It's really good quality and handles my girls jumping on it and carrying it around the house. The girls bow hanger would probably be the best bargain. It's actually a tie holder that I purchased from the op shop for one dollar! The girls love choosing their own accessories, and it's a sweet way of displaying them.
What is your favourite aspect of this room?
I like that their chest of drawers is high, so I can put any special toys out of reach if I need to! Their wardrobe is also a favourite space of mine, as I love all their beautiful dresses. One of the best things about having three girls is I can justify a beautiful collection of tutus. The girls' favourite pieces are their Little Belle light and their rainbow projector.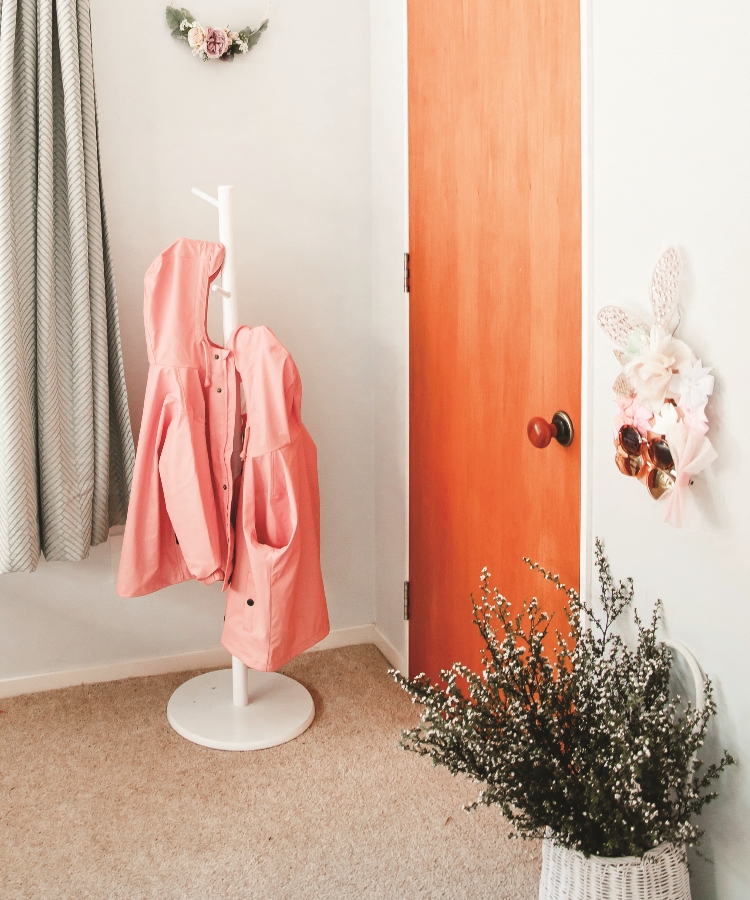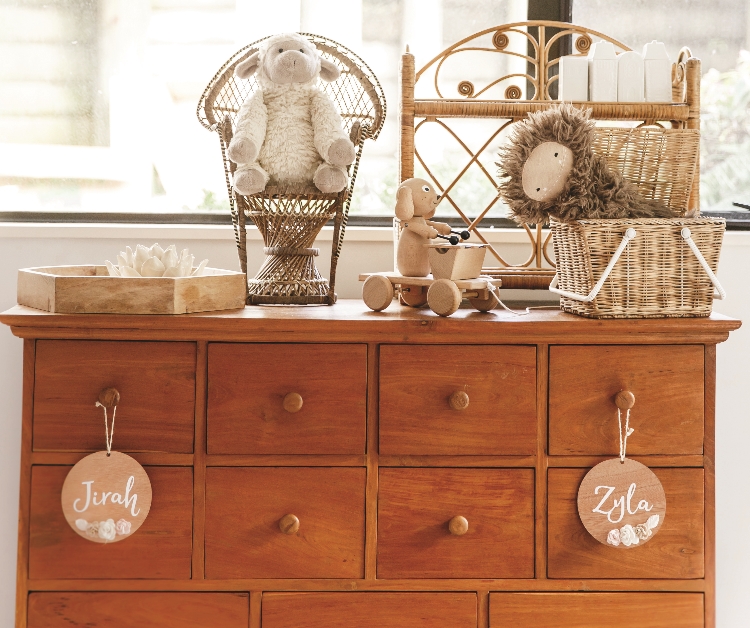 Any ideas about how you might adapt the room as your girls get older?
We are looking at the option of bunks. We've had them in the past but moved them on as we were worried Jirah would climb up to the top bunk and fall off. If we do go with bunks, then we could fit all three girls in one room, or I could use the extra space to create a reading nook or a quiet play area. 

Styling & photography: Lavara O'Hanlon, INSTAGRAM: LAVARA_PHOTOGRAPHY
AS FEATURED IN ISSUE 43 OF OHbaby! MAGAZINE. CHECK OUT OTHER ARTICLES IN THIS ISSUE BELOW